1.

Why Focus on Remote Production Now?

"To enable making products that are traditionally assembled at the production plant at home!"

No doubt you have been affected in one way or another by spread of the COVID-19, with large portions of the manufacturing sector being forced to adjust their production schedules due to falling global demand, or workers being told to stay at home following mandatory curfews. Those of us at Roland DG's Production Division were faced with the same situation, so we thought of various ways to get through this challenging time. One idea that was raised was to try out the concept of "remote production."

We have always spent time discussing the way production could be continued in a safe and flexible manner in the event of unexpected situations that prevented workers from traveling to production plants, as well as looking into styles of monozukuri where workers could remain productive and motivated given that working methods and individual values are becoming increasingly diverse. The feasibility of remote production had been raised a number of times during those discussions, but the sudden changes brought upon by the COVID-19 presented a perfect opportunity to examine the potential of remote production in more detail.

Another major reason why we were able to move forward and take on this challenge is because of "D-PICS" that Roland DG uses for monozukuri. "D-PICS" is "a system that allows anybody, anywhere to assemble the same high-quality products by following instructions displayed on a network-connected PC." We began exploring possibilities based on the idea that we could utilize D-PICS and achieve the assembly work we perform at the production plant right at home. For more information about D-PICS, visit here.
Illustration of Remote Production
Conventional Plant Production
Production Plant
Remote Production
Production Plant
Operator's Home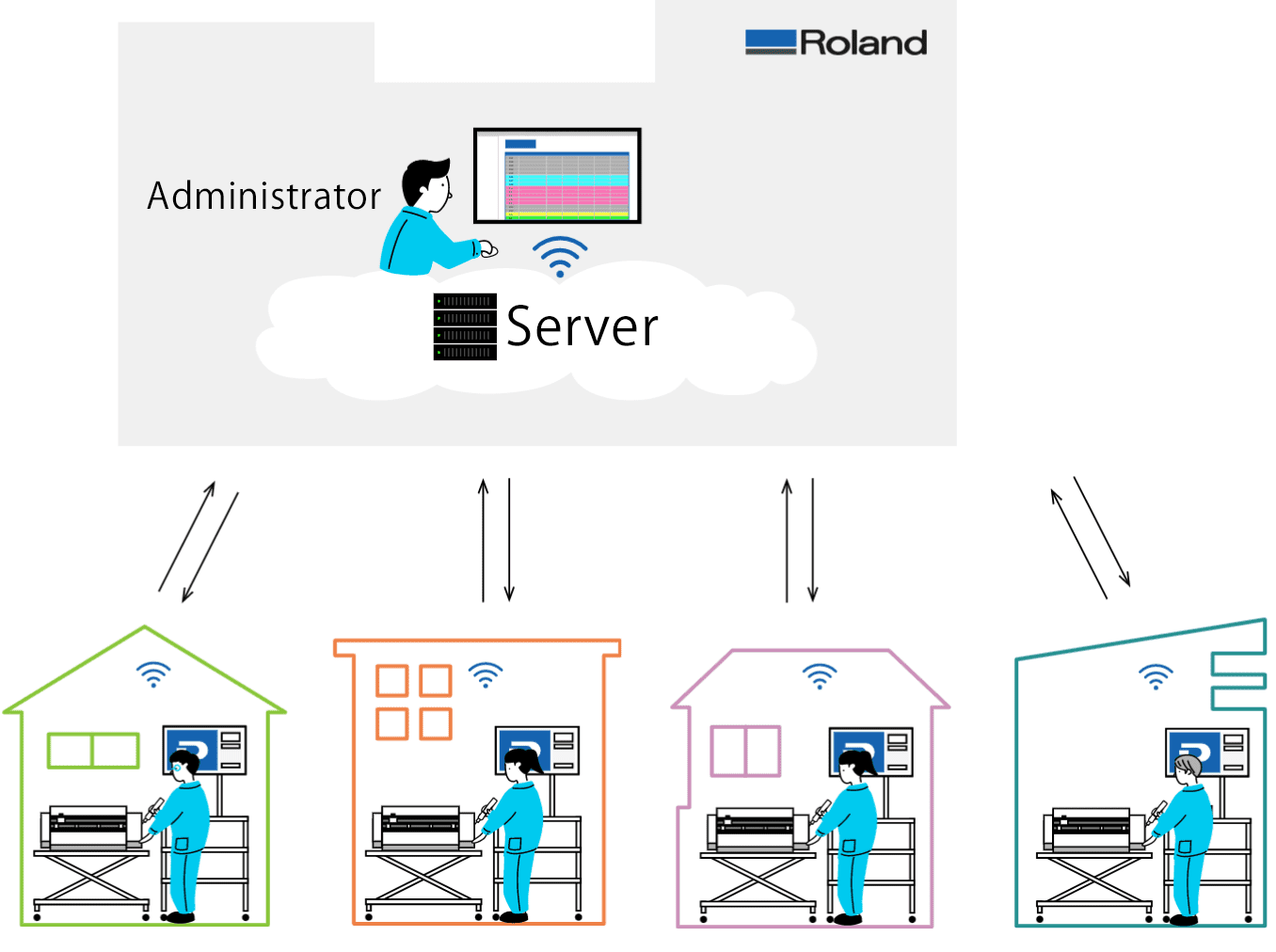 Operator's Home
2.

Taking on The Challenge of "Remote Production"

We now want to go into more detail about how we looked into the potential of remote production. This project was led mainly by Yuya Sunako of the Production Division, who has been involved in making many improvements to D-PICS.
The "Remote Production" Process
The first step of the remote production process begins by sending out a kit containing the parts required for assembling the products, PCs, tools and other accessories, from the production plant to the operator's (assembly worker's) home. After taking delivery of the kit, the operator connects the PC to a network and then performs assembly and inspections following the digital instruction form sent from the server. After the product is assembled, the operator returns it to the plant.

Here at Roland DG, we produce a wide variety of digital equipment ranging from compact desktop-type cutting machines to large-size industrial-grade inkjet printers. To see if the project was feasible, we chose the STIKA cutting machine as it is the most compact of Roland DG's products and has the least number of parts.

In addition to project leader Sunako, we selected a total of 18 operators to participate in the project, ranging in experience from skilled experts to new employees. This was done to determine whether there were any differences in the finished product depending on experience level, so we could receive a wide range of feedback for making future improvements.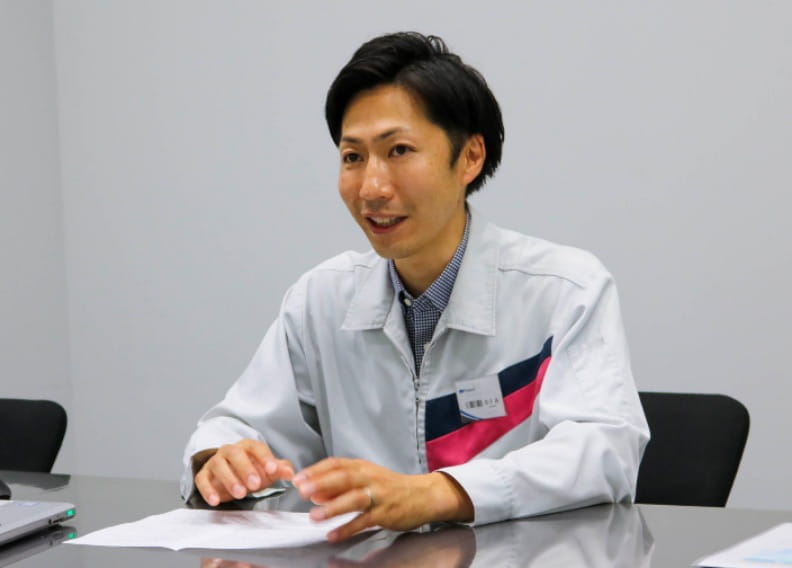 Yuya Sunako
Production Quality Control Unit Manager, Production Department, Production Division He is currently in charge of all aspects of quality control, from receiving parts inspections to product assembly and shipping.
Production Plant
Preliminary Preparation
Parts kit
Long items and circuit board

Exterior parts Packaging box

Small items

Various screws
Accessories kit
Tool set

Portable
Wi-Fi hotspot

Work mat

Laptop PC, barcode reader
Sent to home

Plant (return to start)
Operator's Home
Assembly preparation
Follow the instructions and place the kit on a table

Packaging
Package the completed product and send to plant

Assembly
Follow the instructions and assemble the STIKA

Inspection
Inspect the operation and quality of the assembled product
Ideas Tailored to Remote Production
The PC and portable Wi-Fi hotspot play a vital role during the remote production process. While production plants are arranged with the required equipment and sufficient space, workers' homes differ from the plants that they normally work at in that not all homes have internet available, and all steps of the assembly process need to be performed by the worker alone. These devices are essential tools that are not only used for sending work instructions from the production plant to the PC at the workers' home, or for receiving work logs, but also for assisting workers by using video-conferencing with staff who are standing by at the plant to respond to any problems or questions raised during the assembly process.

Parts used during assembly are delivered in a special box with foam cutouts in the shape of each part to prevent parts going missing or sustaining damage during transport.
Project Results
So, what were the results like? While there were some differences in the time taken for assembly depending on the worker's level of experience, 15 of them were able to fully assemble the products within the set time. The quality of the finished products was identical to when they were assembled at the production plant, despite each person working under different conditions. Some participants had questions related to network connectivity issues or needed information on how to fix mistakes made during the assembly process, and these were dealt with smoothly by utilizing the voice calls and video camera functions of the video-conferencing system.

"This is entirely possible." Based on these results, project leader Sunako says that he is confident that this method could form a viable approach to respond to any unexpected events like COVID-19.

We were always under the impression that manufacturing could be successfully achieved in places outside of the production plant by simply following the instructions shown on a networked PC, and this project demonstrated that this theory could be put into practice.

The issues were identified during the project that will need to be addressed for future improvements, such as the operators not being able to find enough space in their homes for assembly which made the assembly process more complex. Workers also needed to have the PC constantly connected to the internet during assembly, and the project reaffirmed the need to maintain and improve network connectivity.
I worked in a room where I live alone and the noise from the electric screwdriver was louder than I expected, so I worried that it would disturb the neighbors. I used a low table and had to change positions for each job, which was a bit of a challenge.

I was able to use a larger table at my parents' house, which made the work go smoothly, but if I only had a small table, it would have been difficult to work on.​ ​​​

It was a valuable experience as I had a lot of fun assembling the product. It would be nice to have a larger workspace.​ ​
3.

The Vast Potential Discovered with "Remote Production"

We ran this project on remote production to identify the feasibility of a new, flexible approach to manufacturing that breaks free from the traditional view that products need to be "made at production plants." We also recognized the various potential of the "D-PICS" manufacturing support system that this remote production was based on.
Minimizing Manufacturing Risks
The first area of potential is that the system can be used as a way of hedging against risks associated with sudden, unexpected events like the COVID-19 pandemic.

If situations were to arise that make it difficult for groups of people to gather at a single location, or stay-at-home orders mean workers have to wait it out at home, this approach means production can be continued safely while alleviating the uncertainties of workers. Organizing production at multiple locations capable of smaller-scale operations differs from the usual method where all production is conducted at one large plant, and is not only effective as a form of protection against natural disasters or geopolitical risks, but can also lead to a reduction in people's traveling time and costs.
More Diversified Working Styles
Another area of potential is that this method can be used to meet more diversified working styles.

Manufacturing that can be achieved anywhere is likely to make it easier for people who find it difficult to commute to work—like those raising children or providing nursing care—to continue working. Having to forgo the opportunity to work due to a range of circumstances, despite having the will to work, is a significant disadvantage for not only those individuals but for society as a whole; the experience and knowhow acquired by being able to continue working at the same company brings major benefits for both. While most people may picture office work or similar types of jobs when they think of working remotely, if we are able to expand on the concept of remote production that we have attempted with this project, it could be beneficial to society as more people will be able to have a fulfilling career.
Local Production, Local Consumption for The Manufacturing Industry
Another potential benefit is that of "local production, local consumption for the manufacturing industry."

With this remote production project, we linked up the production plant and 18 people working in their homes to see if "workers with different levels of skill, working at a range of locations were able to assemble products with the same high level of quality by connecting to the production plant over a network." If we take this concept and replace the term "home" with "overseas countries," this approach has the potential of achieving local production, local consumption for the manufacturing industry on a global scale, where products can be made to the same level of quality and delivered quickly to suit orders received locally. And instead of manufacturing large quantities of products at a single production plant and delivering them around the world, this approach can not only reduce the lead time after customers place an order, but also cut back on transportation costs and reduce the associated CO2 emissions. There are also other additional benefits, as local workers making products that are needed locally can boost the sense of attachment and confidence in those products, as well as contributing to the local economy.
Final Thoughts
Looking back over this project, remote production is more than simply assembling products at locations other than the production plant—it can bring benefits to areas outside of the manufacturing industry too. "My kids took a keen interest in the project at my home," explains project leader Sunako, "and when I let them try assembling some parts, they enjoyed it a lot. When I saw this, I could imagine that this approach also has potential in fields like monozukuri education."
In the past, this type of assembly work was limited to workers who had the relevant knowledge and expertise for utilizing digital data and networks. Now, anyone can achieve the same level of quality wherever they work, and this is the biggest advantage of this manufacturing system. This concept can deliver significant potential throughout a wide range of fields including medical and traditional crafts, the food service industry, and the amusement sector.

We will be further enhancing the technology behind the remote production system built on D-PICS, to contribute to the development of a "new approach to manufacturing" that meets current needs as well as changes in the social environment. Keep checking back with Roland DG to find out more!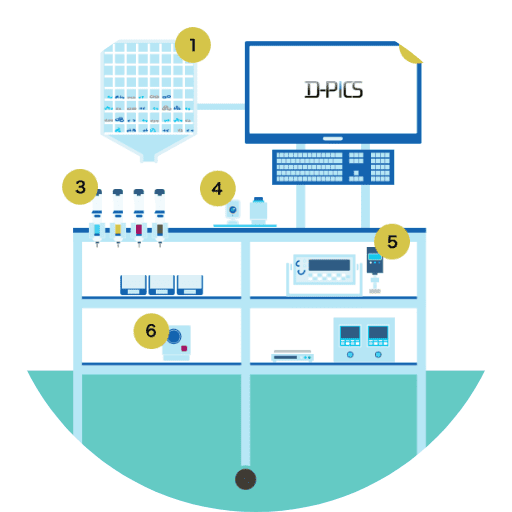 Introduction of the D-PICS Production System
This section provides an overview of the system and its merits.