A One and Only World Woven by Digital Art and Tradition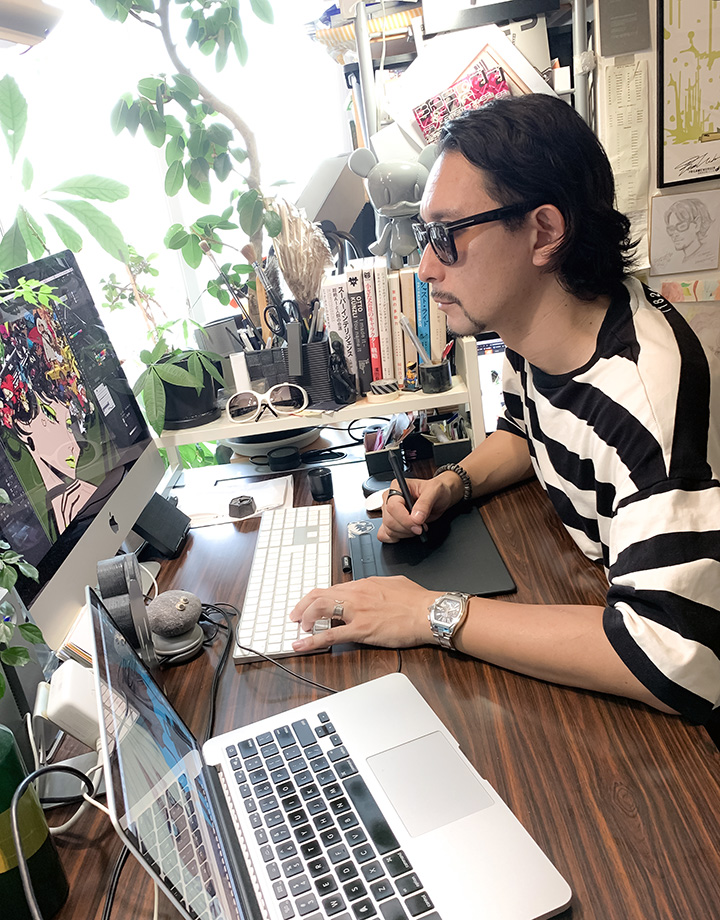 A single folding screen covered in brilliant colors. The moment your eyes are attracted to its overwhelming presence, you are drawn into a gorgeous yet ethereal world of gold. There is a robot wandering in the forest, surrounded by the glow of life...

Baron Ueda is one of Japan's leading digital artists, popular for his chic American-style pop art composed with Adobe Illustrator. While creating art and accessible illustrations, he has been challenging himself to create unique works that fuse modern art and Japanese tradition. Focusing on his latest work, EDEN, we will introduce his thoughts behind the work and his encounter with the traditional beauty of Japan.
First of all, could you tell us how the work EDEN came to be?
EDEN was created for an event called "9x9 Final." This event is a collaboration between nine artisan s of traditional Japanese craftsmanship and nine contemporary artists to present the current fascination with traditional Japanese interior decoration and arts such as shoji, sliding door, folding screens, and hanging scrolls. The organizer is Kadokawa Corporation, a Japanese paper wholesaler that has been in business for 117 years. As lifestyles become more Westernized and the demand for time-honored things decreases, this exhibition will feature contemporary artworks made into classically inspired interior decoration and arts in order to show the beauty of ancestral Japanese techniques and their new possibilities to as many people as possible.
How do you participate in the 9x9 Final?
This event will be held at Chosei-an Tea House in Keitakuen, a Japanese garden in Tennoji Park in Osaka where I will produce an entire small tea ceremony room. I will be exhibiting three works: a folding screen, a hanging scroll, and a sliding door painting. EDEN is one of these and will be made into a folding screen.

*The 9x9 Final is currently scheduled to be held from October 12 to 18, 2021, but this may change due to COVID-19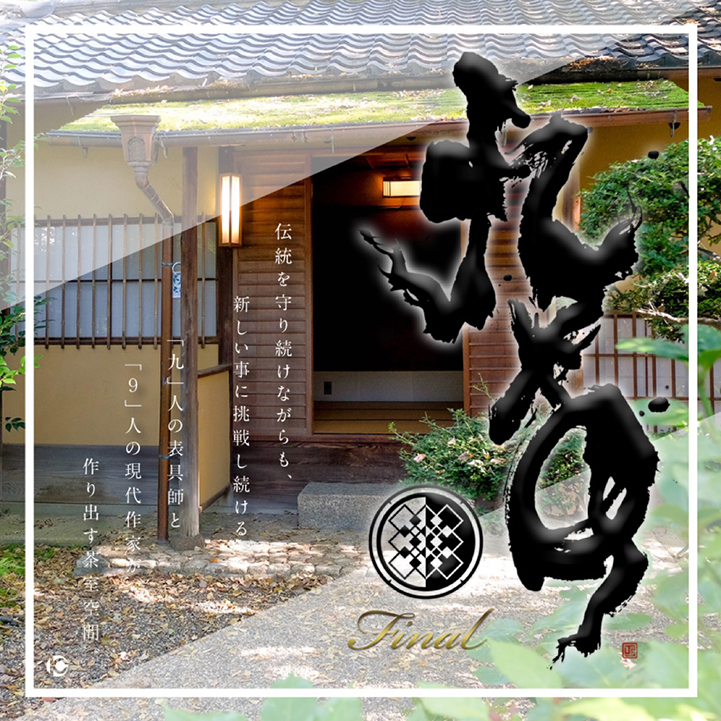 What is the theme of EDEN?
I have always liked to fantasize about the future and have drawn many works with androids as the main characters. In a nutshell, EDEN is an illustrated story about a mechanical doll that wants to come to life. I believe that the performance of robots will continue to evolve at an accelerated pace, and the theme of this work is about a future world where robots will want "human things" that they don't have. It depicts a scene where the main character, an android, has arrived at the entrance of a new paradise after a long journey.
What does "new paradise" mean to you?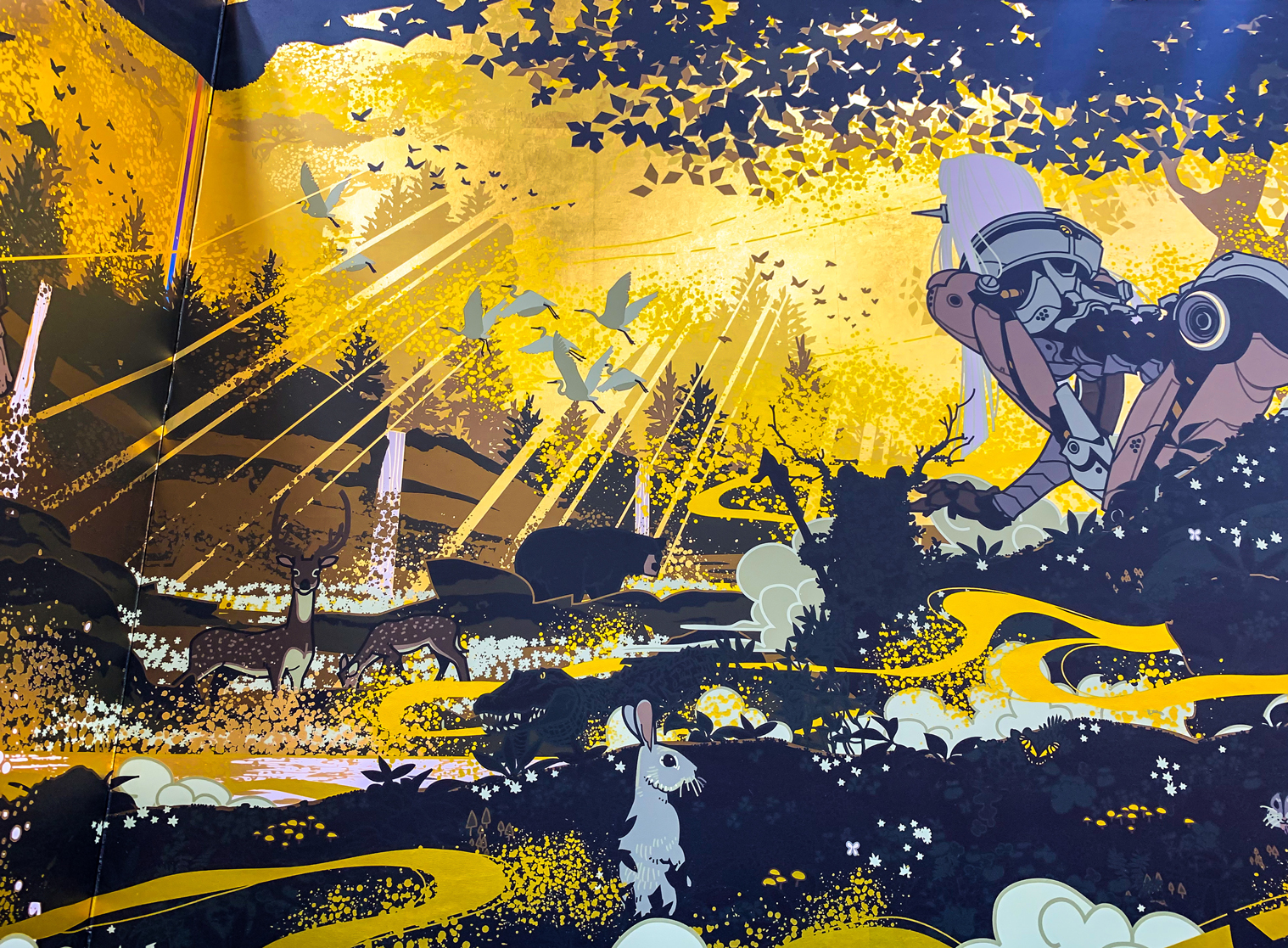 Long ago, Adam and Eve, the first humans created by God, ate the forbidden fruit of wisdom in the Garden of Eden and were banished to this world. Those humans used their wisdom to develop science and civilization, and even created robots. And now, these robots have begun to desire human emotions, such as love and hate and even life, and have set out on a journey to find the Garden of Eden for robots.
The Garden of Eden is not just a story of the past, but also a story of the present and the future, which is the meaning of imagination and questioning.
I was especially impressed by the beautiful and fantastic use of gold.
I am pursuing metallic expressions such as gold and silver, especially the ultimate gold, which I think of as "the gleam of gold leaf," and I keep challenging myself to create works that take advantage of its beauty. EDEN is one of them. While expressing my own theme and view of the world, I created a work that fits into the Japanese space of a tea ceremony room. It is quite difficult to print on gold leaf. Some discerning people asked me in surprise, "How on earth did you do that?"
You are using a digital UV printer for printing.
For the printing of the pictures, I used a Roland DG printer. We print with UV ink on gold leaf and are satisfied with the way it reproduces the shine and texture as I imagined. I have worked with Roland DG several times in the past, so I felt comfortable working with them based on trust and their experience. However, since I often challenge myself to create expressions that no one has ever done before, I make mistakes and it is always a trial-and-error process. So, I always feel as if I am working with the digital printing craftsman to create a work of art, rather than simply saying, "I'll print it on the printer." It is the same with traditional Japanese craftsmen when we work together, trusting each other as professionals in our respective fields.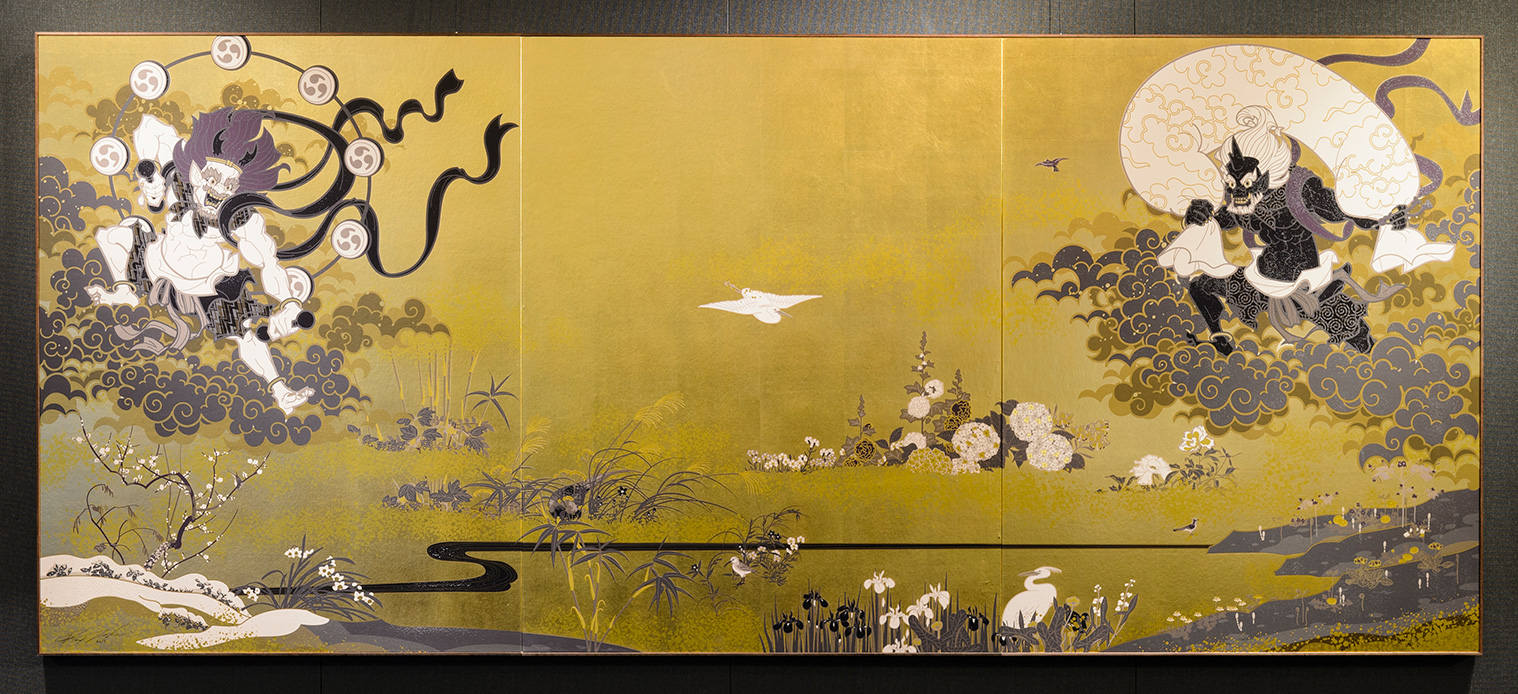 When I think of you, I think of your American-style pop art and powerful style, but you also create many works that incorporate traditional Japanese techniques. Do you think that the fact that you yourself were born in Kyoto has an influence on your creations?
I was born in Nishijin, Kyoto, and my maternal grandfather was a craftsman of Nishijin textiles (luxurious high-quality silk fabric with a more than thousand-year history in Kyoto). But my father had a job that required him to move around a lot, so I have hardly ever lived in Kyoto. In fact, ever since I was a child, I was never interested in traditional Japanese things at all, but rather had a strong yearning for things from overseas. I loved American movies and music, and I was fascinated by the dynamic culture and worldview of other countries.
When did you start to become aware of Japanese expression?
It all started when I was asked to paint a picture to decorate the tea ceremony room of an old mansion in Kyoto. The theme was "Edo* no Iki" which references the aesthetic sense of the people who lived in Edo. Normally, I would receive some specific requests, such as "I want you to draw people," or "I want you to draw plants." But the client said, "I don't care what the motif is, and you'll deliver the work when you are in satisfied with it."

* Edo was the name of Tokyo until 1868.
Was it a difficult order to have so few restrictions?
Yes, it was. At first, I was puzzled, but then I got excited. I wondered if I could interpret the client's vague image in my own way and come up with a satisfactory answer. I thought that this was a real test for me as a professional artist.
Did you have an idea for the work right away?
It was very difficult for me. First of all, I started learning about the tea ceremony from scratch, which I had no interest in previously, but the more I learned about it, the more I realized how difficult it was to create a work. The tea ceremony is one of the most representative ceremonies of Japanese culture. It is a world of tradition and formality, a world of patterns that must not be changed.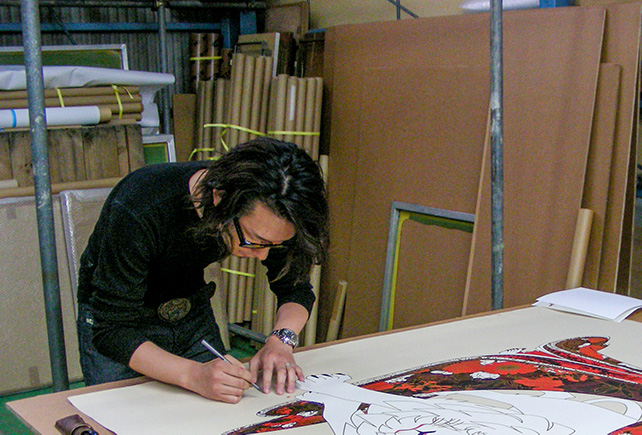 In the beginning, I wondered if there was room for my individuality or playfulness, or if it was disrespectful to do so. At that time, a master of the tea ceremony told me, "It is wonderful to adopt new senses. Don't hesitate to do it." I was very grateful. With those words, I was able to change my mindset and think, "It's okay to do things my way."
What kind of work did you end up with?
I painted a scene of an "Oiran", top class of geisha, dressed in gorgeous costumes, standing with a dignified white lion, and smiling flirtatiously. The work is called HACHI. The Oiran were very high-status. Not only did they have excellent appearance and behavior, but they also excelled in all kinds of culture and arts such as tea ceremonies, flower arrangements, incense, calligraphy, Japanese poetry, hand drums, and the Japanese harp. She was, in a sense, the top-notch cultural figure of her time, and was adored by not only by men, but also by many women. As such, they had an attractive aura, sense of refinement, and the strength to carry out their will. This is what "Edo no Iki" is all about. In the end, it took us about a year and a half to complete the project, but the client loved it.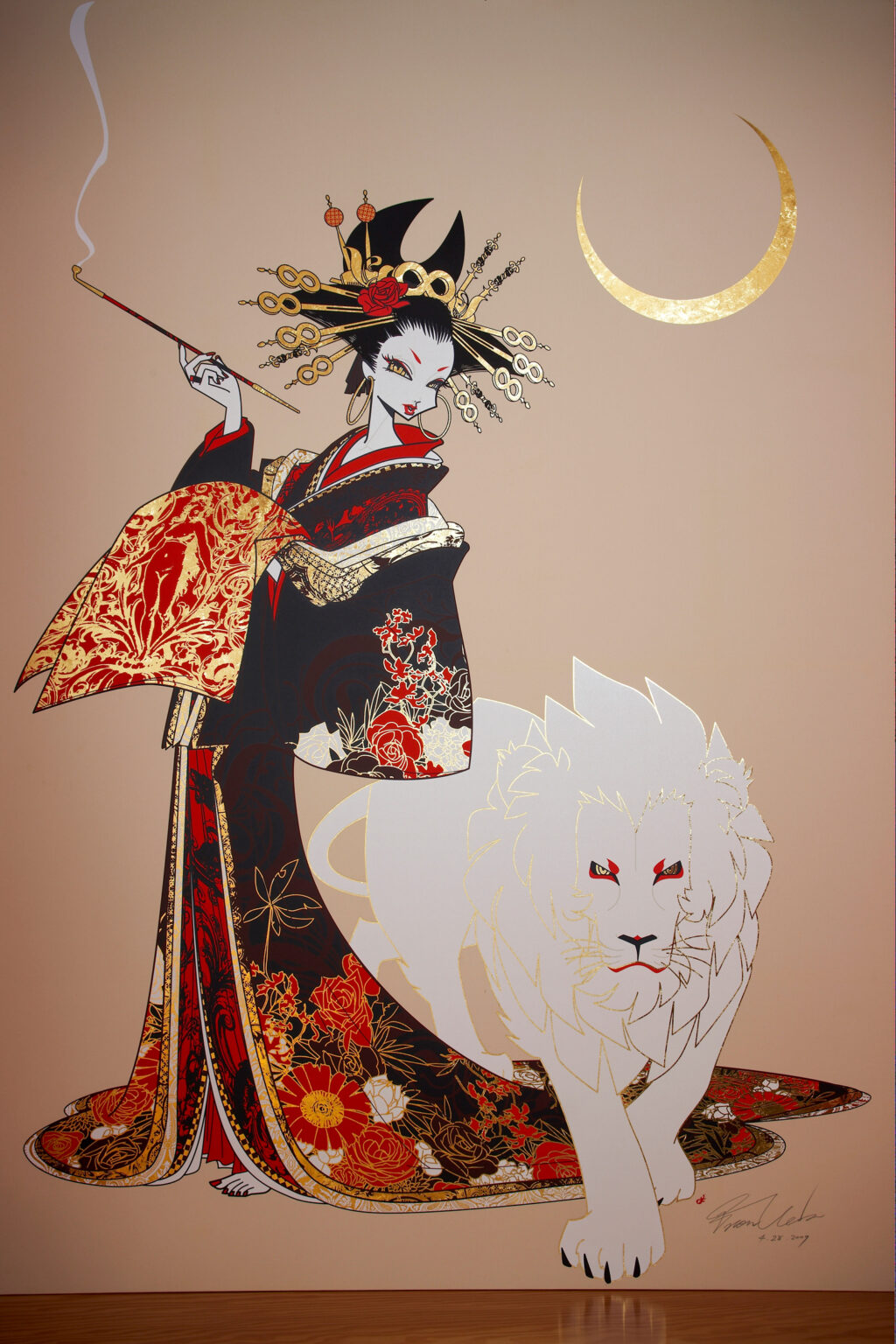 It was a very difficult work, wasn't it?
Yes, it was. But thanks to it, I became interested in learning more about Japanese culture and traditions, and I was able to discover the meaning of being born in Kyoto and the connection with my creative activities. It was also my first opportunity to work with people other than myself. I can draw digitally, but I'm not a professional at producing output or creating something tangible. Up until then, I had always assumed that I would create my work alone, but through this job, I learned how interesting and difficult it is to create a work of art with professionals from different fields, such as the person in charge of printing and the traditional Japanese craftsmen. HACHI is definitely one of the works that changed my life, as it became a catalyst for the creation of EDEN and other works that incorporate Japanese techniques.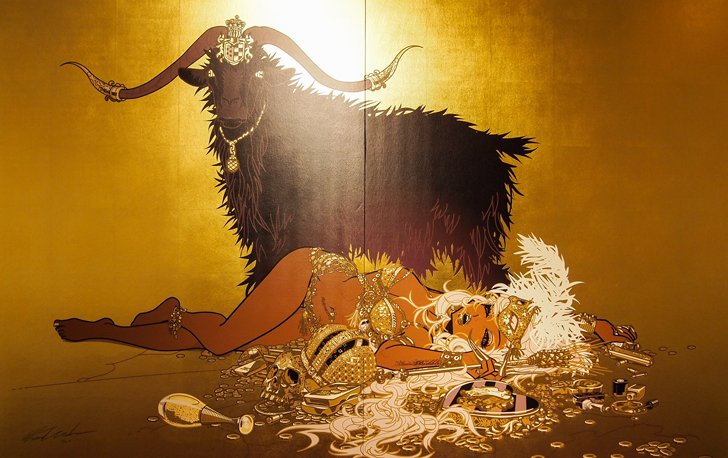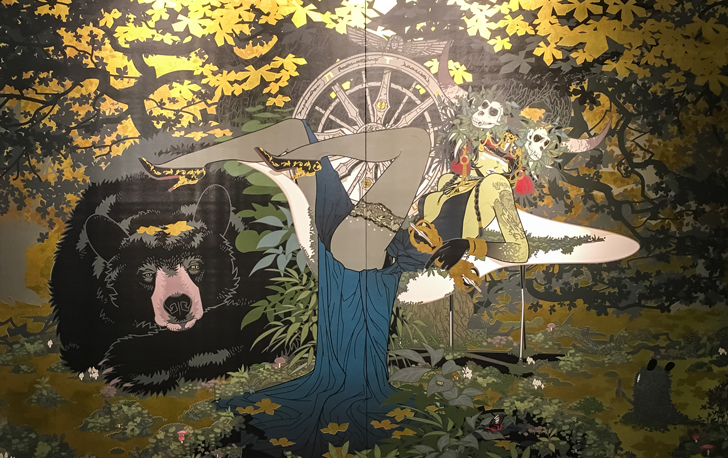 Is there anything you would like to challenge or dream of doing in the future?
I want to be recognized more in the world, not only in Japan. I would like people to know not only about my work itself, but also about what I draw, my way of thinking about expression, my process, and my uncompromising approach to it, and I think that my work can evolve further by experiencing about the unknown world. In particular, I want people who are doing the same kind of work as me and professionals in various fields to be interested in my work and think, "Baron Ueda is doing something fun." I think that is one of values as an artist. If more and more people appreciate my work in this way, then more and more people will be able to enjoy it. That is why I would like to continue to create attractive works that only I can create.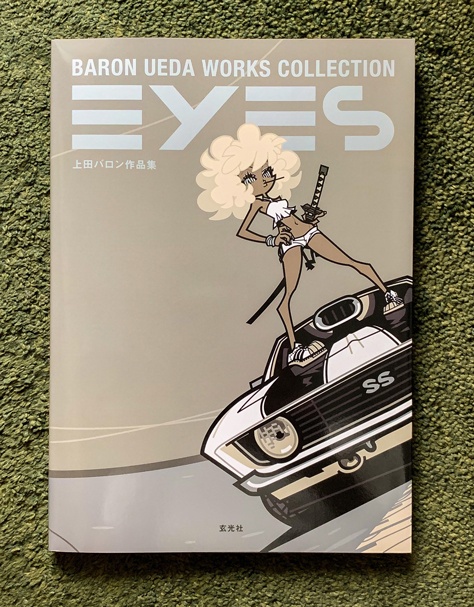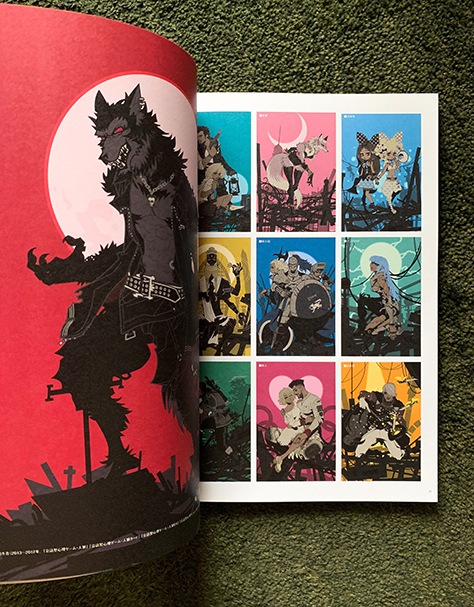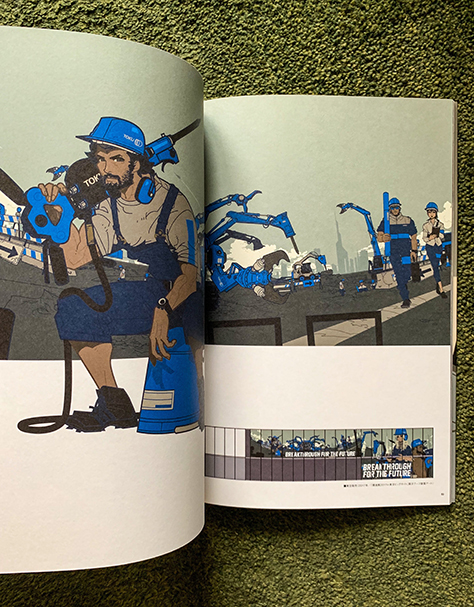 A One and Only World Woven by Digital Art and Tradition