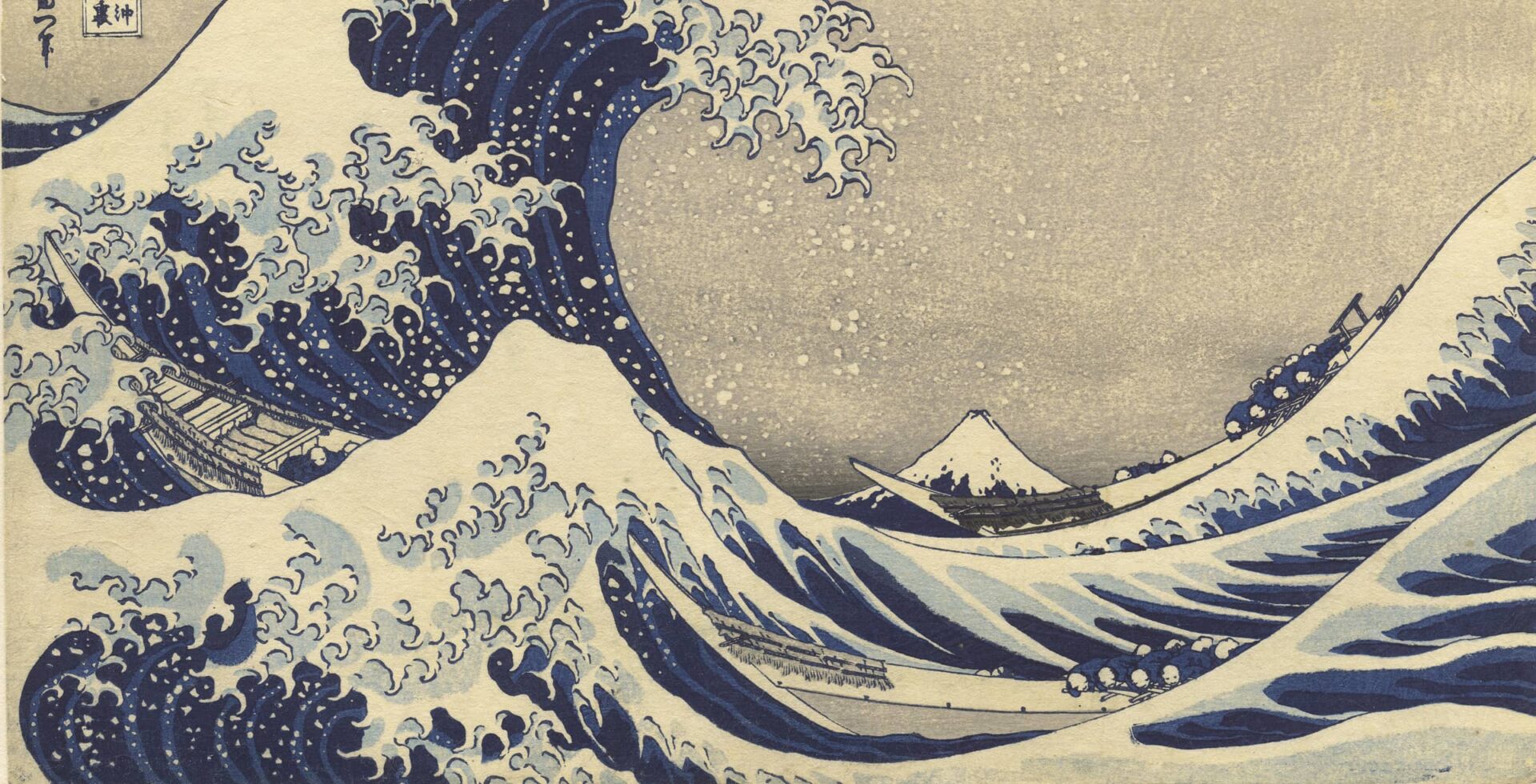 The Significance, Challenges and Ideals of Digital Transformation for Cultural Properties and Museums
– Exemplified by the Digital x Hokusai Exhibition – (Part 2)
Iwao Kubota
CEO and CTO of ArsTechne Corporation and ArsTechne Innovation

Iwao Kubota founded ArsTechne in 2012 with the goal of creating a digital culture industry. He developed "Re-Master Art," a next-generation digital archiving technology for cultural assets, centered on its patented DTIP technology, a high-definition, three-dimensional texture-image processing technology which reproduces 3D texture in as small as micrometer (μ) units. Since then, he has been involved in the digitalization of cultural properties and the production and utilization of authorized data for numerous museums and temples in Japan and abroad, including the Musée d'Orsay in France. From 2020, in collaboration with NTT East and NTT ArtTechnology, he was involved with creating and promoting the world's first distributed digital museum,"Digital x Hokusai."
He is the author of the books The Realistic Viewing Experience. The Beauty of Orsay Reborn (MDN Corporation), Hokusai and Hiroshige Inheritance and Innovation of Aesthetics and Technology (Ric Telecom Co., Ltd.), and is the co-author of Toward Regional Revitalization: Digitalization of Culture and Art (Ric Telecom Co., Ltd.), etc.
https://www.arstechne.co.jp
Following the first part, in which Kubota talked about the functions and roles that cultural properties and museums should fulfill, as well as the possibilities and challenges of digital technology, the second part will introduce the ideal form of DX for cultural properties and museums, and his efforts to develop digital technology to realize this ideal, including an actual example of a project to estimate and restore Katsushika Hokusai's Phoenix Glaring in All Directions.
The ideal of DX for Cultural Properties and Museums
To address the issues described in the previous part, I began by modeling what the operational form of cultural properties should be when digitalized as the core of the community. Cultural properties can be tangible or intangible, but museums primarily store tangible cultural properties. Tangible cultural properties include paintings, sculptures, ceramics, and many other types. Since reproduction techniques such as mold making and 3D measurement have already been established for three-dimensional objects and are being used in museums, I focused on two-dimensional cultural assets such as paintings (although they are not actually two-dimensional), for which there are few precedents. When digitalized, paintings have the same characteristics as animation, cartoons, and character designs. They are highly recognizable and must be compatible with many formats, such as display viewing, video conversion, and digital printing.

In addition, the older the work is, the more demand for digitalized works as copyrights are freed, but the value tends to increase in proportion to this, and it is not easy to photograph. In other words, the higher the value of a work, the higher the risk, and traceability and strong security are essential. Cultural properties are national and regional assets and operating cultural properties as digital assets directly improves the power and value of the community itself.

Based on the above ideas, we should strictly manage master data, create resized data (standard data) for operation that reflects color tone, texture, and other characteristics as much as possible, and operate it like a river flowing from its source under NFT certification or uniform standards and approvals in a strong security environment (I call this the "RIVERHEAD" type).
RIVERHEAD Digital Archives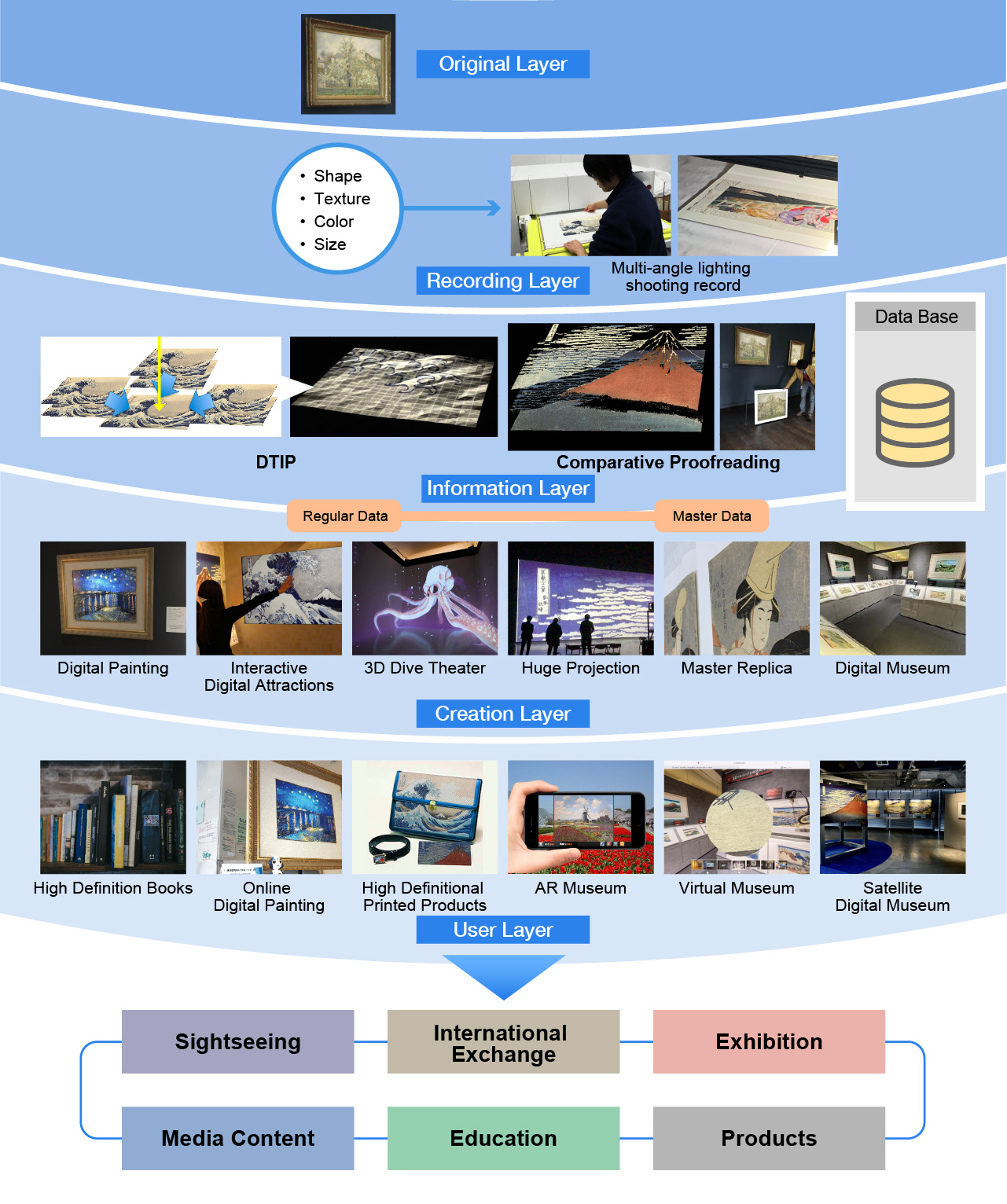 Next, we addressed the fundamental issue. Although image data is the ideal format for data in consideration of operation, actual paintings, Japanese-style paintings for example, have a multi-layered structure, randomly use pigments with different reflectance and particle sizes, and have minute irregularities. This information cannot be recorded by simply increasing the planar resolution. In the case of ukiyo-e prints, for example, the texture of the fibers of handmade Japanese paper itself is an important element of expression. Therefore, we have developed a technology called DTIP (Dynamic Texture Image Processing), which considers a work of art as a three-dimensional structure and generates a pseudo-three-dimensional image from a high-definition image using light sources with multiple angles.
DTIP Digitalization
The "Remastered Art Archive," a Riverhead-type operation model, has been established by defining the high-resolution, high-definition master data as the absolute value, and using this as the core, standardized data that can be spread across a variety of applications. These are groundbreaking, and the high-definition prints (master replicas) produced by DTIP can perceive such fine three-dimensional textures that they are no longer distinguishable from the originals with the naked eye, creating an optical illusion. Furthermore, the final image data can be used for a wide variety of purposes.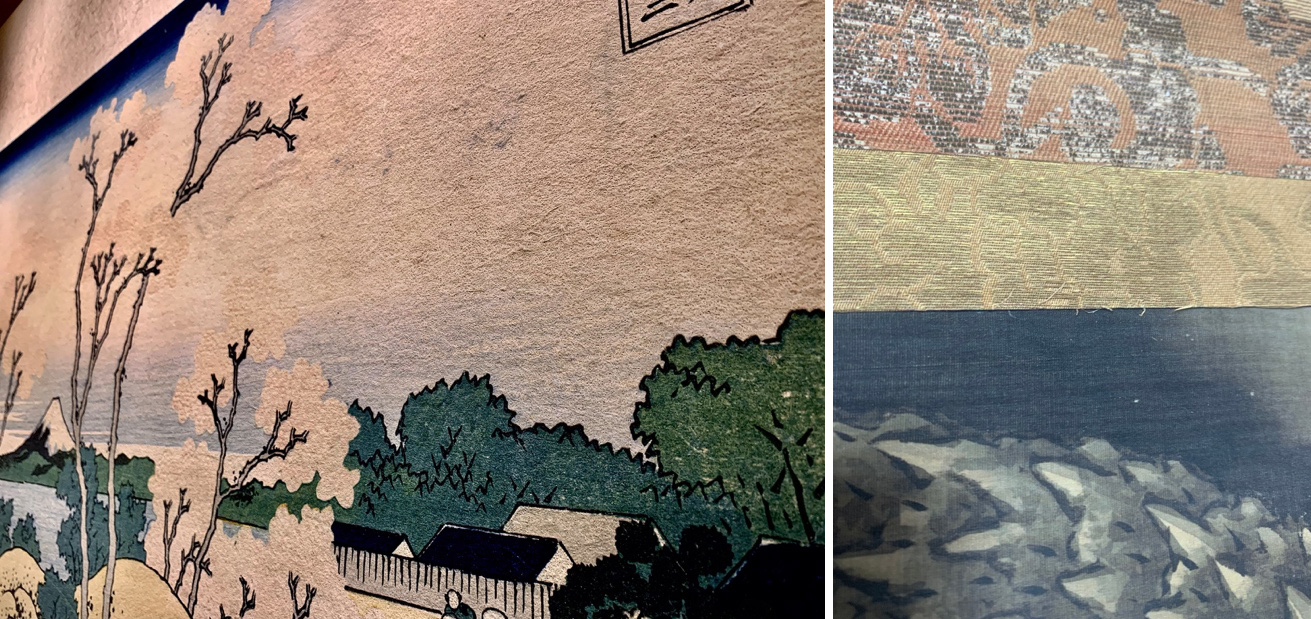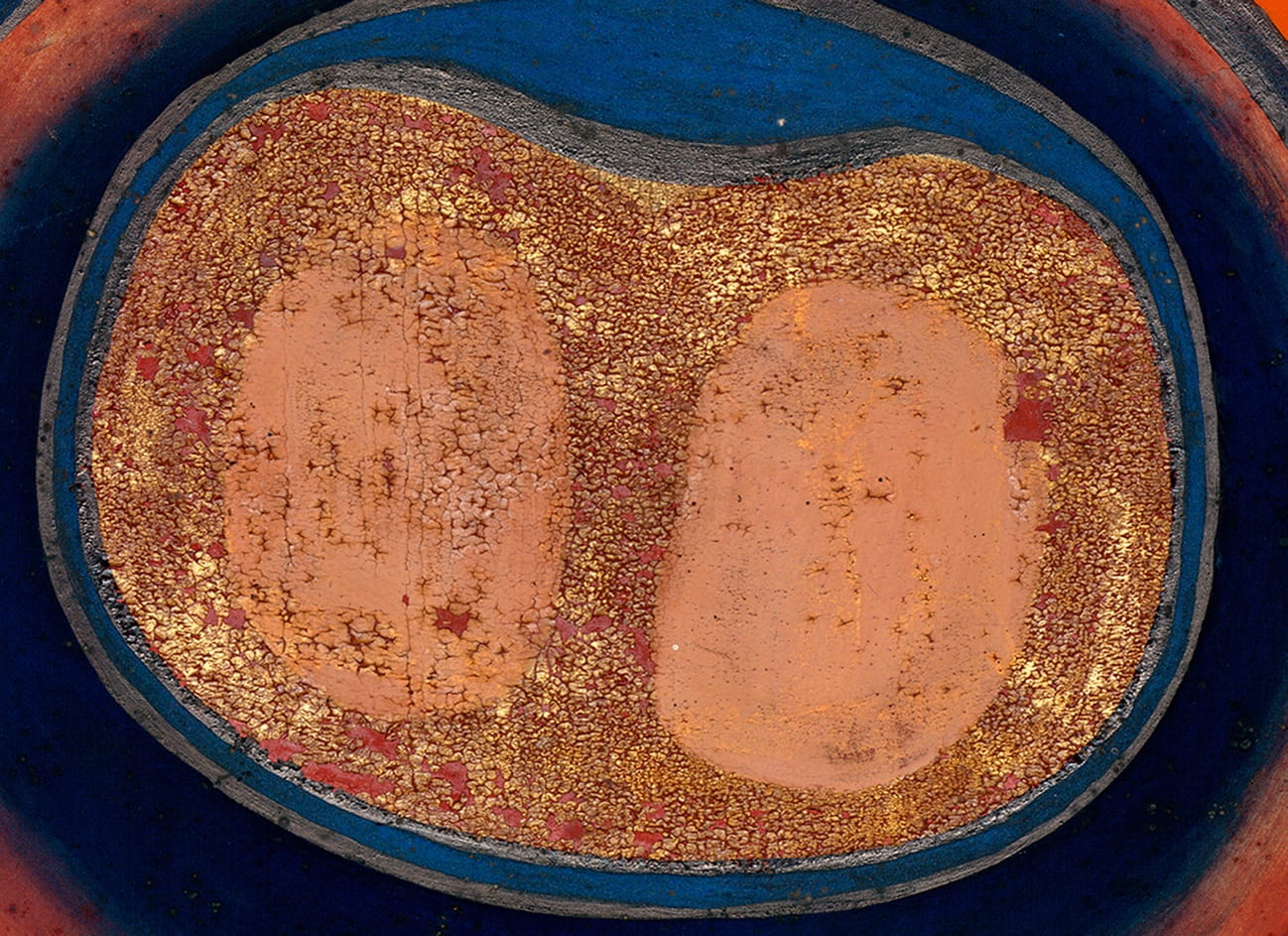 In public display, master replicas enable exhibits without environmental limitations such as illumination or distance. Unprecedented high-quality texture information and accurate color tone data can now be deployed over a network using a variety of applications, enabling exhibits that transcend time and space.

We have produced such cultural heritage data and developed creative applications, but there have been operational challenges.
ArsTechne's Experiential Digital Application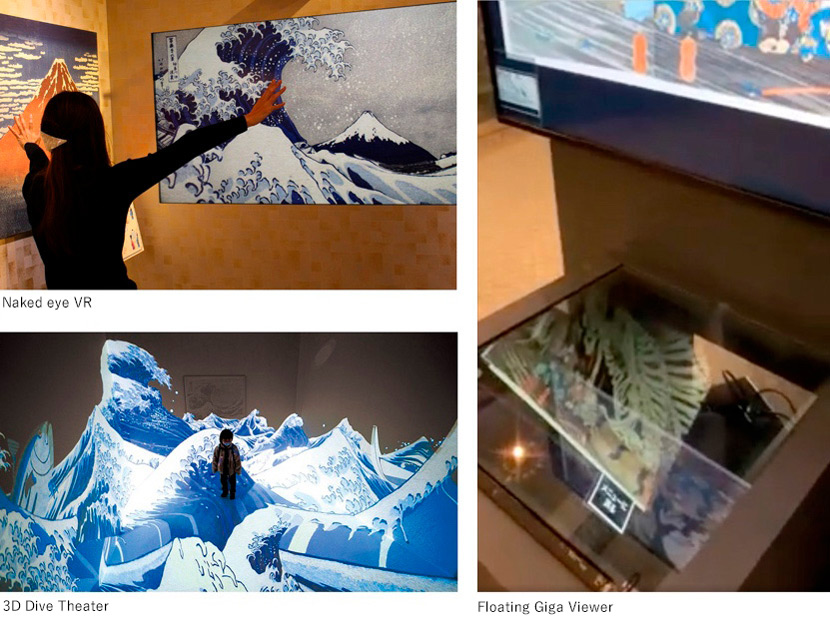 There is a matter of network line speed and security. The capacity of archival data on valuable cultural properties is large, and even very close reproductions to the authentic items, which are regional and national assets, are possible, so random operations are not allowed. NTT's ICT technology solved this problem. The infrastructure of high-speed telecommunications and security base station networks that stretch across Japan allowed the ultra-high-definition data to enter the operational phase. The result of the collaboration with NTT East, NTT ArtTechnology, and Roland DG is the Distributed Digital Museum "Digital x Hokusai."
Distributed Digital Museum "Digital × Hokusai"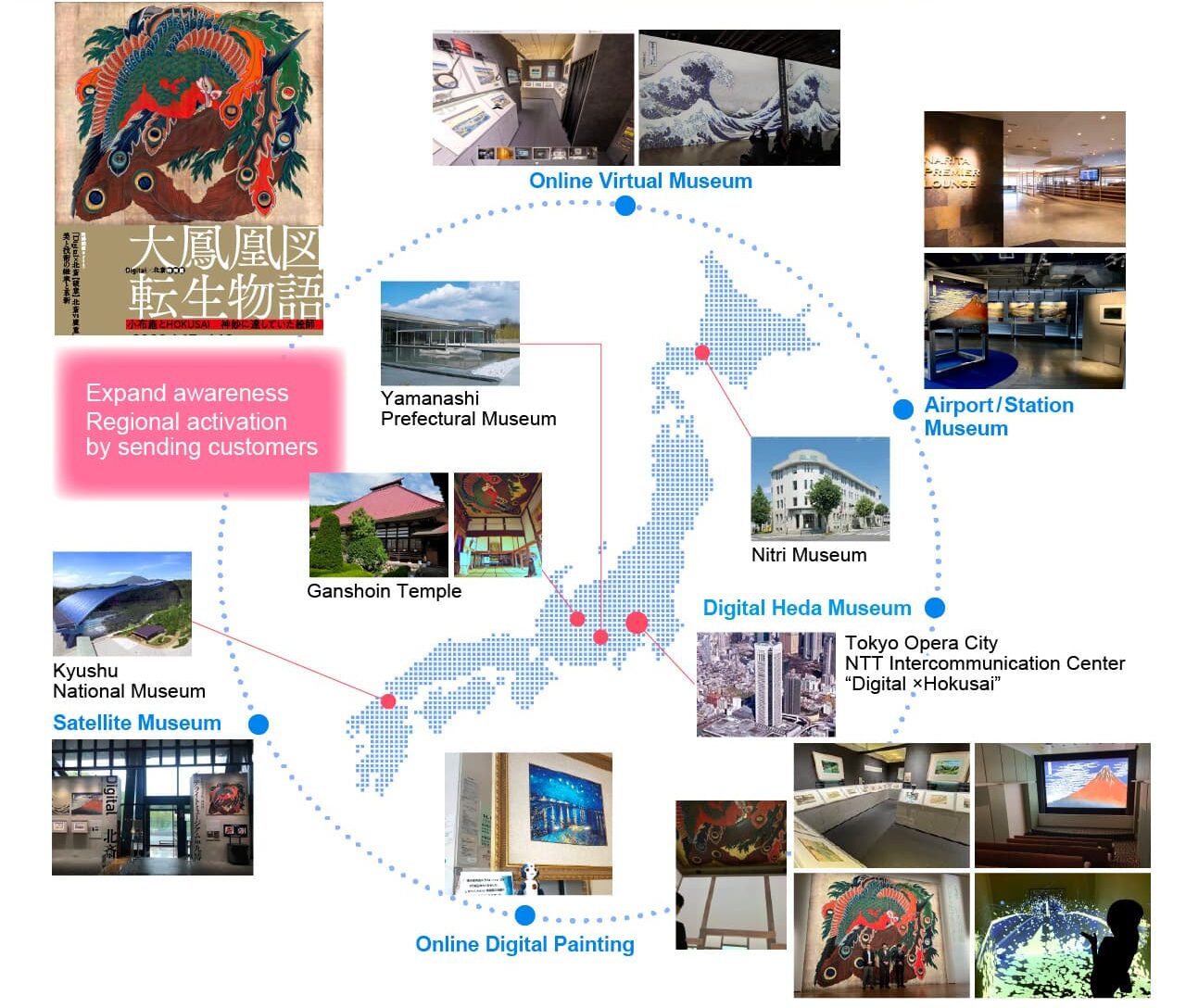 In the "Digital x Hokusai" project, we attempted to digitalize Katsushika Hokusai's largest original painting, a 5m x 6m ceiling painting of the Phoenix Glaring in All Directions at Gansho-in Temple, using DTIP with approximately 100 billion pixels. The result revealed that the work was unfinished, that it was painted with oil and smoke ink lines that glowed silver in the reflection of the overcoat, that the original plan was to lay 49 m2 of gold leaf on the background, and that the building was designed so that it would glow in gold and silver when the Buddha performed ascetic practices in the evening sunlight during the Nativity (the Buddha's birth ceremony). However, today, a building stands in front of the temple blocking the sunlight so that this image quality cannot be seen even in the original. Therefore, we separated the DTIP processed images by texture and printed in multiple layers using Roland DG's state-of-the-art UV inkjet printers to estimate and reproduce the ceiling painting as Hokusai intended it. The temple was also measured in 3D and a three-dimensional projection of an Edo period nativity ceremony was reproduced in a full-scale 5m x 6m x 5m space. The projection was linked to a high-intensity lighting system so that visitors could experience the Phoenix Glaring in All Directions glowing in the evening sunlight.

This attempt was groundbreaking: the DX revealed the artist's previously unknown intention in creating the work, and enabled visitors to appreciate the true form of the work over 170 years and a distance of 240 km (Obuse to Tokyo).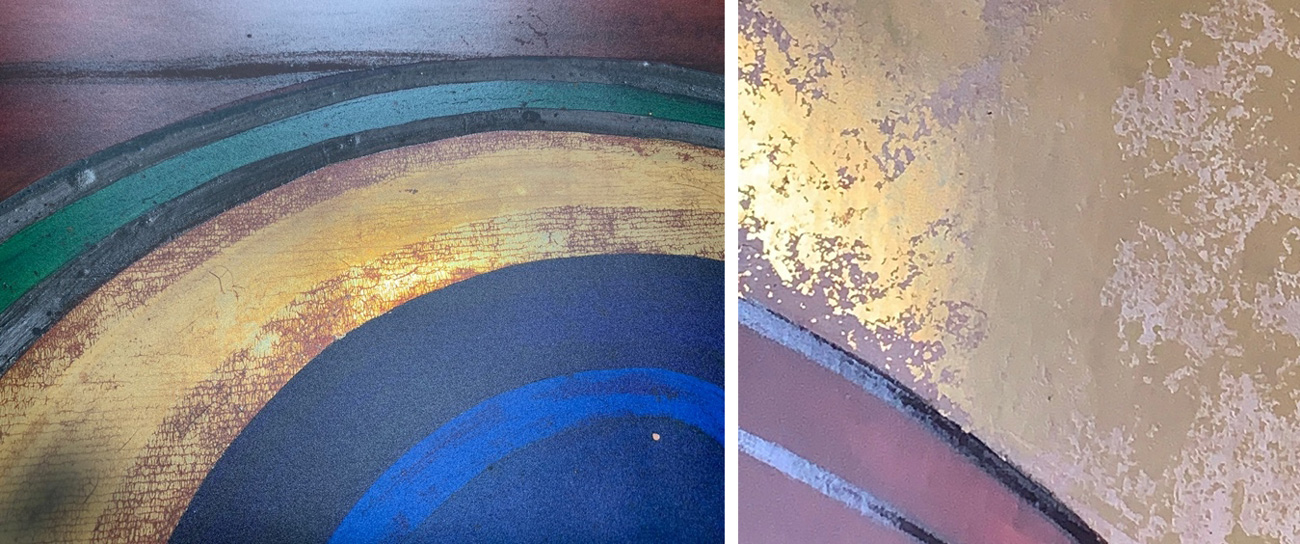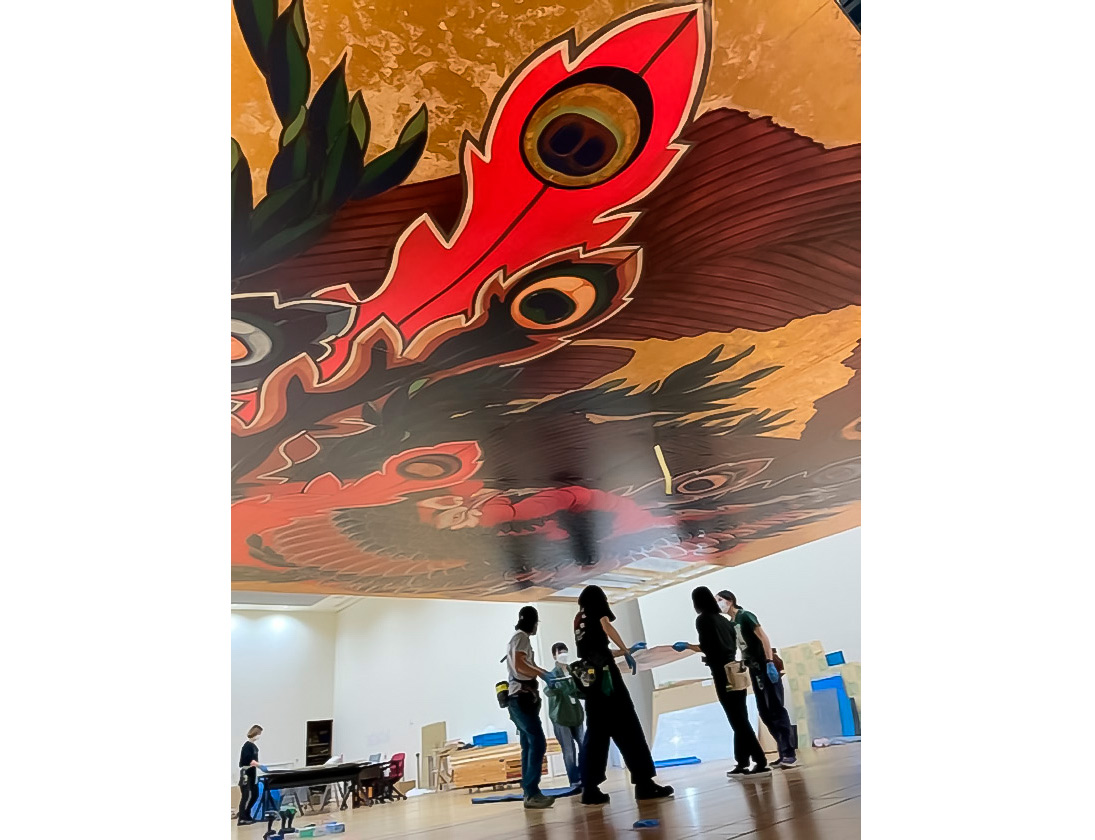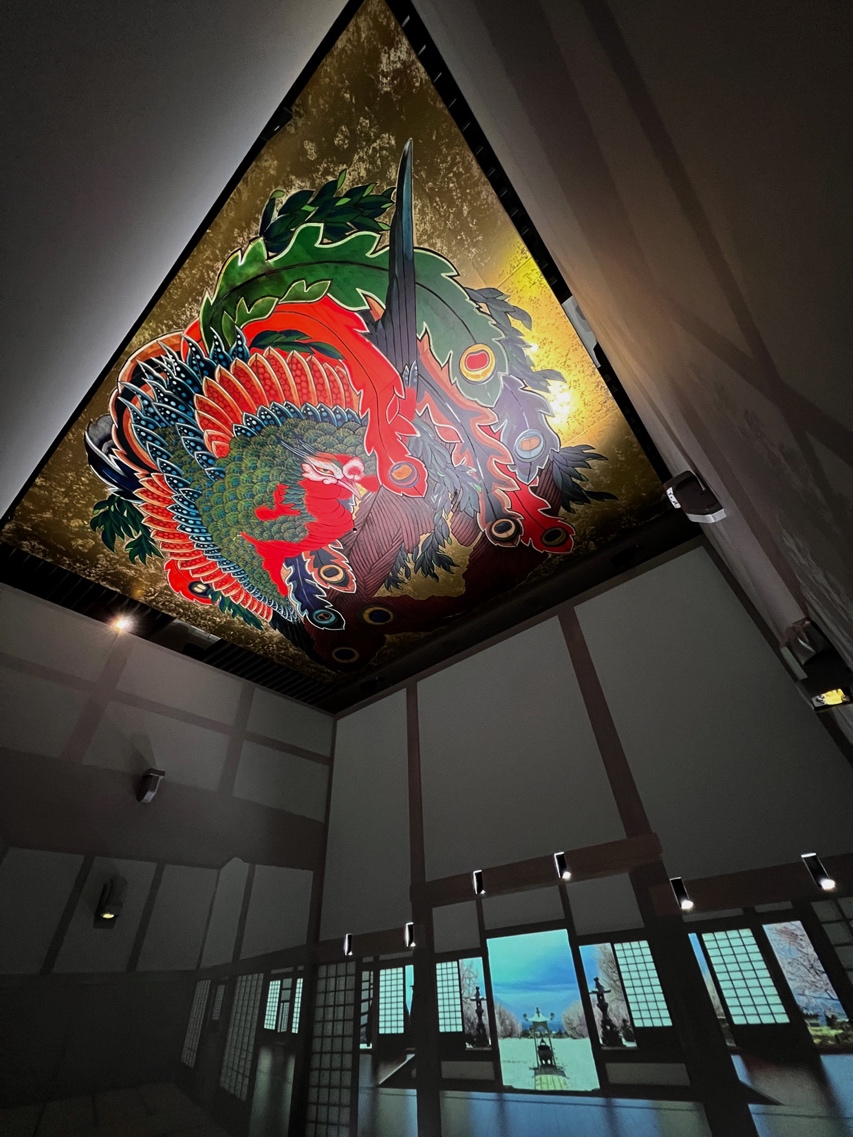 The possibilities are now endless. Important artworks and cultural assets are the very identity of a country or region. DX can provide everyone with access to the essence of creativity that humanity has carved into history, across time and space, transforming the way original works are held and viewed, and providing a deeper intellectual experience for the viewer.

It can also greatly help promote mutual understanding, respect, and dialogue between different cultures, and the global networks and fields that are created have the potential to nurture new innovators and become the soil for the next generation of creation and innovation.
The Significance, Challenges and Ideals of Digital Transformation for Cultural Properties and Museums
– Exemplified by the Digital x Hokusai Exhibition – (Part 2)