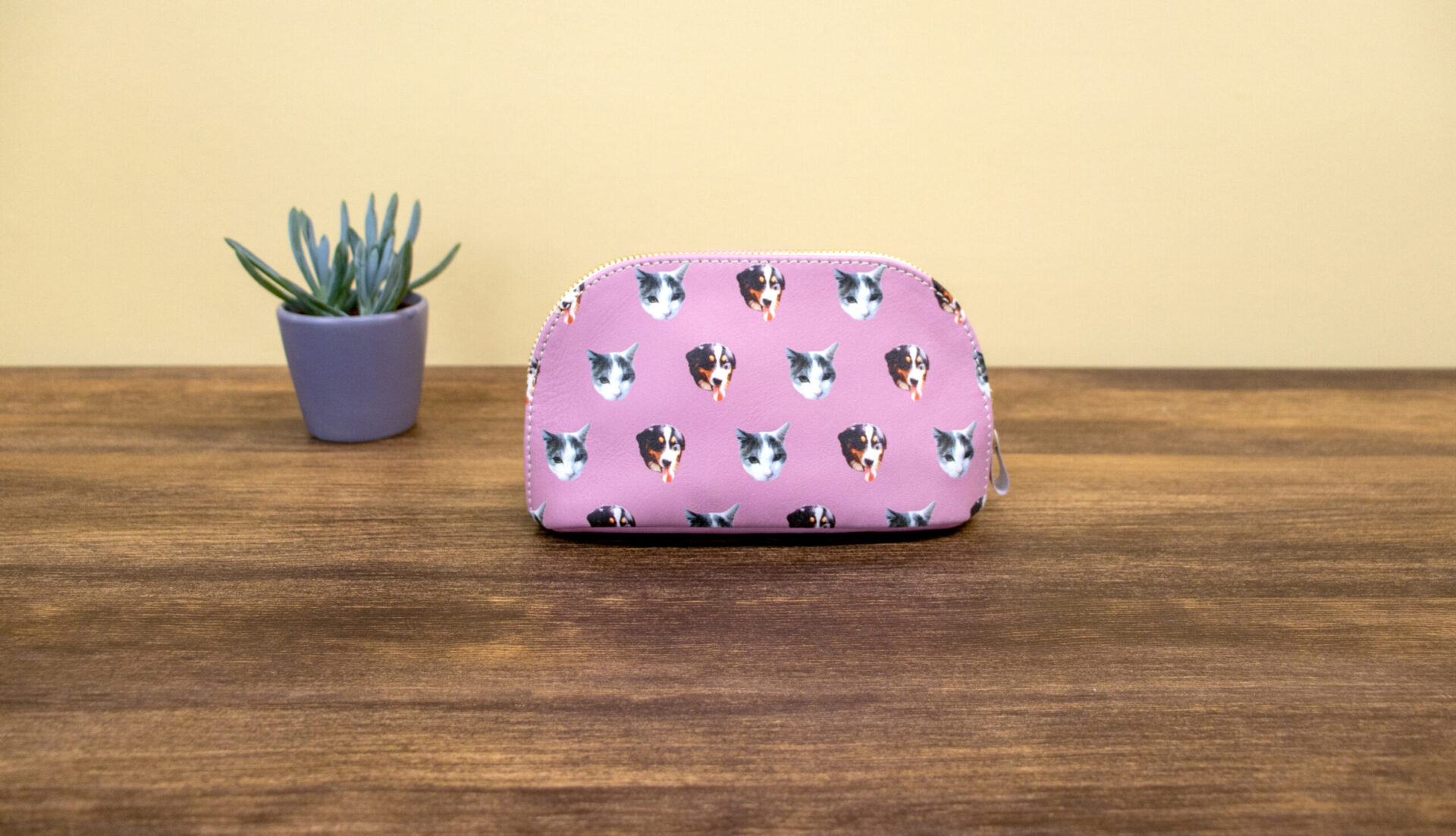 Experiencing a Popular Custom Goods Service Designed with My Pets
Mika Orimo
Manufacturing Technical Writer
Here is a quick question. Are you a dog person? Or a cat person?

I love both.

I have always had one or the other, sometimes both since I was a child. The ones I have now are both black. Jill used to be a shelter cat.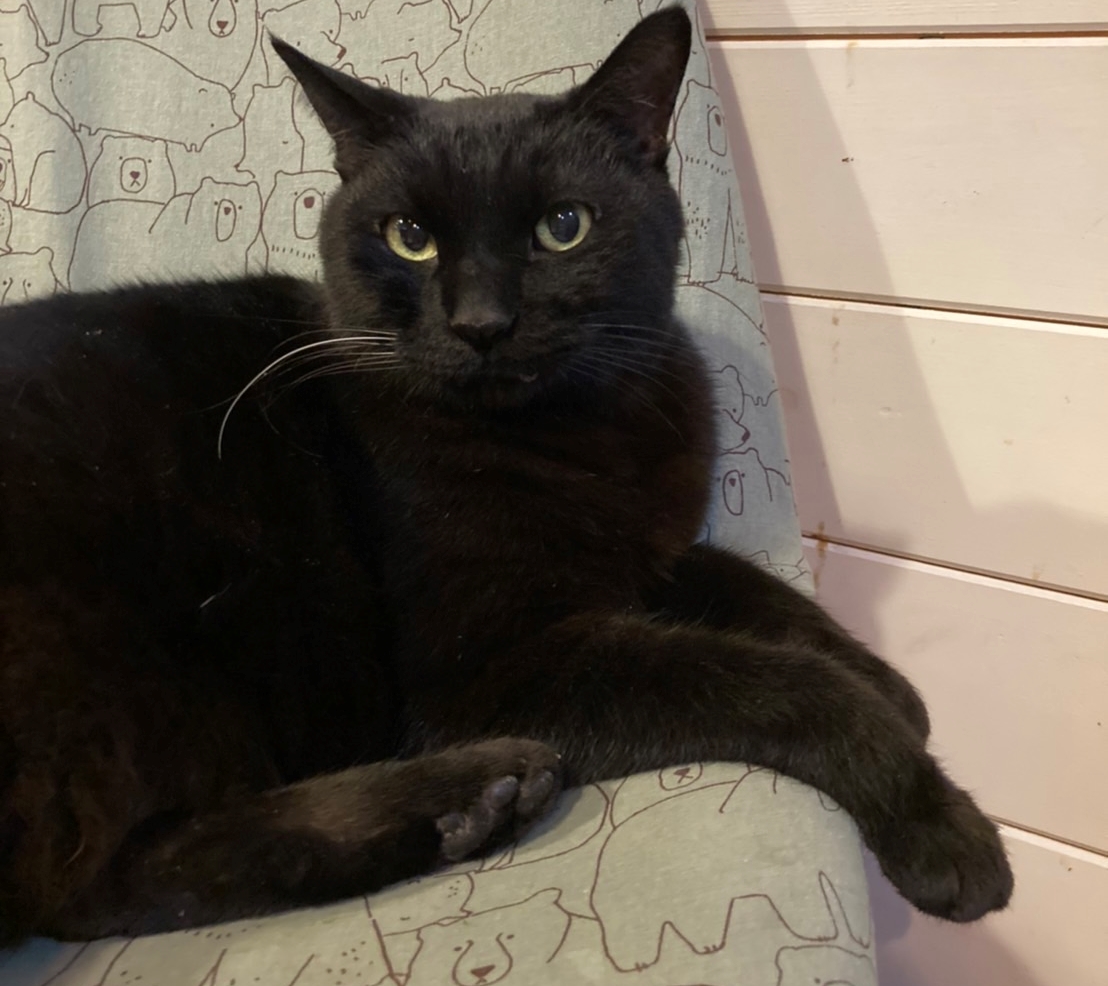 Coco is a black Labrador Retriever.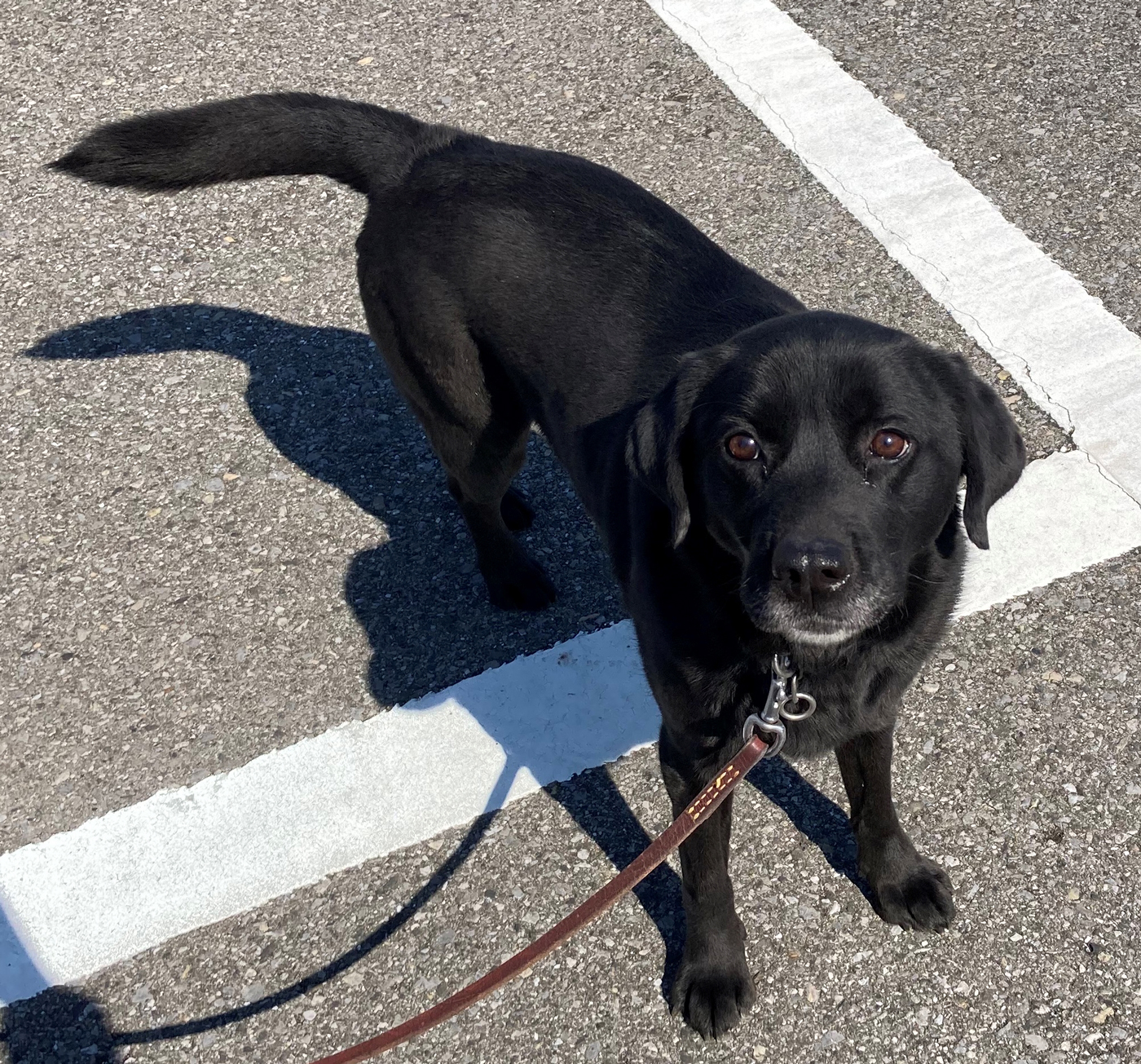 Cute and beloved pets are absolutely photogenic for their owners. Many people probably have a smartphone camera full of pet photos. We experienced a service that allows you to print these photos of your pets to make custom-made goods.
PET DOT SHOP
PET DOT SHOP, a service operated by Makers' Base Tokyo, allows users to create original items simply by sending a photo of their pets. The items available range from fabric items such as pajamas and cushions to leather items such as pouches and phone cases. You can also choose the color of the base material and metal fittings such as zippers. Send a photo and the designer will cut out the background of the photo and design your pet into a dot pattern. You can apply two photos per item, so this time we decided to have both of our black animals printed on one item. Sometimes pitch-black animals do not look good in photographs, so we wondered how they would turn out.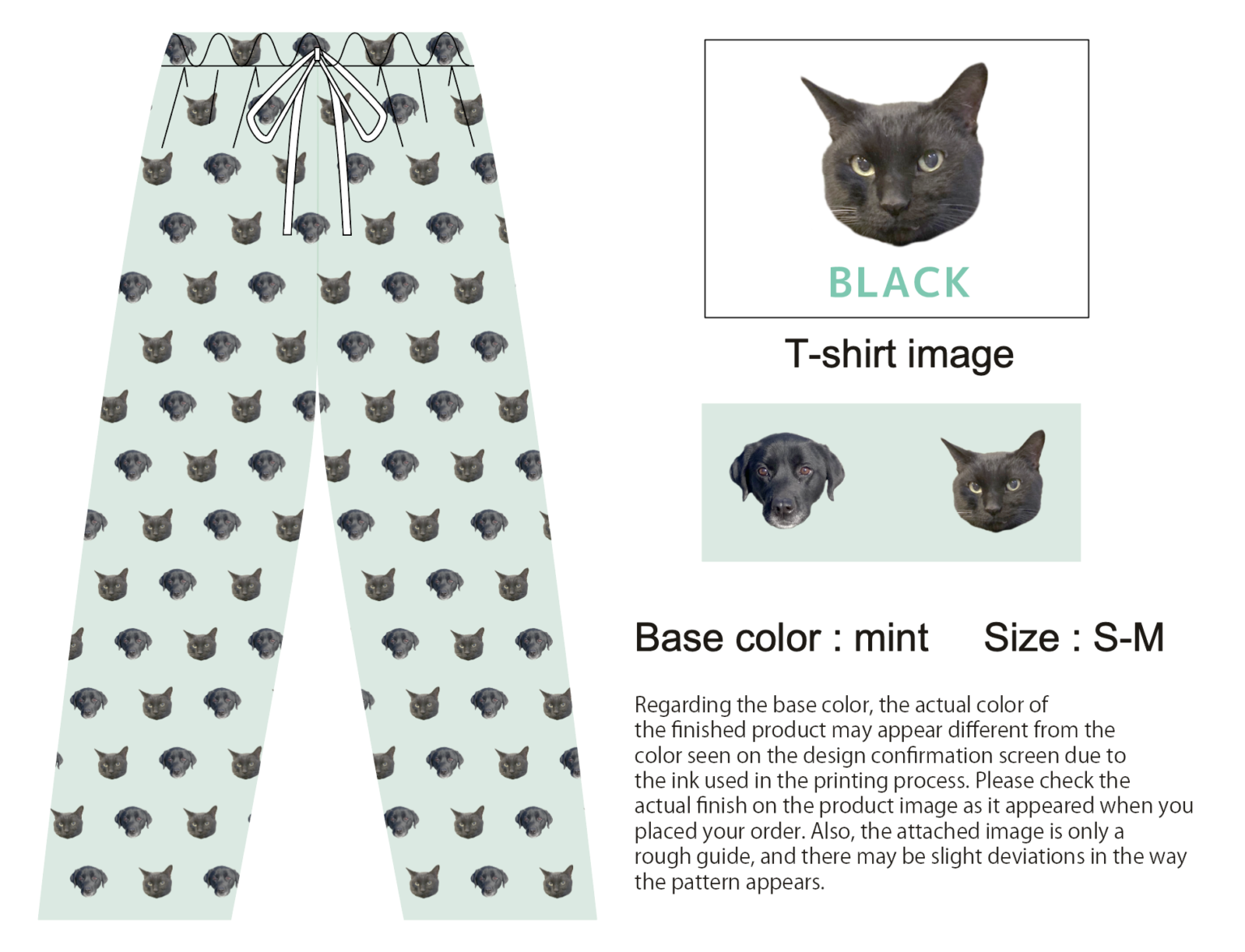 I exchanged emails with the designer, and this is the design confirmation screen I received. This time, we ordered pajama pants and an optional T-shirt, which can be personalized with up to 10 single-byte alphanumeric characters. Since the design is for black animals, it must of course be "BLACK." The photo I sent is the same as the one shown above. I was worried that the border of the neck would not be clear because it is a black dog or cat, but it looks very natural. I dared to use a frontal, straight-faced photo because I was particular about the pouty look which is adorable! (This is my personal opinion.)

If you look at the photos side by side, you can see that the brightness has been adjusted a little to make the muzzle (nose and mouth) area easier to see.

I was so looking forward to seeing the final products. And here is what arrived.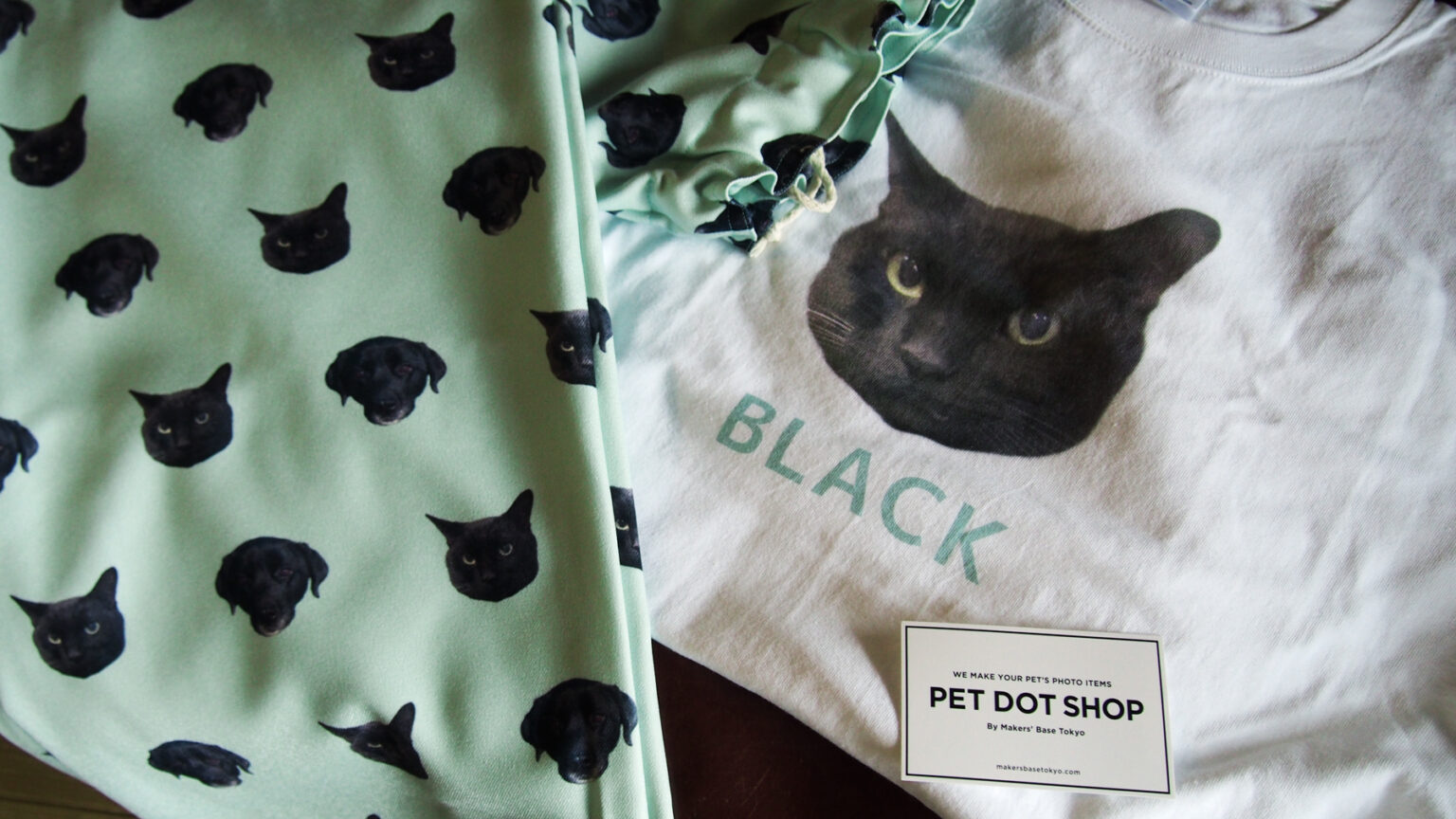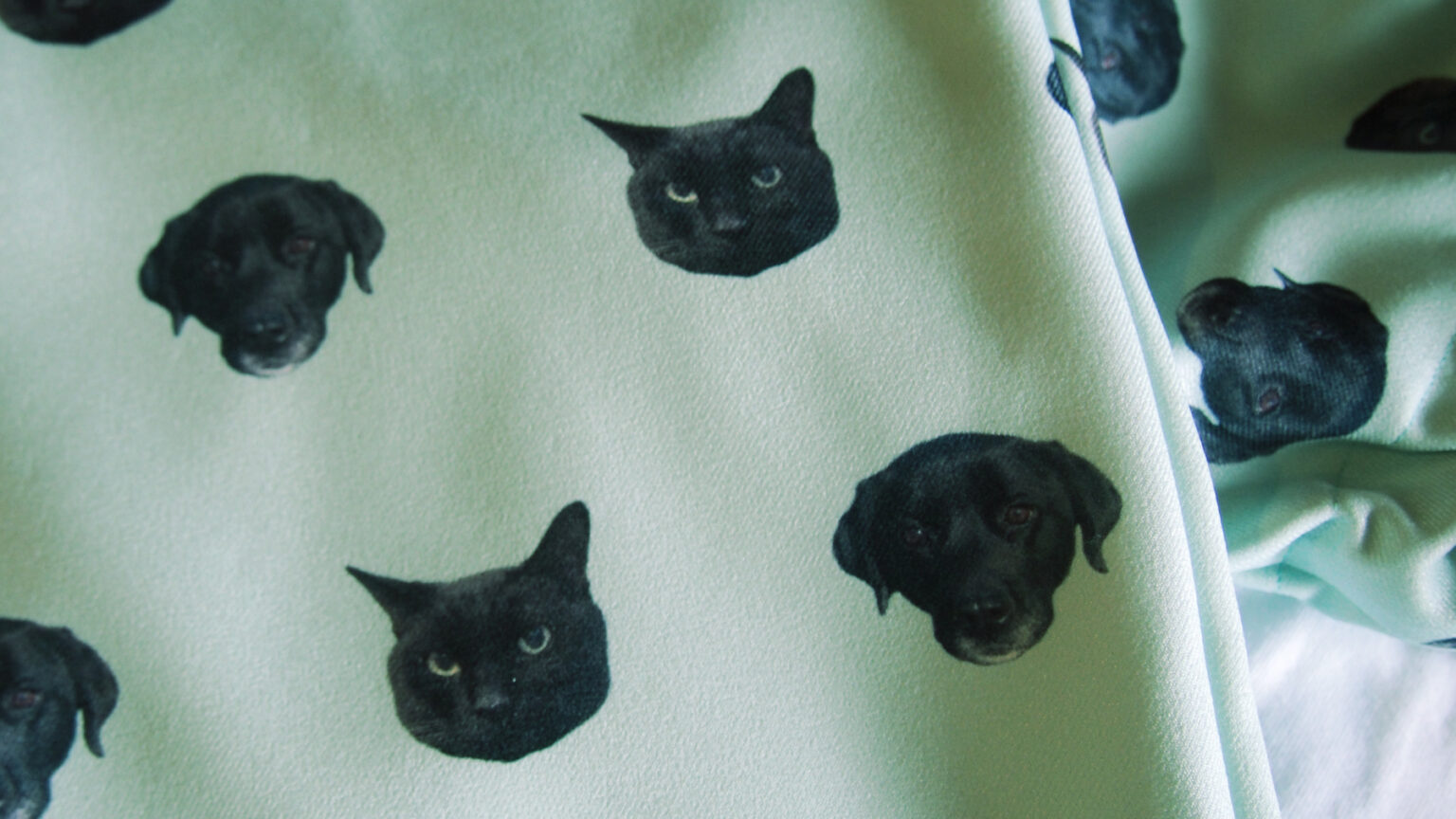 How cute....
Even the expressions of the black cats and dogs are clearly visible. The texture is also very smooth and high quality, with no sticker-like feeling as with printed parts on older T-shirts.

I tried the clothes on. I chose size S-M for the pajama pants and size L for the T-shirt, based on the description on the website. I am 163 cm tall with an average body shape, and they are loose-fitting and perfect for relaxation wear.
Giving Shape to Memories
This time, I took on another challenge. The photos of my current pets were taken with a smartphone with a sophisticated camera function. Would it be possible to turn older photos into goods? As I mentioned earlier, I have had pets since I was a child. They are no longer alive. And the photos...unfortunately not much is left.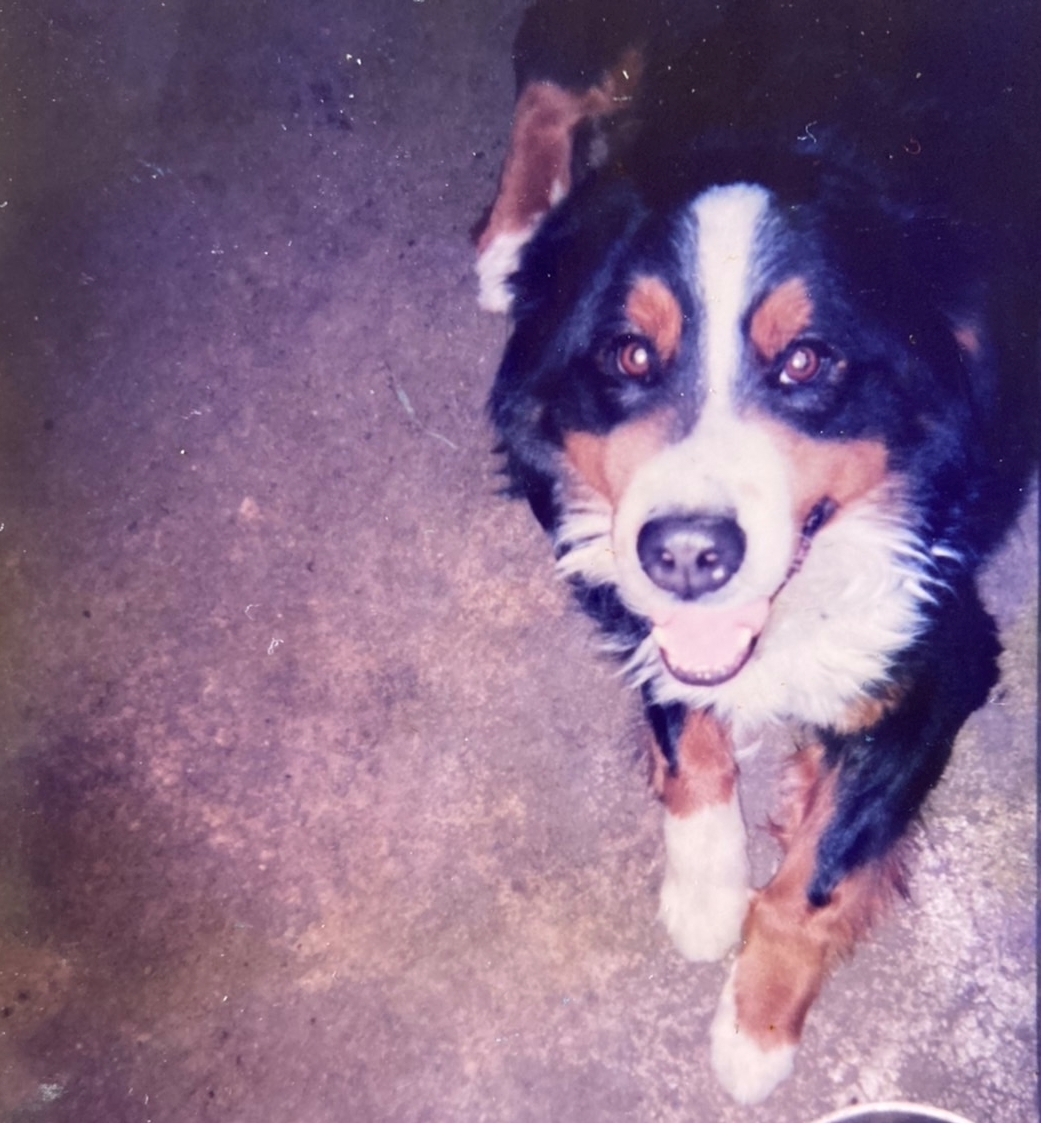 My first dog was named Max, a Bernese Mountain Dog. The typical cameras of 20 to 30 years ago were often instant cameras. I am sure that many people feel nostalgia for the look of this photo. I discussed this with the designer, but he still thought that this photo might not print very nicely, so I went looking for another photo.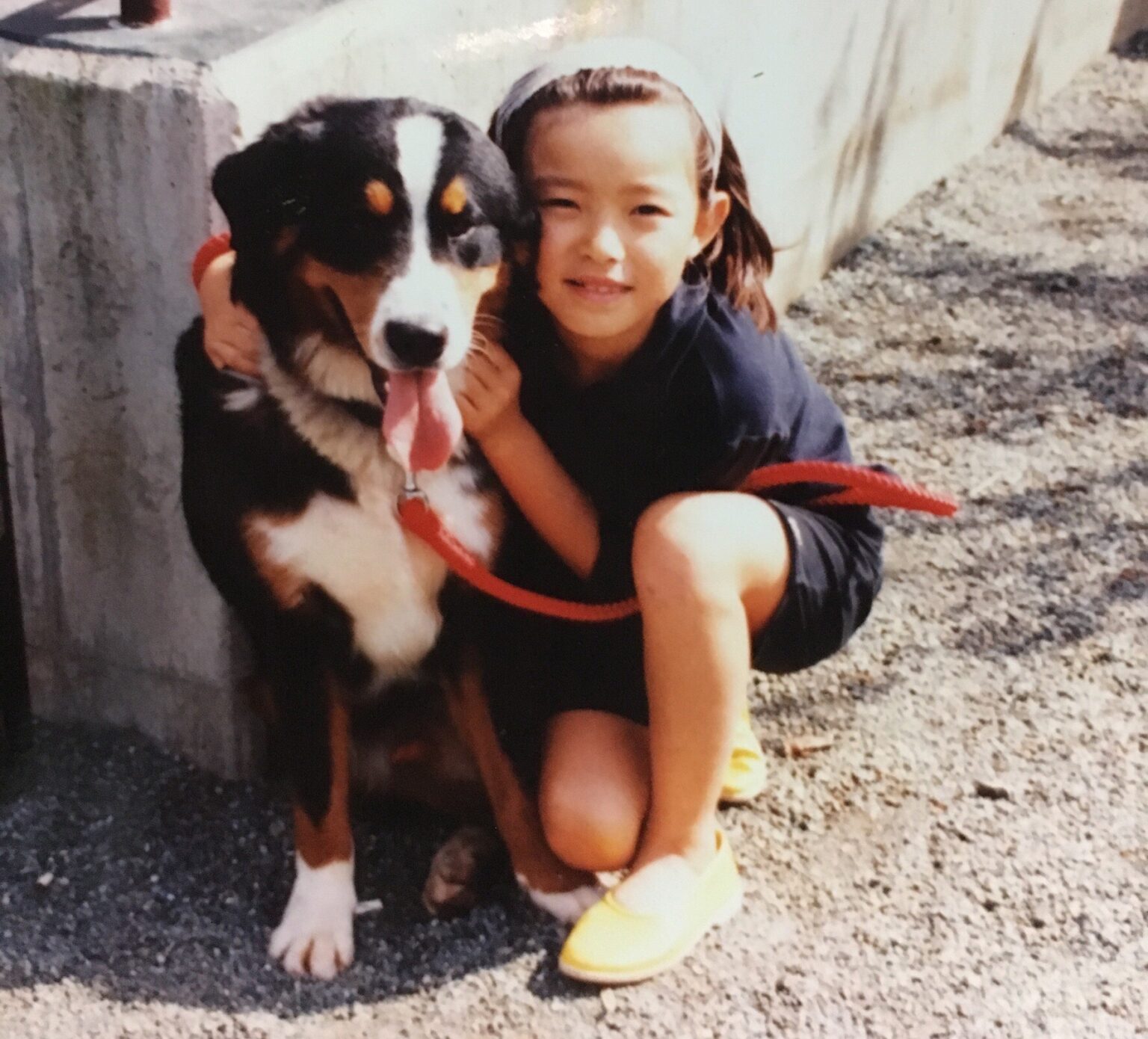 This is a memorable picture taken when Max first came to our house. I was expecting a small puppy, but I was surprised to see that he was already bigger than a Shiba dog at 5 months. We soon became good friends. He died of leukemia not long after I started junior high school. I decided to use this photo since it seemed to be okay for the job.

And here is another one, also my first cat. It is Mew, a former stray cat that my brother picked up. Mew lived for almost 20 years. This photo was taken with an old school cell phone about 10 years ago.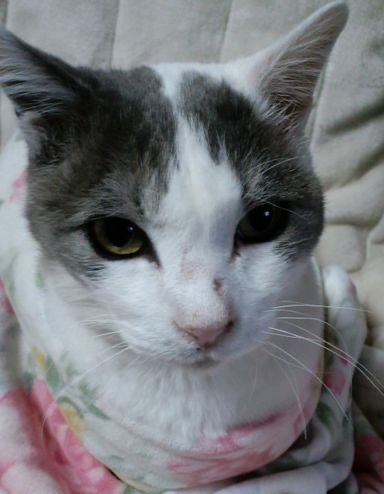 This time it is a cosmetic pouch made of genuine cowhide leather. You can choose not only the base color of the pouch, but also the color of the metal fittings and the lining inside. This is a design confirmation image sent by the designer.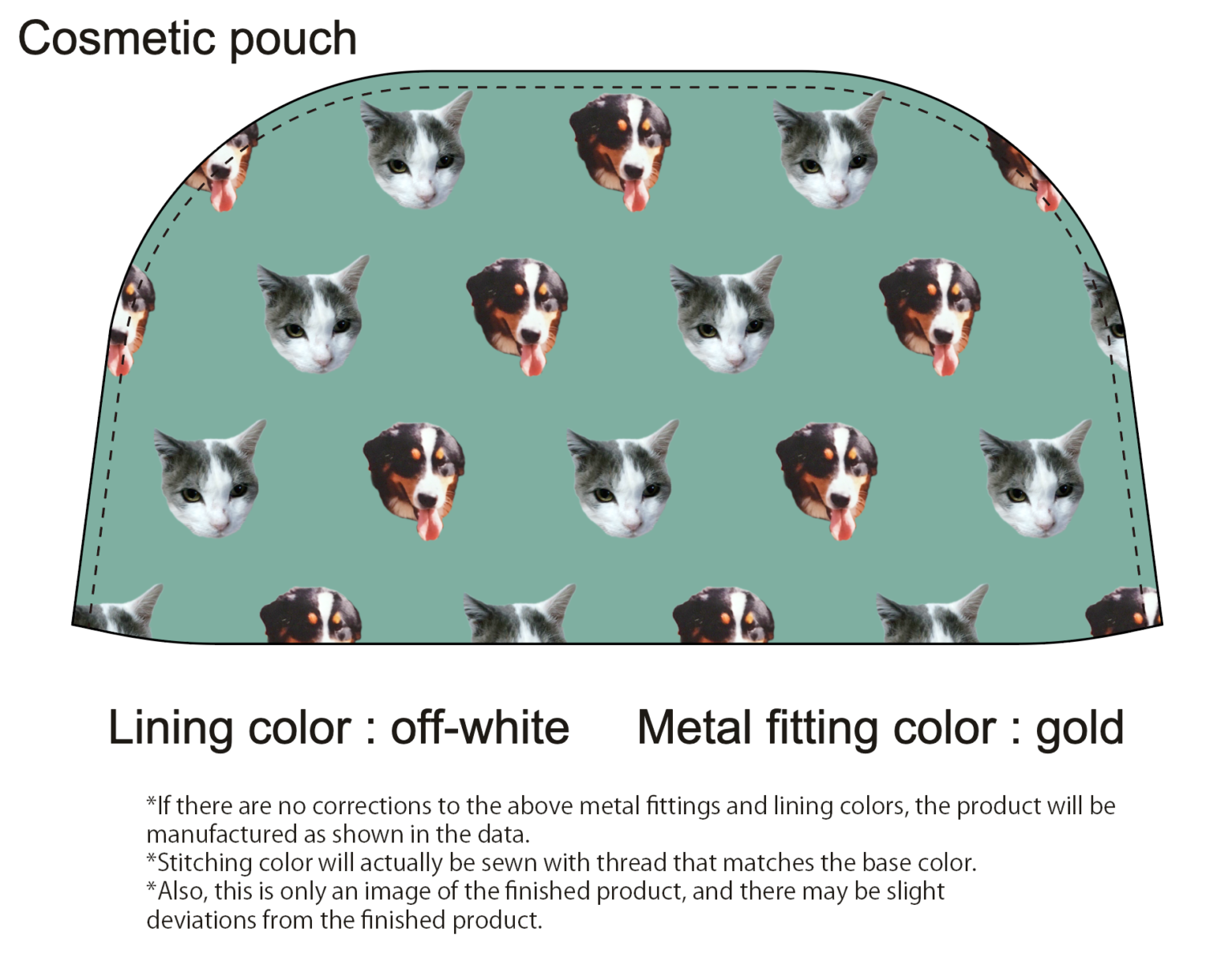 As expected, the photo is a little rougher than photos taken with a smartphone, but still beautiful enough. However, I thought the base color should be a little more reddish to match the photo. After you receive the design confirmation image, you can change it once for free. This time, I changed the base color to cosmos pink.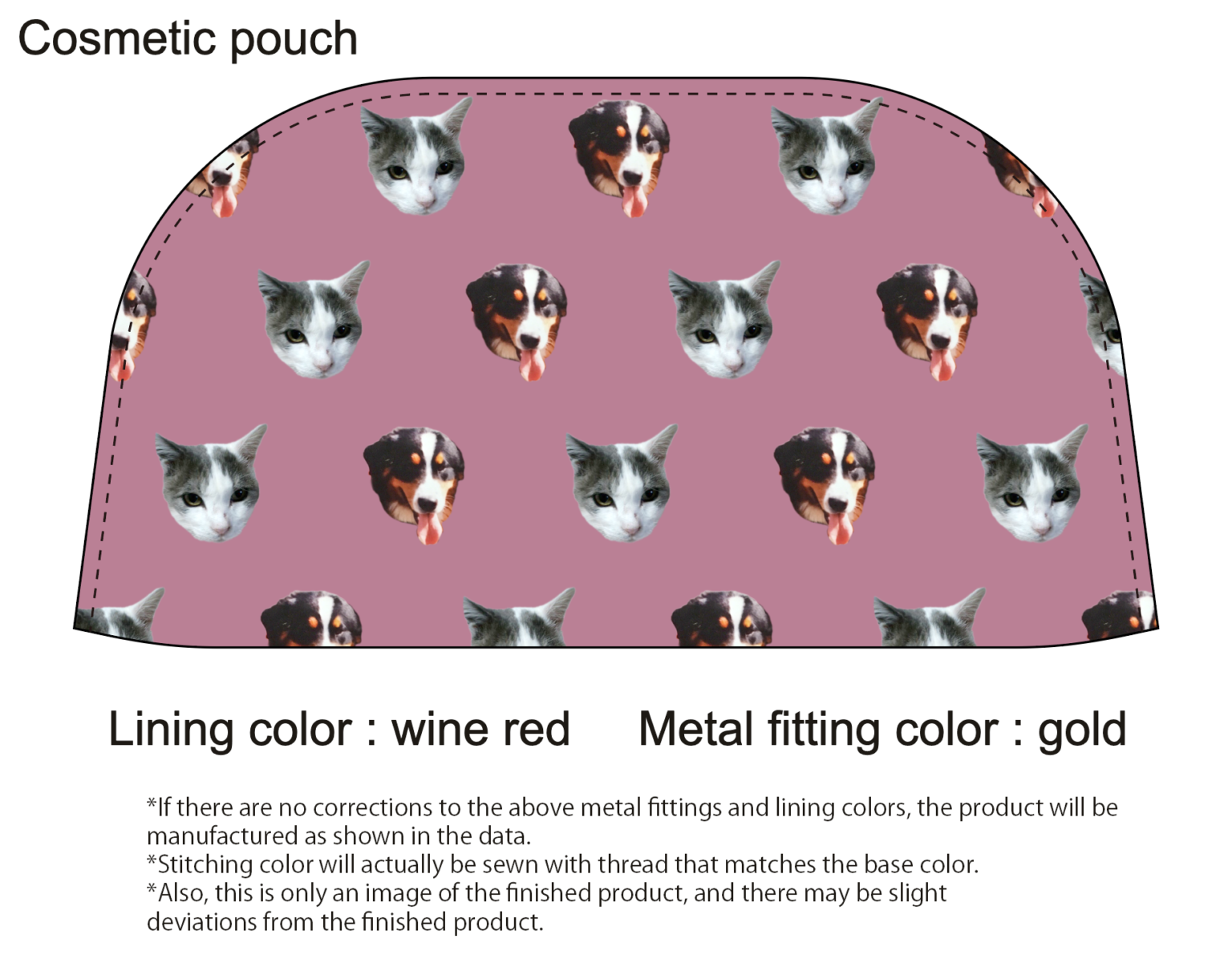 The design has a gentle atmosphere. In both photos, it is difficult to see the shape of the ears, but the designer nicely cropped them out. Max's long tongue is also retained.

Here is the pouch I received.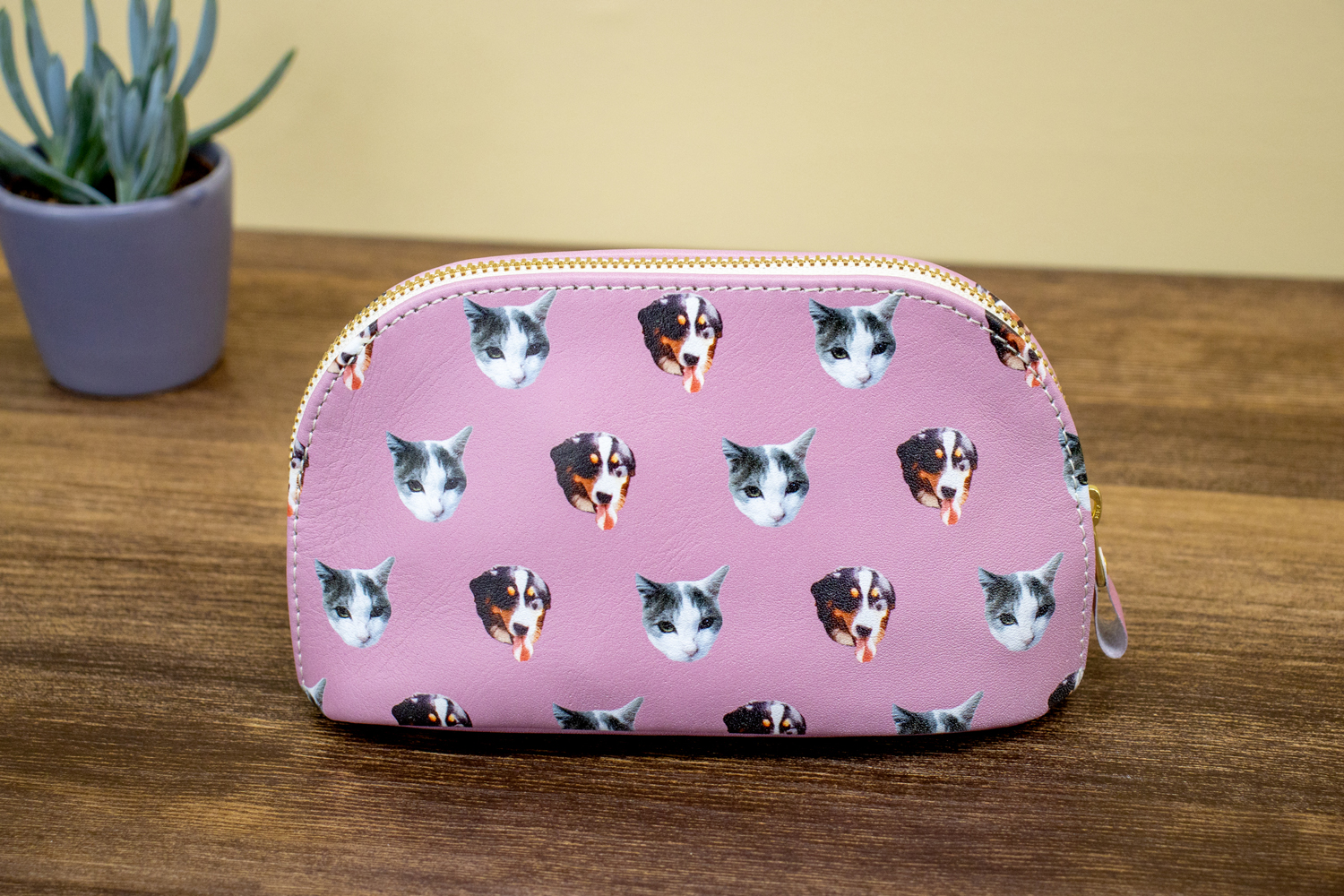 The cosmos pink was a cute color, a little lighter than the picture. This one is also very cute. The soft texture of the cowhide leather gives it a luxurious feel, and the photos are printed beautifully.
A One and Only Item in the World
I ordered two items from PET DOT SHOP this time. I am very satisfied with both. The quality of the texture is higher than I expected, and I think they would be great for yourself or as a gift for your family members. You can use cute pictures of your children as well as your precious pets. The communication with the designer was smooth, and he picked up on all of our wishes. It is a great pleasure to be surrounded by goods of my beloved pets and to have them with me at all times, even though I can no longer see them.

Why not create a one-of-a-kind item using your precious photos?
Experiencing a Popular Custom Goods Service Designed with My Pets