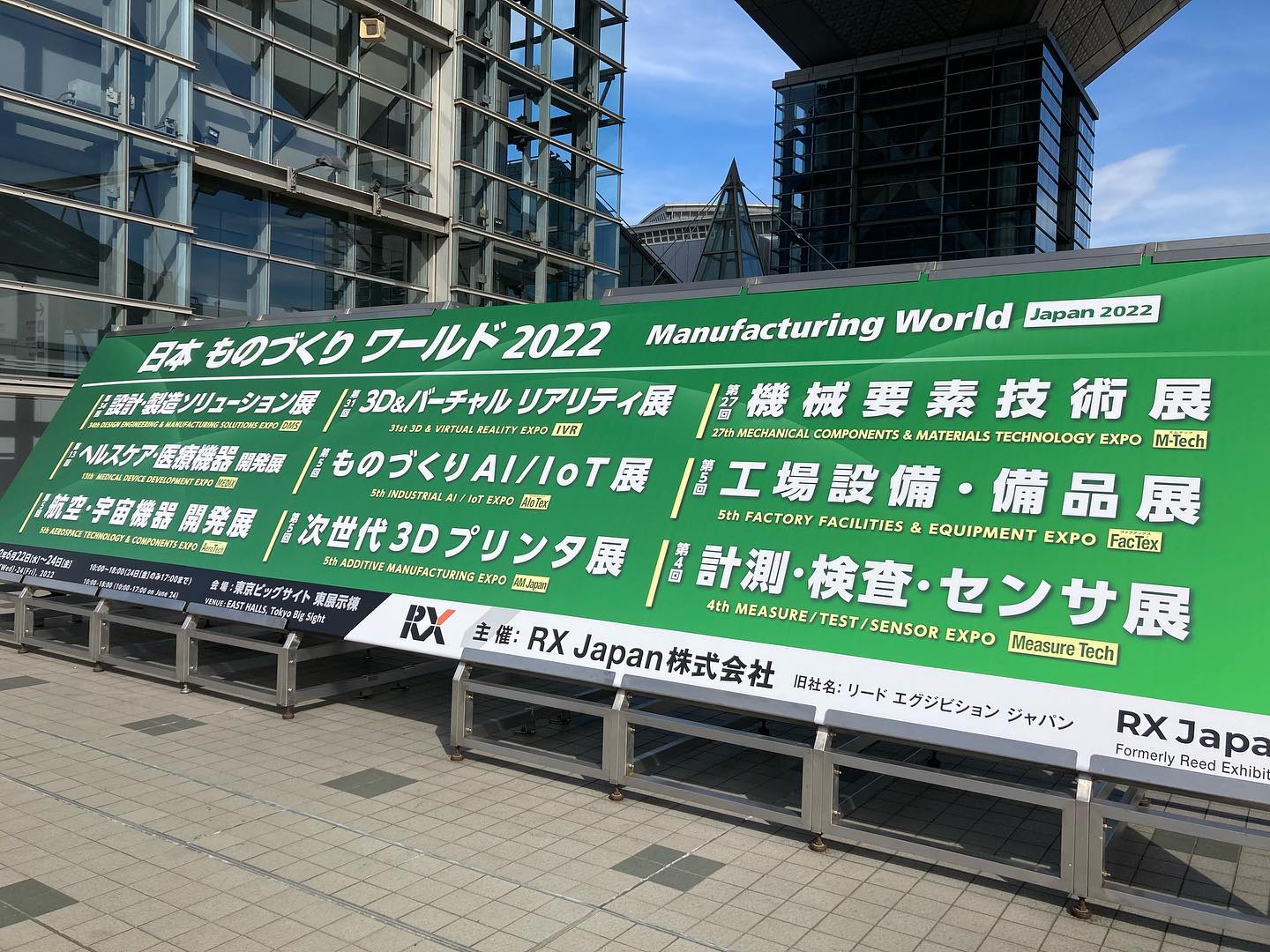 Report on Additive Manufacturing Expo
Mika Orimo
Manufacturing Technical Writer
Manufacturing World Japan 2022 was held at Tokyo Big Sight from June 22 to 24, 2022 (hosted by RX Japan Co., Ltd.). Although the event was held under infection control measures, the number of visitors reached nearly 50,000 throughout the three days. The venue was full of energy and it was impressive to hear people everywhere say, "It's just like before Covid."

For this article, we would like to introduce some of the booths that particularly caught our attention from among the companies exhibiting at the 5th Additive Manufacturing Expo, one of the exhibitions.
Roland DG Corporation
Actual equipment and samples of the VersaUV LEC2-330 inkjet printer, which can reproduce embossing and textures through UV printing, were on display.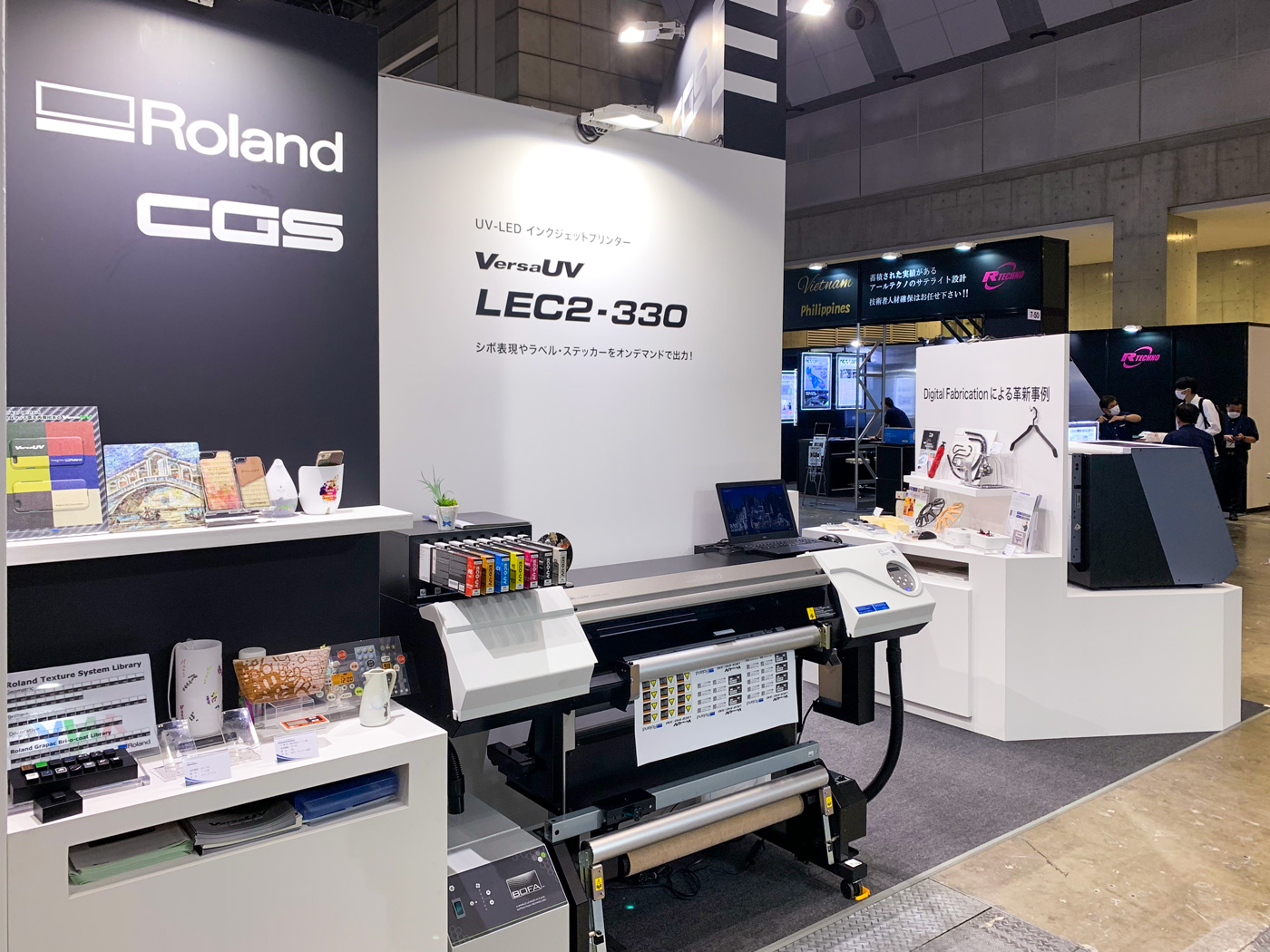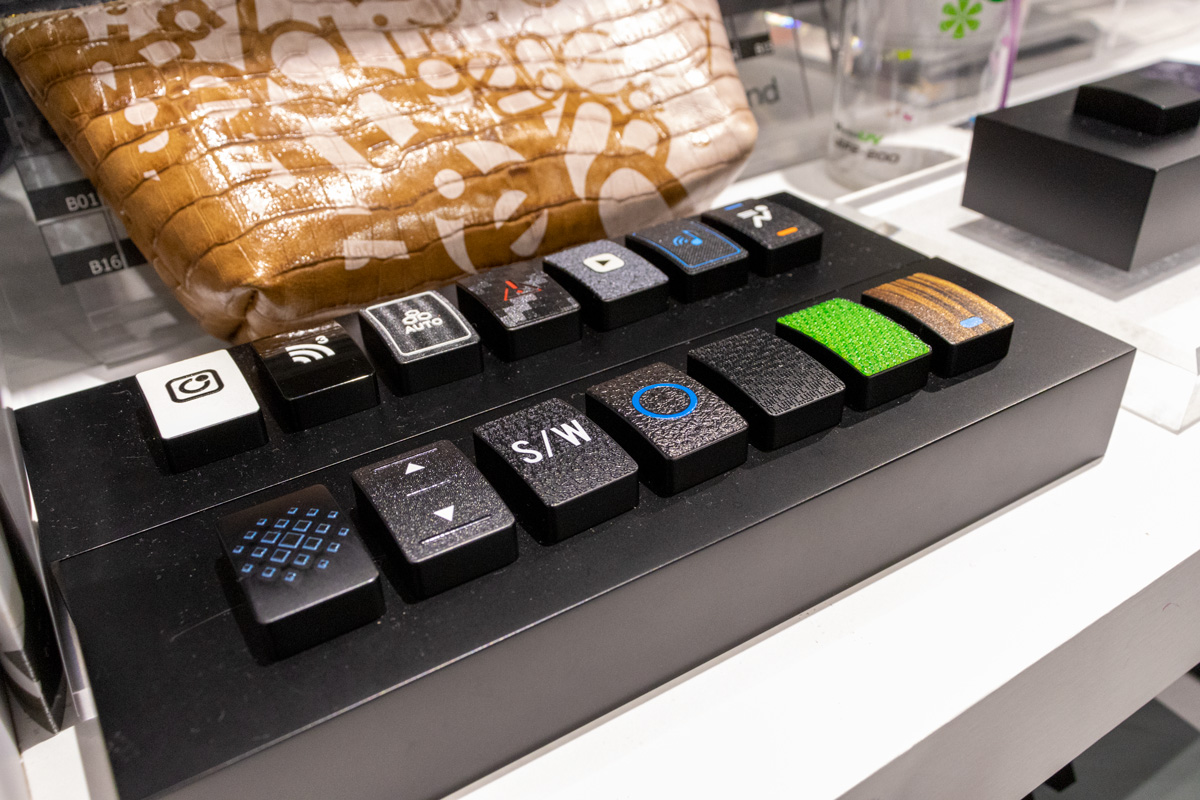 This single unit can complete the production of decals and stickers as it can not only print, but also contour cut and die-cut in digitally controlled manner.

The feel of the textures and the unevenness of the wood grain, which you can touch with your finger, is such that you do not even notice that it is printed. Since the texture of the grain can be checked by touch, it has a wide range of applications, such as sample production for plastic buttons and automobile interiors in the product development stage.
Colors Matsuyama
The MTG-360RJ, a rotating jig developed in-house for the Roland DG VersaUV LEF-20/200 and LEF2-200/300 UV inkjet printers, was on display.

Inkjet printers, by their very nature, are not good at printing on curved surfaces. The company has developed a jig that can rotate a cylindrical object and print on it. The jig is attached with magnets for easy installation.

Demand for original printing on cylindrical objects, such as containers for "My Bottle," which is becoming an established part of SDGs initiatives, is high, expanding the scope of the UV printing business.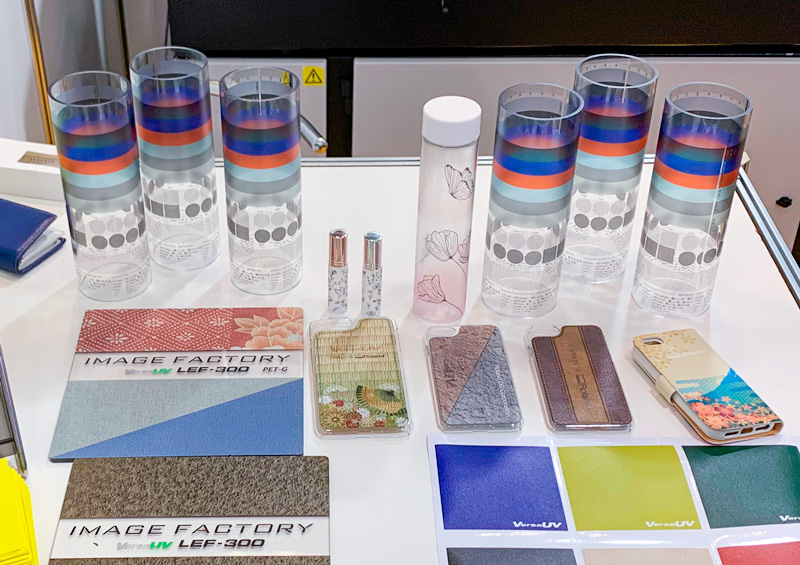 Swany
"Design Factory" is a new manufacturing concept proposed by Swany Inc. Swany, Roland DG, C&G, and Marubeni Information Systems (MSYS) have formed a partnership to provide this system. Brother Industries, Ltd. gave a presentation as a case study of its introduction.

This concept is designed to enable designers and engineers to make their own prototypes and small-lot production in a space-saving, compact package that includes hardware (3D printers, 3D milling machines, and small injection molding machines) and software (CAM and other software). The solution is a change of mindset: instead of making the prototype itself, a 3D printer and milling machine are used to create a resin digital mold, which is then injection-molded using mass-produced materials. This makes it possible to create prototypes of mass production quality, which has been difficult with conventional 3D printers.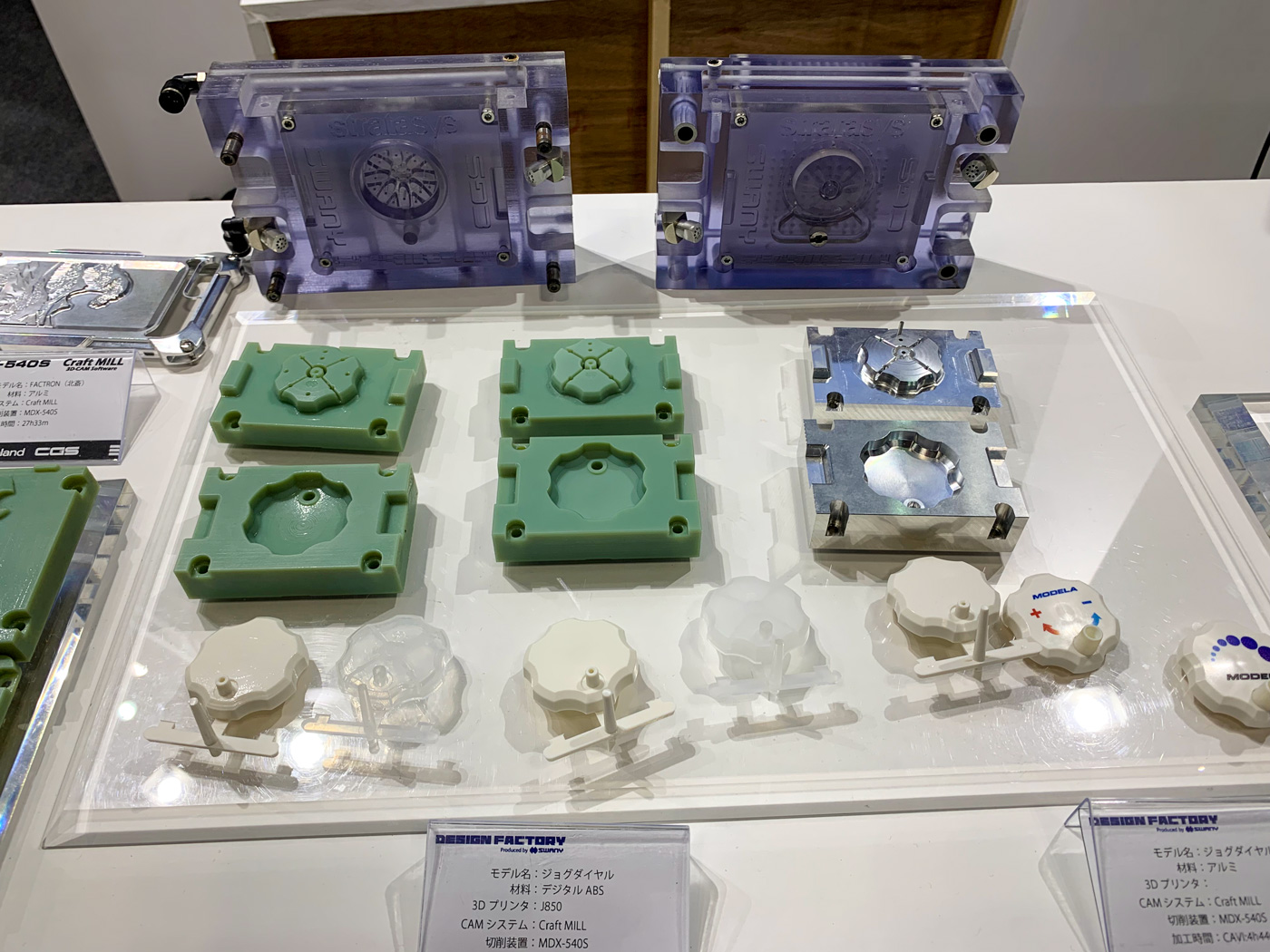 Since mass-produced materials are used, verification and evaluation such as reliability and durability tests can be conducted thoroughly, and potential molding defects can be checked in advance.

The 3D printer's unique stair-stepping marks can be smoothed by using 3D milling technology. Rather than manufacturing everything by milling, high-quality digital molds can be produced in an overwhelmingly short processing time by combining a resin mold made first with a 3D printer and then fine-finished with this 3D milling machine. The MDX-540S and MDX-50 milling machines produced by Roland DG used in this solution are space-saving and easy to operate. After designing and verifying products with resin molds, aluminum molds can be machined for a smooth transition to mass production molding. The compact mold system allows us to use general-purpose parts for all molds except for the nesting of the product part, which significantly reduces molding costs. 3000 pieces can be mass-produced in the Design Factory.


Brother Industries introduced the Design Factory and has succeeded in significantly reducing the cost and time required for development and prototyping. However, in order to mill and process 3D printer-formed objects, designing based on jigs and cutting allowances is necessary, which requires man-hours. To solve this problem, they created a unique shape conversion app that can automatically form the milling area without changing the 3D CAD shape data. This has enabled them to successfully build an environmental system that allows the design site to immediately produce what they want to make on the spot, without the need for extra man-hours and labor.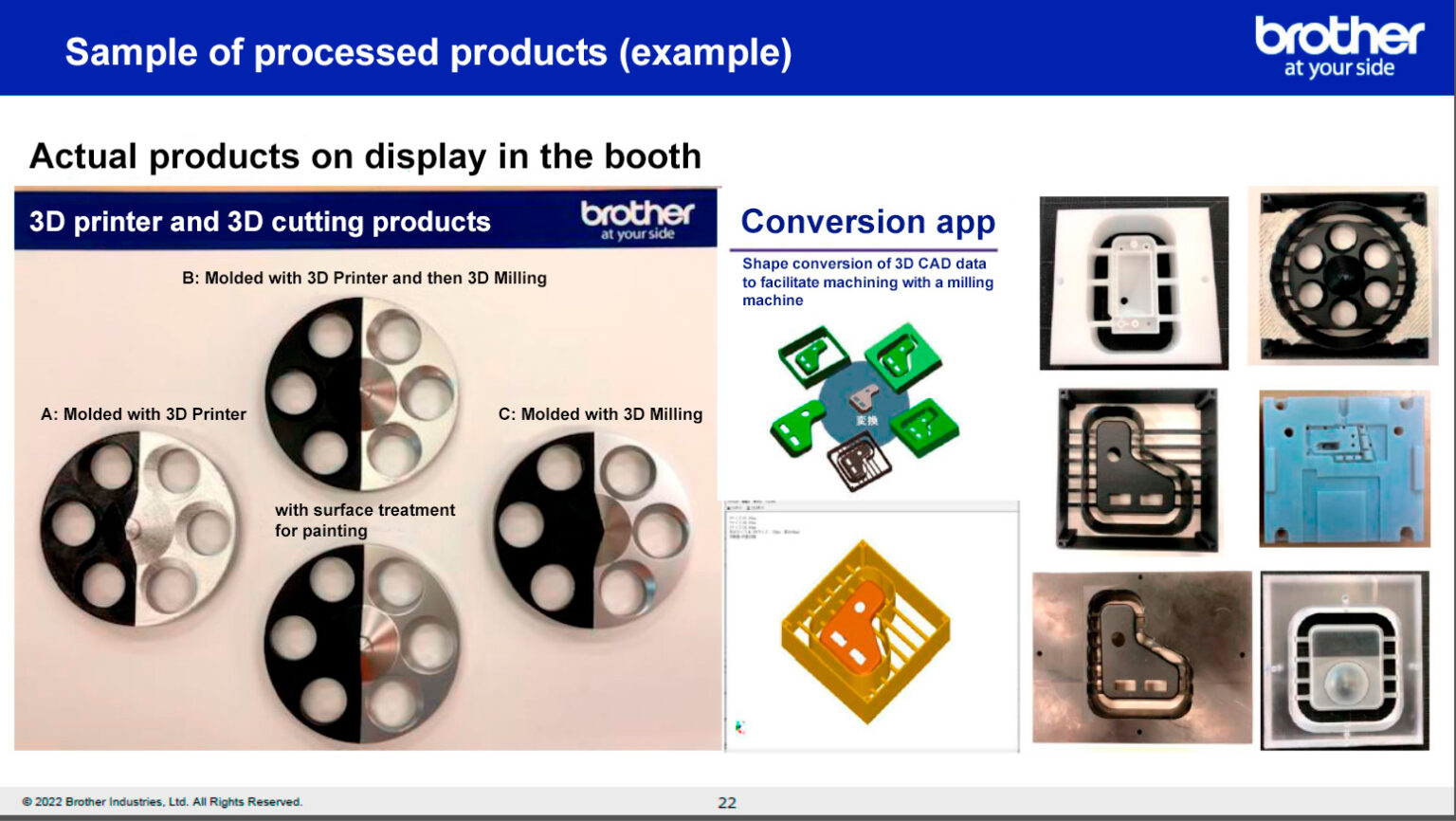 The reduction of development costs and shortening of development periods have taken precedence, and the Japanese manufacturing environment has become one in which failure is not allowed. However, if young engineers can improve their skills and develop innovative products by creating an environment where they can challenge themselves and make mistakes, it may become possible to create more competitive products. The Design Factory gives us such expectations.
3D SYSTEMS JAPAN
The booth exhibited the Figure 4, a stereolithography 3D printer. Its size and simple appearance resemble a water server, so it does not look too industrial in an office environment.

It is capable of high-speed precision modeling and is suitable for use in the development stage, where prototypes can be made directly from design data in the office and reflected in the design. The manual material supply system allows for quick material changeover. Since prototypes can be easily made from a variety of materials, development lead time can be shortened.

The reproducibility of fine grained texture is also high, and the appearance quality is such that it is hard to believe that the product was modeled with a 3D printer. It can also be used for mass production for high-mix, low-volume production.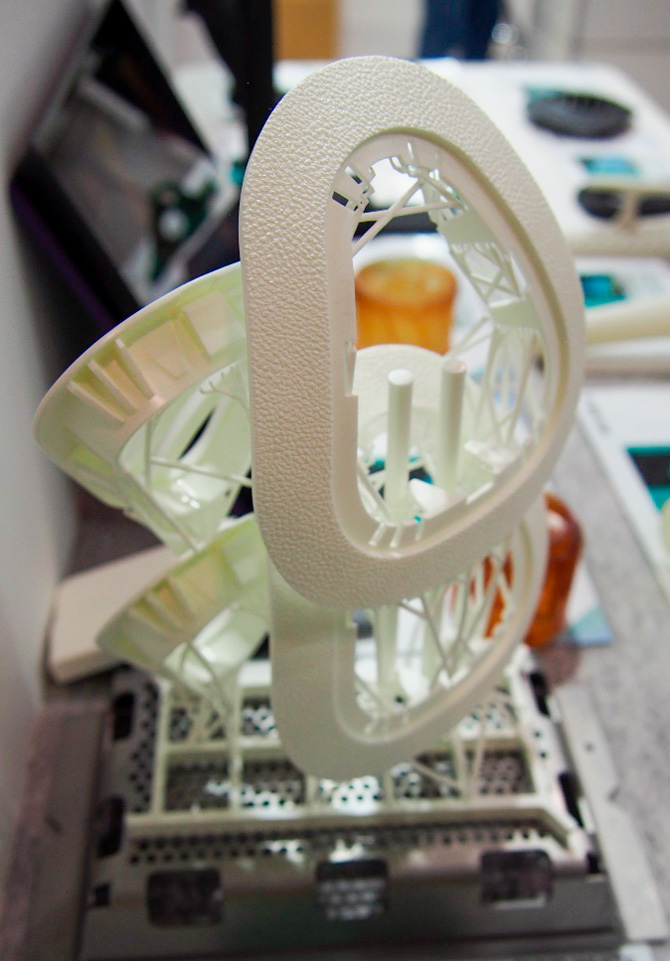 JAPAN 3D PRINTER
A cute, cylindrical robot with a cool blue casing handed us ionized water. It is a concept robot made by Otsuka Chemical.

Unfortunately, it was not allowed to take pictures of the robot itself, but all plastic parts such as gears and ball screws of the internal unit that moves the robot were modeled by a 3D printer. Otsuka Chemical's POTICON filament, which has excellent sliding properties, was used.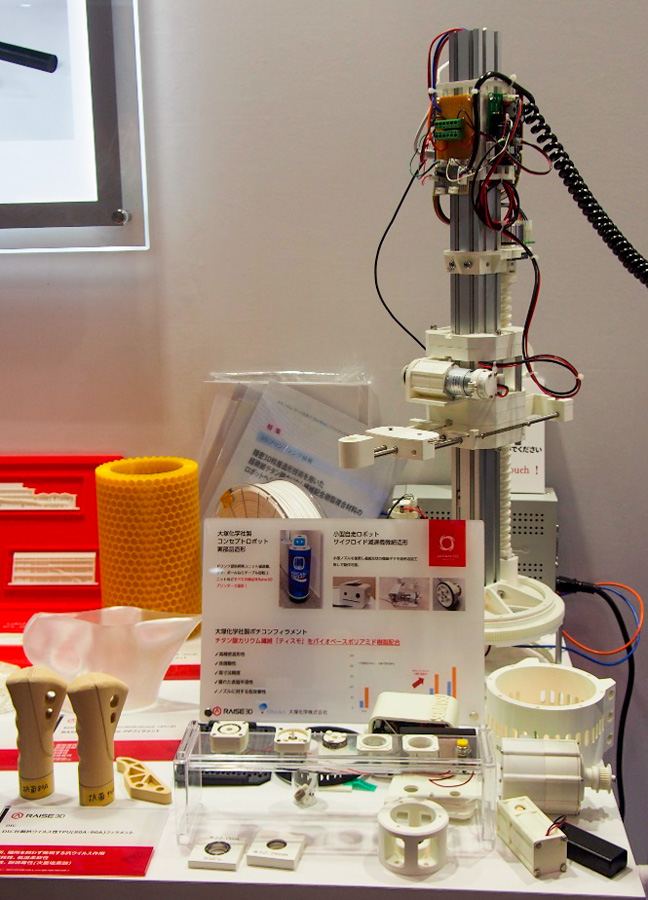 No additional machining is required for fine gears, enabling smooth movement.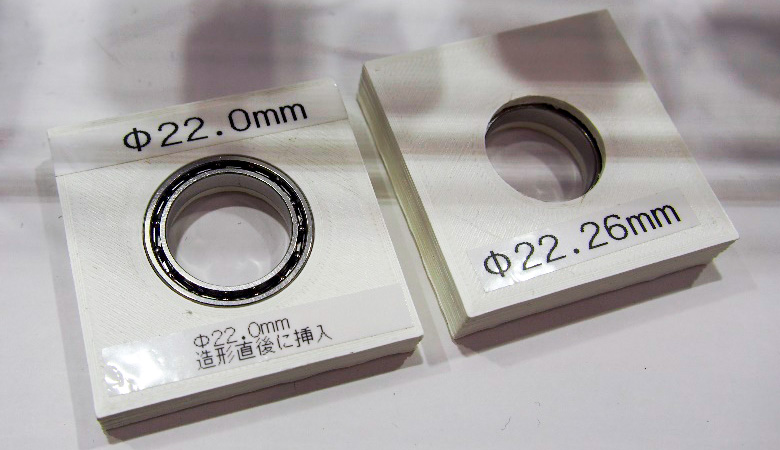 Insert molding is also possible by inserting metal parts immediately after molding, and we felt that the 3D printer is expanding the scope of parts fabrication.
XYZ PRINTING JAPAN
The MagPro230 series of powder sintering (SLS: Selective Laser Sintering) 3D printers was on display. The SLS method uses laser irradiation of powdered material to create a model, and the modeled product is removed from the powder as if it were excavated. 3D printers require a lot of support material which causes a lot of material waste. Furthermore, the remaining powder can be reused, making it cost-effective. CB-50, a 3D printer material that contains 50% carbon in addition to nylon, has a proven track record as an inspection jig for TOYOTA and is a grade with high mechanical strength, heat resistance, and chemical resistance that can withstand mass production.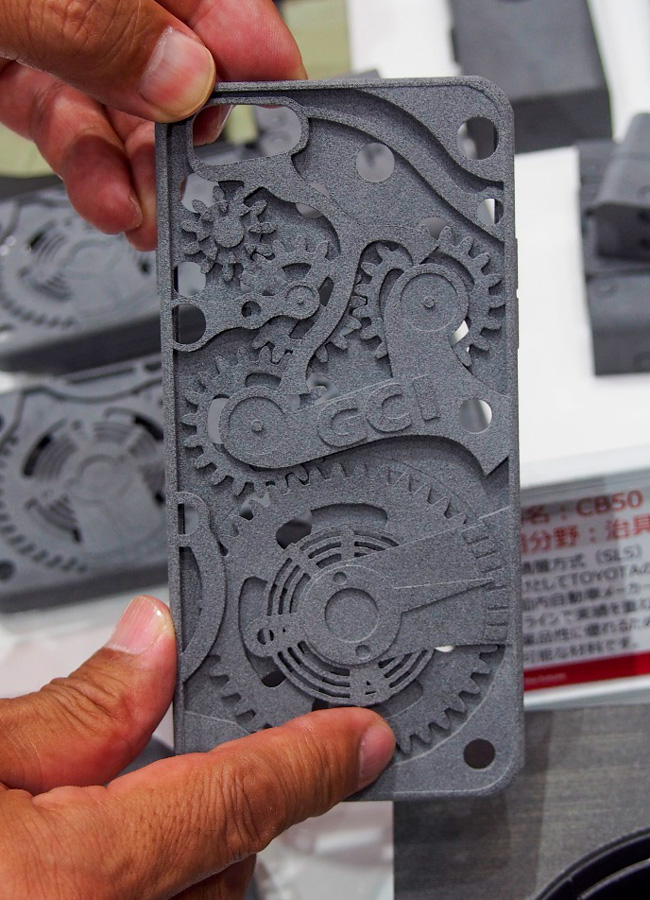 It is surprising that the internal gears can be turned in tandem without assembly. Depending on your ideas, you can expect to use this technology for a variety of parts and products.
HOTTY POLYMER
The world's first 100% silicone LAM (liquid additive manufacturing) 3D printer, the innvatiQ LiQ320, was on display. The organ-related samples on display were eye-catching.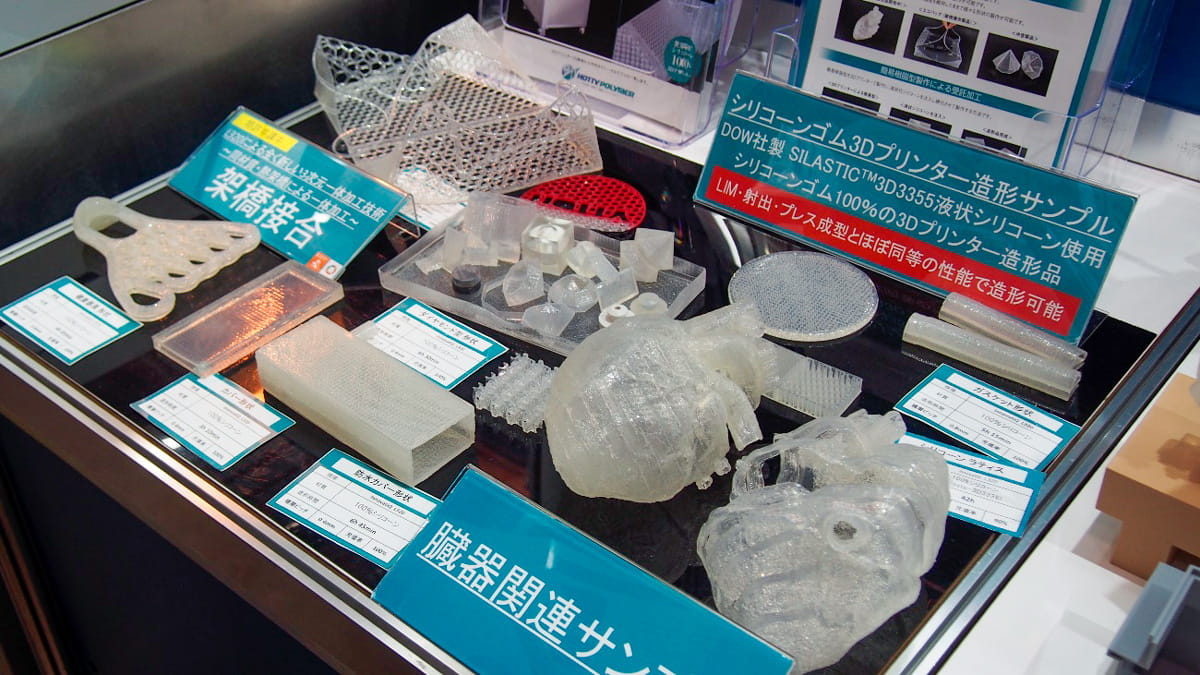 The use of 3D printers in the medical field is gradually expanding, but there have been issues in terms of safety and strength. Now that 100% silicone modeling is possible, we can expect to see 3D printers used in more medical applications in the future.

There is a high affinity between 3D printers and medical devices that require personalization for each individual, and at this year's exhibition, there were many products not limited to organs, but also dental parts, artificial limbs, and so on. It is expected that the use of 3D printers in the medical field, which used to be very expensive, will become more accessible.
3D Printing Corporation
In response to the SDGs and carbon neutrality, recycling plastic materials is no stranger to all companies involved. 3D printers also produce a lot of waste plastic every day, including support materials, rafts, and failed products.

The 3DEVO Filament Maker was introduced as a solution to this problem. This solution is a tabletop filament maker that produces 3D printer-ready filaments from pellets and other waste plastic shavings.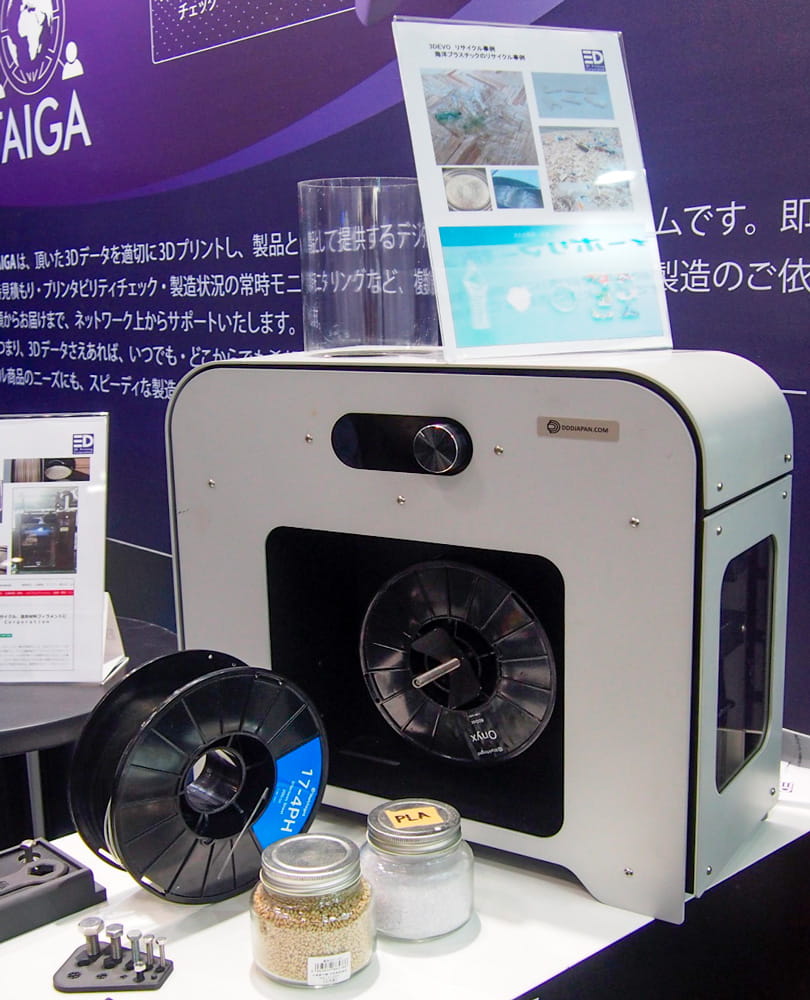 3D Printing Corporation also introduced an example of recycling waste plastic such as recovering plastic bottles discarded in the ocean or in the natural world and reusing them as filament.
It is possible to produce original filaments by blending materials, and it is likely to be used not only for recycling but also for upcycling with higher added value.
CARBON
The goggles for women's volleyball player Ms. Yurie Nabetani were developed jointly by SWANS and CARBON, a company that develops sports goggles. The goggles provide cushioning to protect the eyes, comfort during strenuous exercise, and a wide field of vision necessary for volleyball, all in the short development period of three months, thanks to manufacturing know-how and a 3D printer.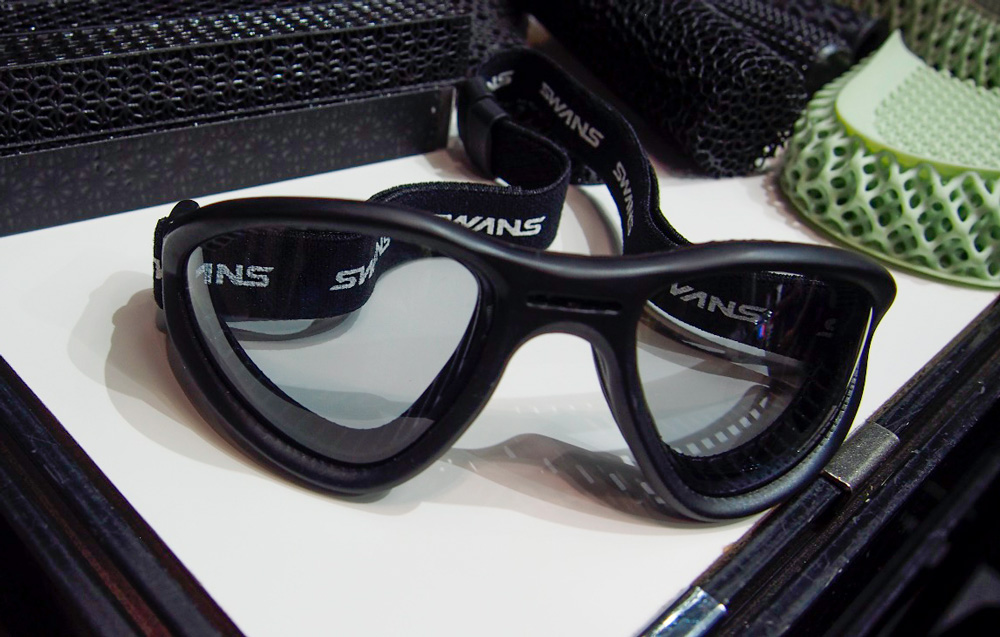 The mesh structure made by CARBON's M2 Printer can be adjusted in terms of firmness within a single part by changing the density and thickness in different areas. It has been used in American football helmets and sneaker soles.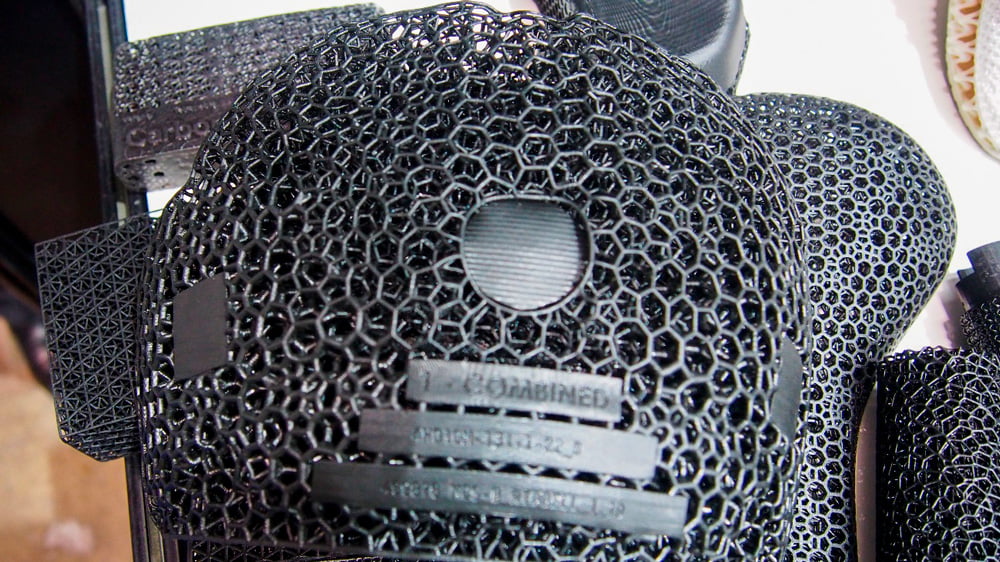 CARBON's 3D printers are characterized by a smooth structure because they gradually build up thin layers of 20 to 30 microns on the surface by supplying oxygen without intentionally hardening them. This allows the mechanical strength to be maintained regardless of the stacking direction, according to the company. In addition, the use of UV and heat together means that strong physical properties can be obtained.
Conclusion
At this year's Additive Manufacturing Expo, each company proposed 3D printers with distinctive features. Users can now choose the product that best suits their own application, whether it is large or requires precise modeling, using various materials, and offering strength, physical properties, speed, or precision.

On top of that, many companies are proposing solutions that are environmentally friendly and that give a sense of new manufacturing, which made us feel that the manufacturing industry is at a turning point.

We will continue to keep an eye on the 3D printer industry as more and more new technologies are developed.
Report on Additive Manufacturing Expo