Small Materials but Big Roles for the Environment – Part 2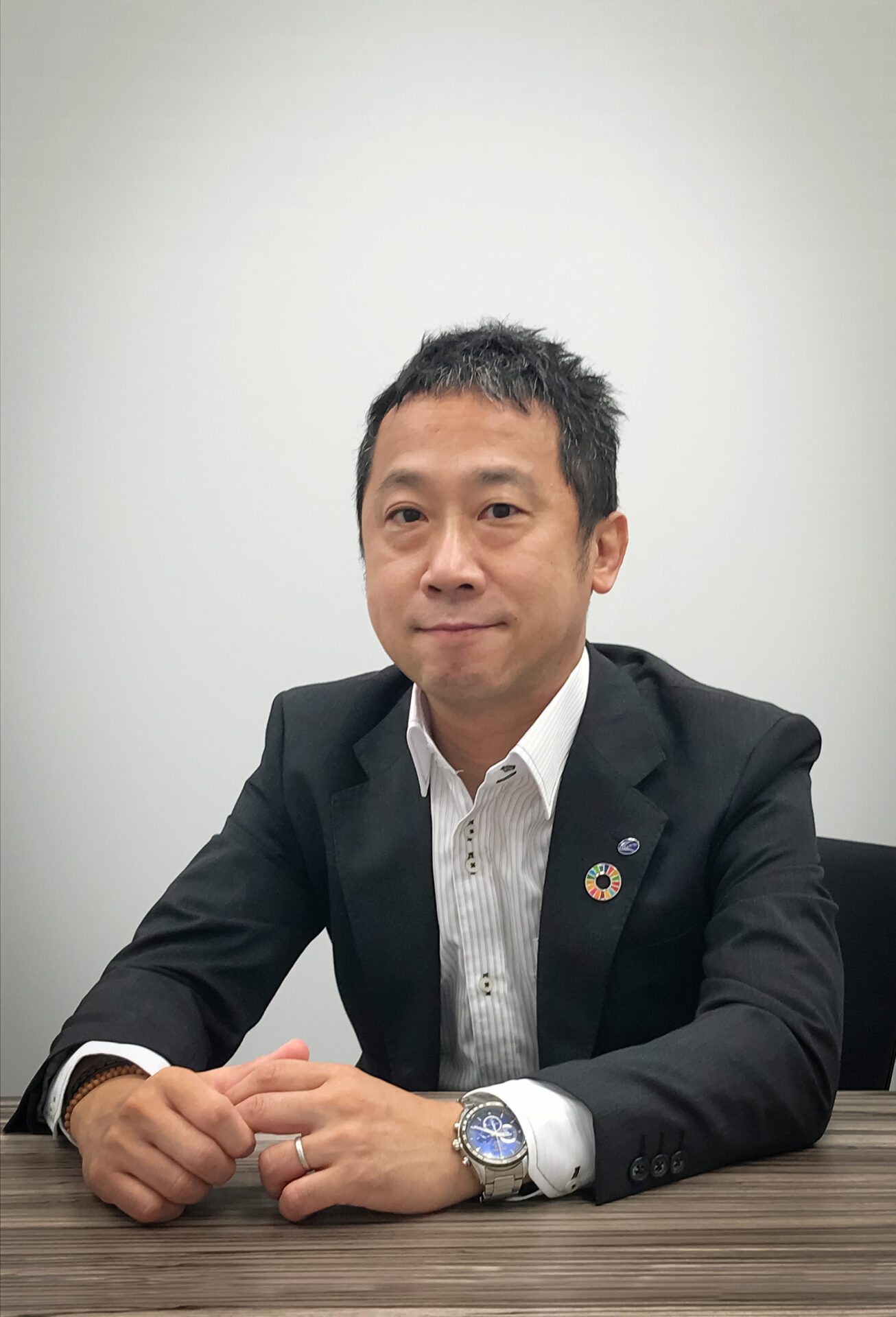 TAKASHI YAMAMOTO
LINTEC Corporation
Section Manager, Marketing Group, Market Development Office

He joined the company in 1992. After working in a research institute, Osaka branch, and overseas (China), he returned to Japan and joined the current department. He is promoting the development of new markets and new applications for adhesive materials such as stickers and labels.
At home, he is in charge of sticker removal on garbage day. "Whenever I go to a store," he said, " I always peel off the labels of products and smell them, which makes the clerks look at me suspiciously. Incidentally, I am not mentally strong enough to endure being looked at suspiciously, soI feel guilty everytime I leave the store."
What kind of environmentally friendly technology is packed into the small stickers and labels that we see every day? Before I talk about them, I would like to briefly explain the composition of stickers and labels.

When you see stickers and labels on various products, the first thing you see is paper or film. They have colorful designs and contain legally required information printed on them. This paper or film is called the "facestock." The sticky substance that is applied to the surface material to make it stick to the product is called "pressure sensitive adhesive." The basic workflow for using stickers and labels is that the facestock and the pressure sensitive adhesive are combined and attached to the product.

As you know, stickers and labels are used in a variety of environments. They can be used in hot or cold places, in high or low humidity. The places where they are applied are round, uneven, rough, covered with water or oil, etc. They are used in surprisingly harsh ways, but people don't pay much attention to them. As a person who makes such things, I wish they knew more about them.

What I want to say is that we select the facestock and pressure sensitive adhesive properly according to a wide range of situations.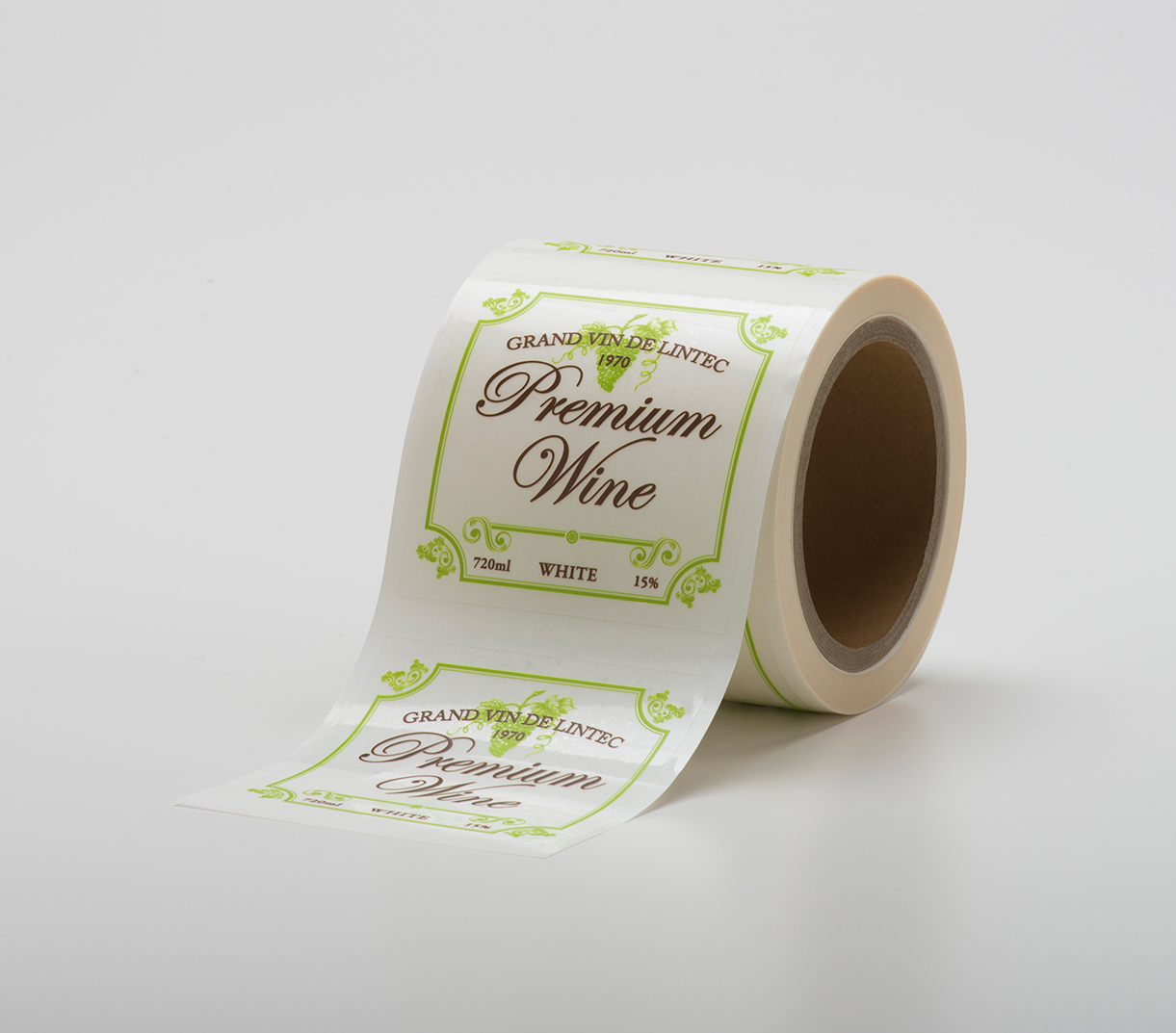 PET (polyethylene terephthalate) is a plastic film that is often used as the facestock for stickers and labels.

As you know, the raw material for plastic film is petroleum. Petroleum is made from the carcasses of plants and animals that grew long ago and were buried underground, where they were subjected to heat and pressure for many years. Today, it is one of the resources that will disappear if we continue to extract it. Petroleum is not only a raw material for plastics, but also a raw material for making electricity, which is an essential energy source for people's daily lives, and the dwindling of this resource will have a great impact on us all. Conserving depleting resources is a big challenge for humanity. I wondered if it would be possible to make films using less petroleum. This is where "recycled PET" comes in. In other words, the idea is to reuse materials that have already been used as PET. The material used to make recycled PET is PET bottles, which we all know.

In Japan, a PET bottle collection system has been established, and the recycled PET is used to make various products such as clothing and stationery.

However, it has not been widely used as a film for stickers and labels. The reason for this was that there were quality issues due to the recycled PET. As mentioned earlier, stickers and labels are used in a variety of environments. Among them, it has been difficult to achieve performance comparable to that of PET made from petroleum (virgin PET), especially in terms of transparency, which makes products look clearer, and tensile strength. In addition, it is necessary to pay attention to the compatibility with the pressure sensitive adhesive, the surface that sticks to the product. Considering the composition of stickers and labels, the hurdles to be overcome were high.

Nevertheless, with a strong desire to do something about the global environment, we were able to come up with "KP5000"*¹, a transparent material that meets various performance requirements for use as stickers and labels, and which combines the pressure sensitive adhesive that can be applied to various surfaces. KP5000 is used as an indication sticker for cosmetics, daily necessities, stationery, office supplies, etc., where design and texture are particularly required. Even without using virgin PET, it is now possible to produce stickers and labels that are comparable to conventional ones. This also leads to the environmental consideration of saving the use of depleting resources such as petroleum.

Also, by using this film and changing the pressure sensitive adhesive, you can make the sticker firm when it is attached and neat when it is removed, such as for eye catching stickers for a sales promotion attached to products in stores. For example, "RE5054"*² is a self-adhesive material that not only attaches, but can also be removed cleanly, making it possible to reuse product containers. This is an amazing technology that can be used on various surfaces. The fact that product containers can be reused means that there is no need to make new containers for them. I think this also plays a role in saving the use of depleting resources.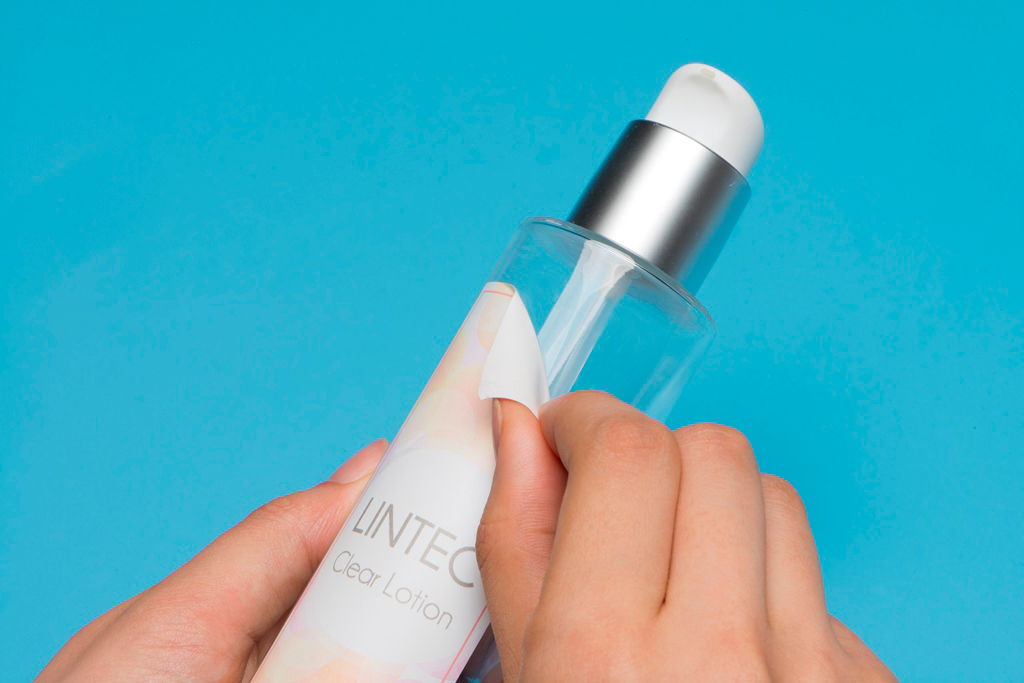 Stickers and labels are very thin and small when you look at the finished product, but in fact, they are filled with technology that is as good as the products they are attached to. I would like to continue to put my environmentally conscious ideas and thoughts into these small materials.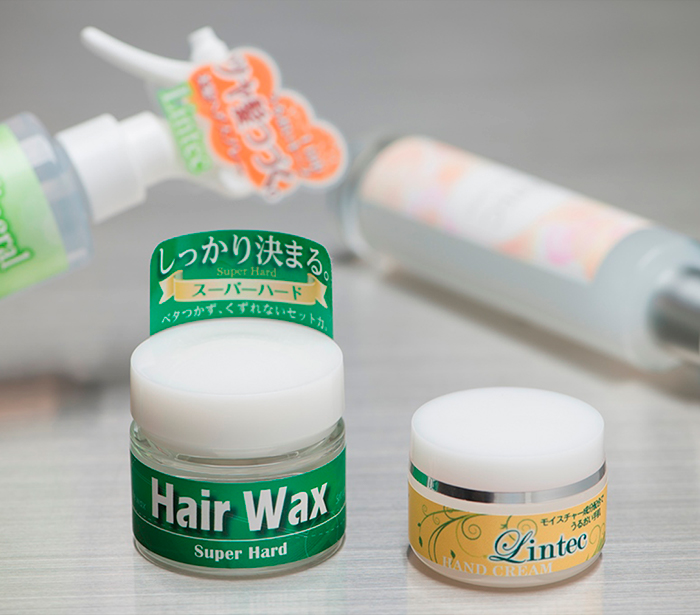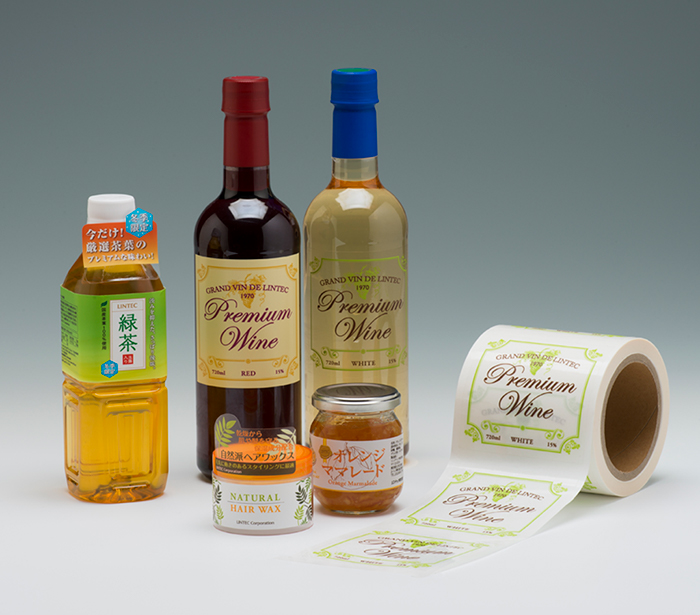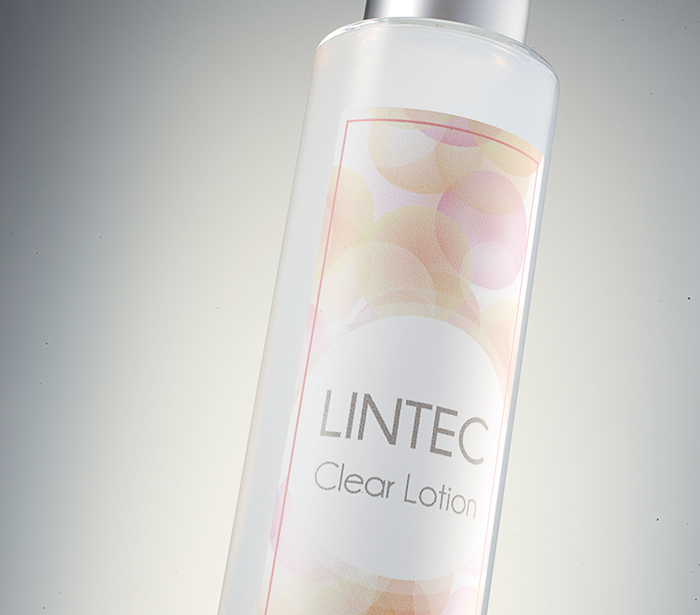 Small Materials but Big Roles for the Environment – Part 2