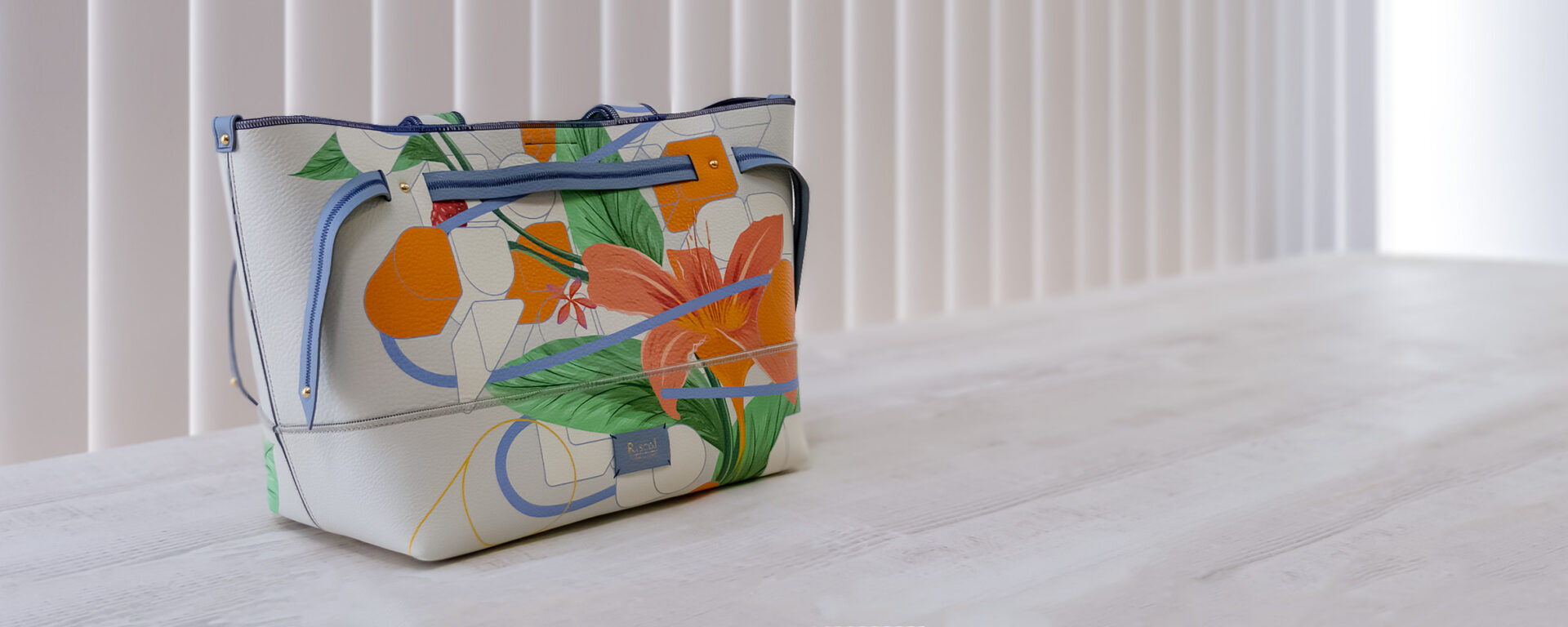 Sakata, a Group of Leather Bag Craftsmen Dedicated to Quality, Utilizes the Power of Digital Technology
Business Overview
Established in Abeno, Osaka in 1960, SAKATA.CO. is a leather goods manufacturer that is passionate about manufacturing leather goods with a focus on traditional Japanese quality. While Sakata is involved in OEM projects for several brands and stores that are strict about design and quality, it also has its own brands such as Riscol, which targets women, and Lucky&Happy, which was born from the DIY concept of making leather goods accessible even to children. The company, which has many female employees, also focuses on product planning that appeals to women's diverse lifestyles.
Benefits of Digital Solutions
Sakata Corporation has earned an overwhelming reputation for its skilled leather sewing and processing techniques that have been honed over the past 40 years. During this time, Mr. Sakata, the president of the company, has been actively introducing digital equipment with an eye to improving efficiency and providing added value. The company's most eye-catching piece of equipment is the LEF-300 UV inkjet printer from Roland DG Corporation.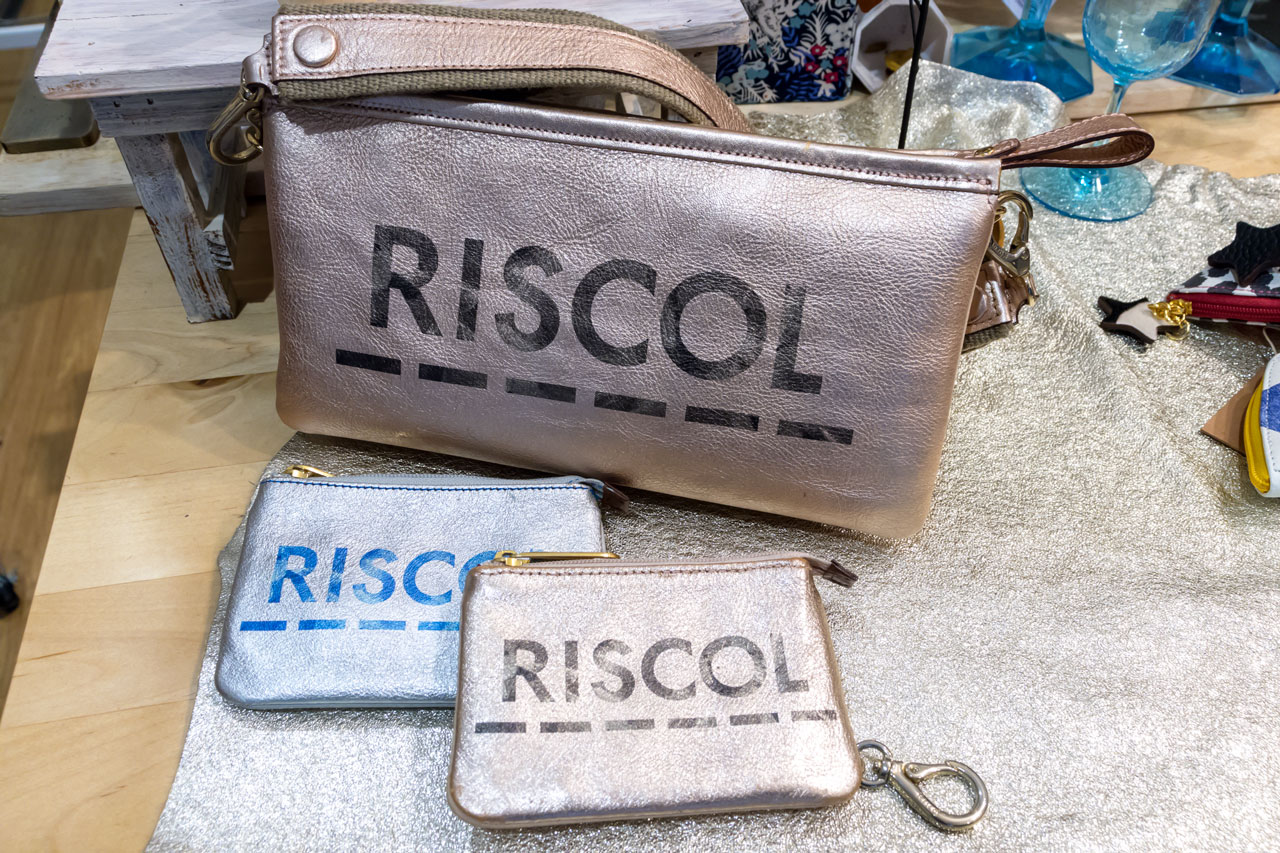 Sakata, which designs handbags and wallets for women and collaborates with fashion brands and stores, needs to be able to flexibly respond to a wide variety of design trends. The UV printer is capable of printing directly on leather the sometimes creative and artistic designs expressed by designers in Ai files. In order to output the distinctive print image designed in an Ai file on the LEF-300, special layers such as white ink, clear ink to express raised effects, or overcoat to improve abrasion resistance are generated in the software and printed via dedicated printing software. According to Ms. Kubo, who is in charge of UV printer operation, "With the old printing method, we could only print the same pattern on one large piece of original hide, but with LEF-300, we can freely print different graphics and images on each component part of the finished product from the same material. This has dramatically increased the degree of freedom in design."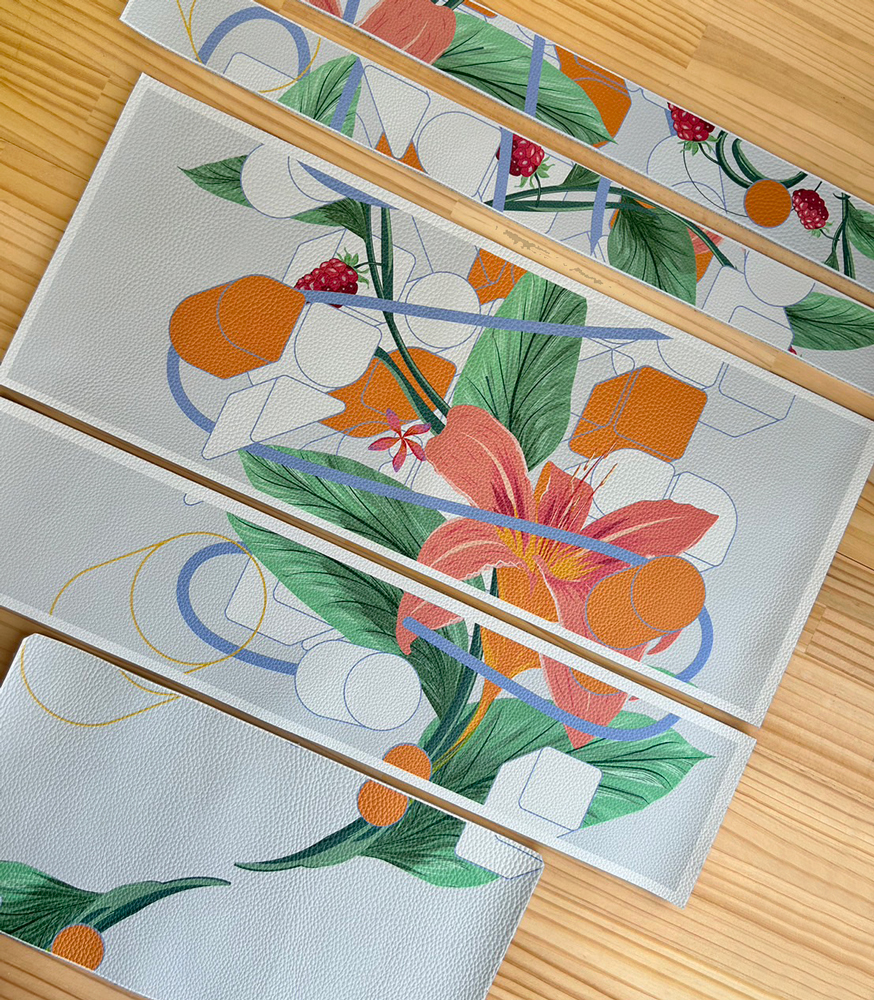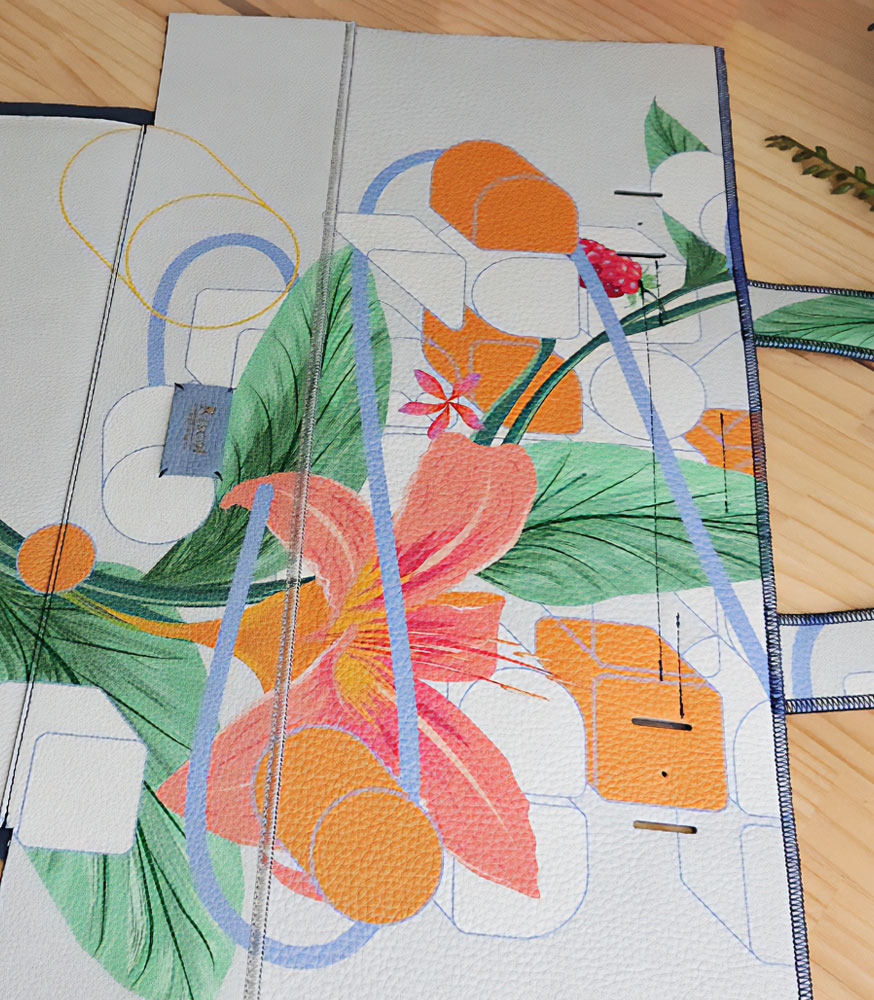 Even UV ink, however, which is highly compatible with a wide variety of materials, may not ensure high durability standards in some cases, depending on the type of leather and the finishing method. Drawing upon a network cultivated through many years of experience in leather material procurement, Sakata has developed with a tanner a special genuine leather material that is well suited for UV ink. After CMYK color printing with the LEF-300, the printer applies a topcoat to improve abrasion resistance, resulting in leather products that meet the company's high-quality standards.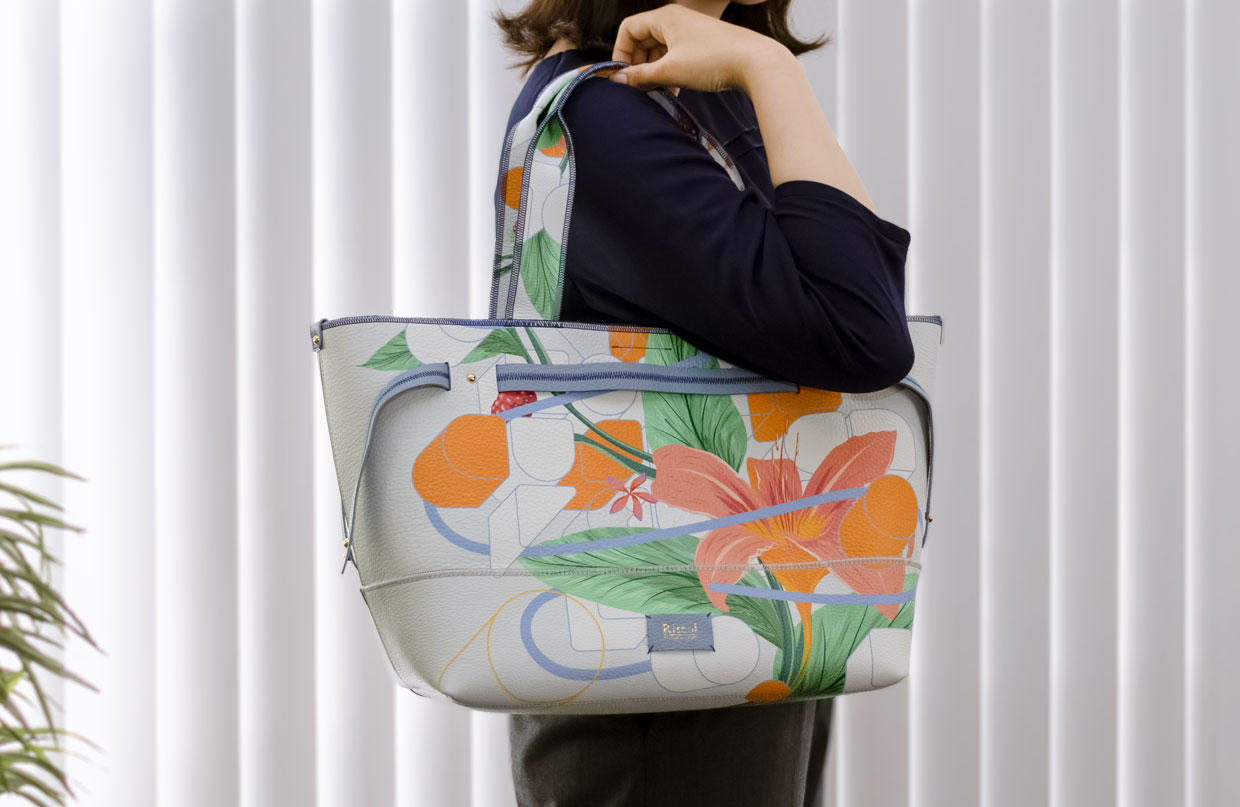 Digital solutions are also effective for prototyping sample applications in the phase before the design is finalized. The designer's vision of the finished product may not be fully conveyed by simply viewing a PDF file on a monitor. An inkjet printer that can print on the actual material immediately for checking the design is very useful in this respect. In addition, the company's CAD/CAM automatic cutting machine enables die-cutting of designs without producing dies, making it possible to produce prototype samples that represent the finished product. This plays a major role in the design decision phase.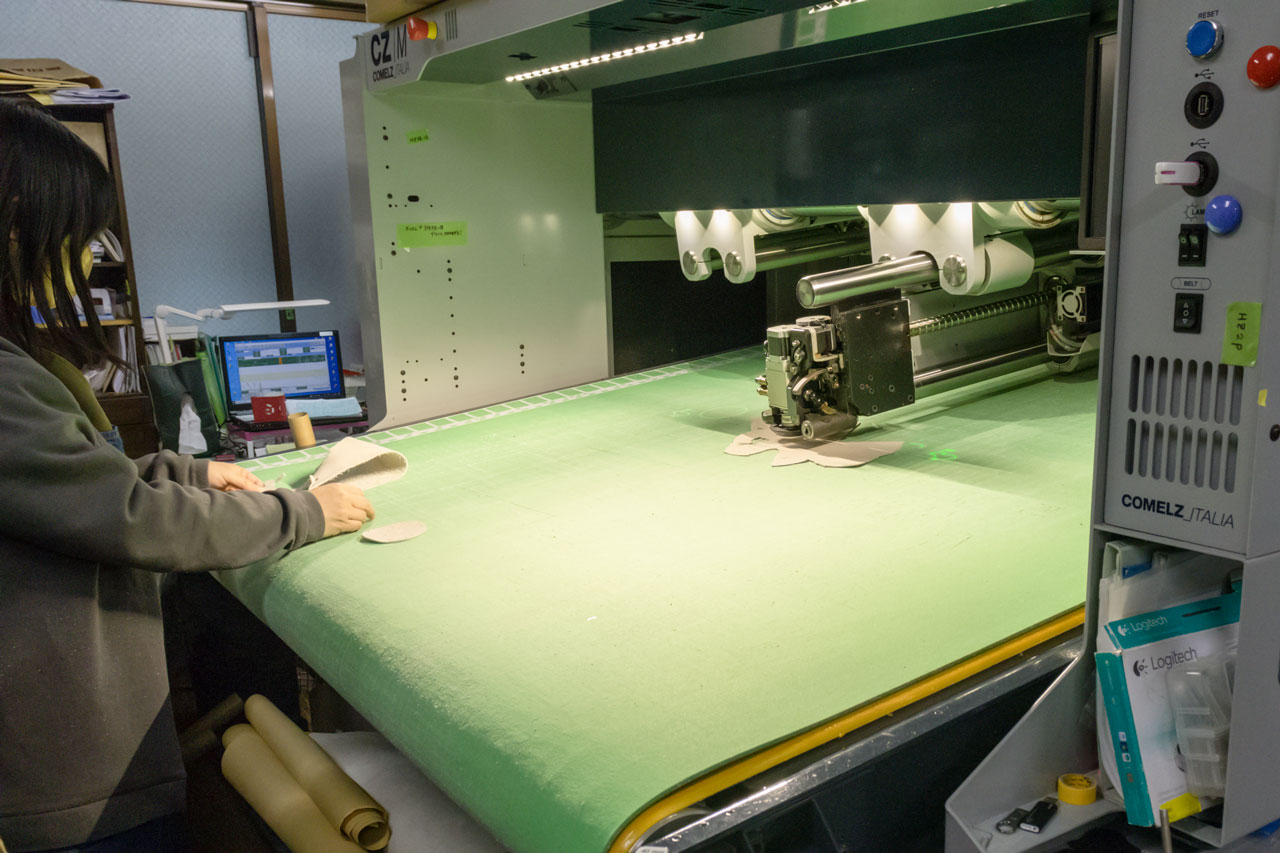 Comparison of Before and After Solution Implementation
Before
Because the same pattern was printed on a single large piece of leather, the pattern differed depending on where the leather was cut, resulting in a nonuniform finished products.
It was time-consuming and costly to make a single prototype sample, which required a tannery to produce the dedicated leather first.
It was difficult to print white ink with conventional printers.
After
It is now possible to print a pattern determined to fit each part, making it possible to create products with a uniform design.
As long as you have the leather for printing and the design data, prototype samples can be printed internally on the spot, which has significantly reduced the time required for prototyping.
It is now possible to print white ink, eliminating the influence of the base leather color on the color of the print. As a result, dramatically more vivid color reproduction is now possible. *
Planning for a Digital Future
After visiting a number of related exhibitions in Japan and abroad, President Sakata was impressed by a demonstration of a service introduced by a sneaker brand that allowed customers to print their own designs and messages on sneaker fabrics and sell them. Convinced of the potential of printing on leather, President Sakata's research led him to Roland DG's LEF-300 UV inkjet printer. The high image quality, good compatibility between leather and ink, and easy-to-use software all contributed to his realization that the LEF-300 would be a good choice, and he decided to install it.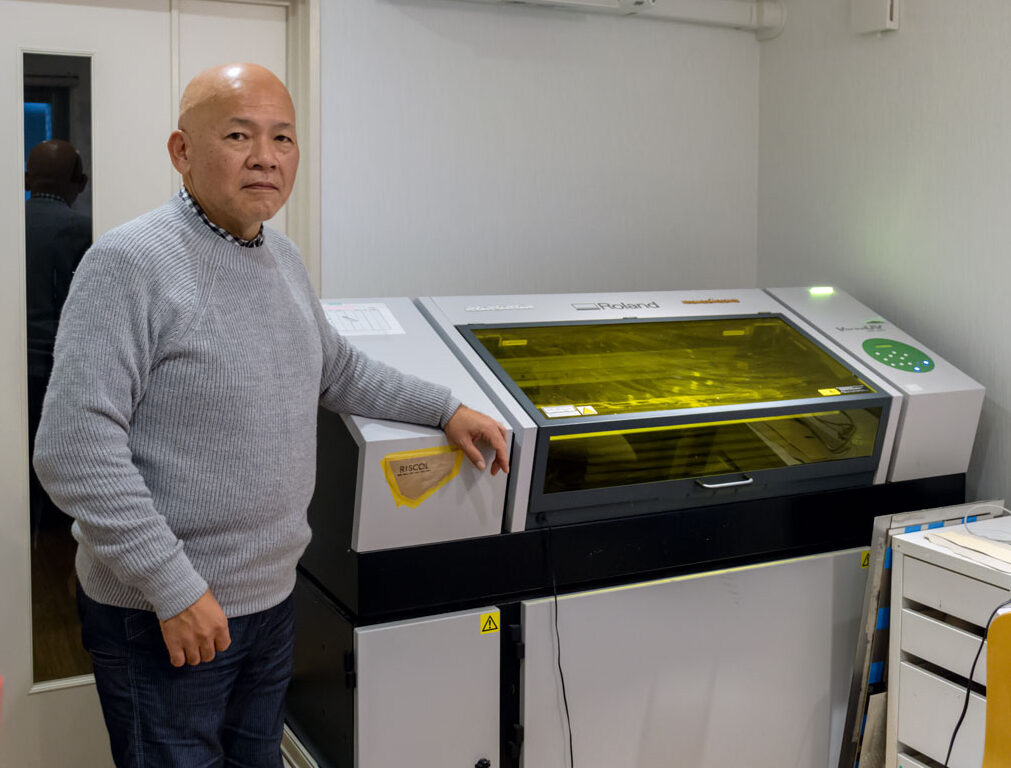 Sakata, a Group of Leather Bag Craftsmen Dedicated to Quality, Utilizes the Power of Digital Technology