Digital Package Printing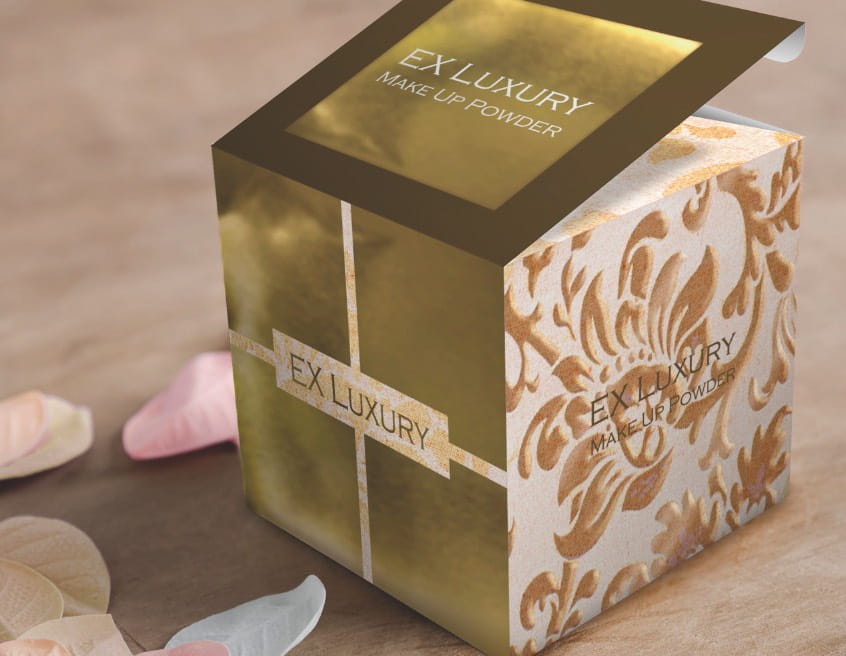 Due to the fragmentation of consumer needs against the backdrop of changes in people's lifestyles and values, the products and services offered by companies are becoming more diverse.

In the packaging industry, brand owners are increasing the variety of product items and designs, and accelerating high-mix, low-volume production. This trend has increased the importance of unique and premium expressions such as foil stamping, embossing, and spot varnishing as elements of differentiation to attract customers to pick up a product from among many others on a shelf.

There are also an increasing number of services, especially online sales on e-commerce sites, that create a more special purchasing experience by personalizing the product or gift package for the individual.
Diversification of lifestyles and values
Increasingly fragmented needs

Brand owners

Companies that produce and sell their own products

Food & Beverages

Luxury items

Daily necessities

Cosmetics

Pharmaceuticals

Pet food

Increasing SKUsPackaging design innovations

Trend of small-lot, high-mix production

To get the
attention of your
target customers.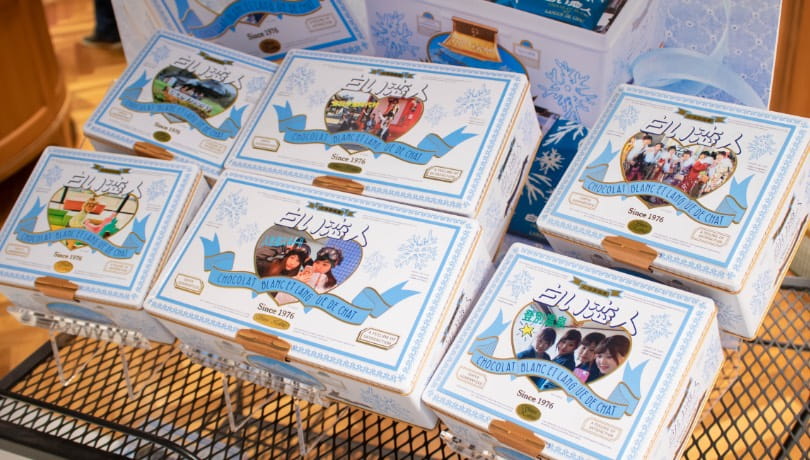 Image courtesy of ISHIYA
In the midst of these changes, digital printers, which are ideal for high-mix, low-volume packaging production, are increasingly being introduced. Unlike offset, flexo, and gravure printing presses, digital printing does not require the plate-making process (the process of having the print job printed on film and transferred to a metal or plastic plate), and their greatest feature is that they can print small lots in a timely manner using digital data such as PDFs.
Digital Package Printing Application Forecast (Western Europe, 2019-2024)
(Source:German Sacristan, WE Digital Production Printing Application Forecast: 2019-2024, Keypoint Intelligence, 2021)
Examples of Digital Printing for Packages
Flexible packaging

Folding-carton packaging

Customized gift packaging

Luxury wooden boxes

E-commerce packaging

Prime labels for bottle containers
Value-added embellishments
Spot gloss/matte varnishing

Metalized foil transfer

Raised printing
Advantages of Digital Printing
The ability to print on-demand including one-offs with a simple process brings benefits to a variety of businesses involved in package production.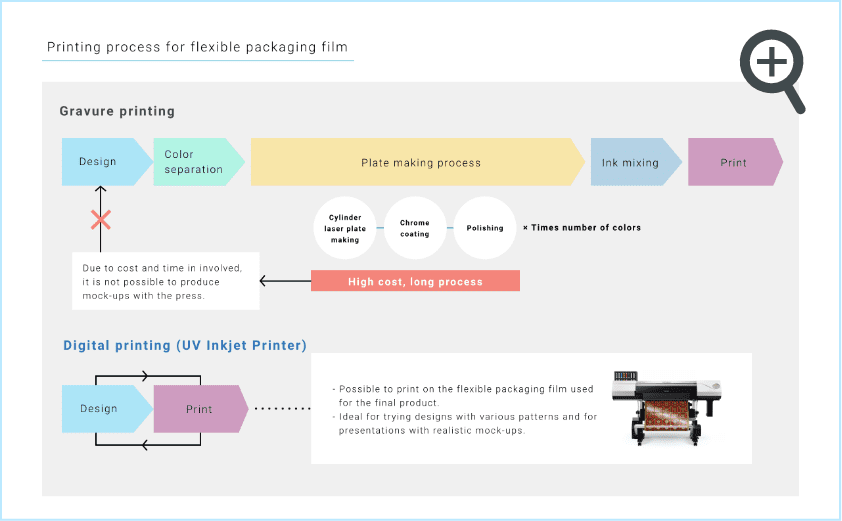 Advantages for Brand Owners
Because only the required number of packages must be produced at the time they are needed, waste loss due to overstock can be minimized, and the supply chain can be optimized.
Timely development of proposals for individual customers and support for limited-time products.
Sudden changes in specifications and designs can be reflected within a short lead time.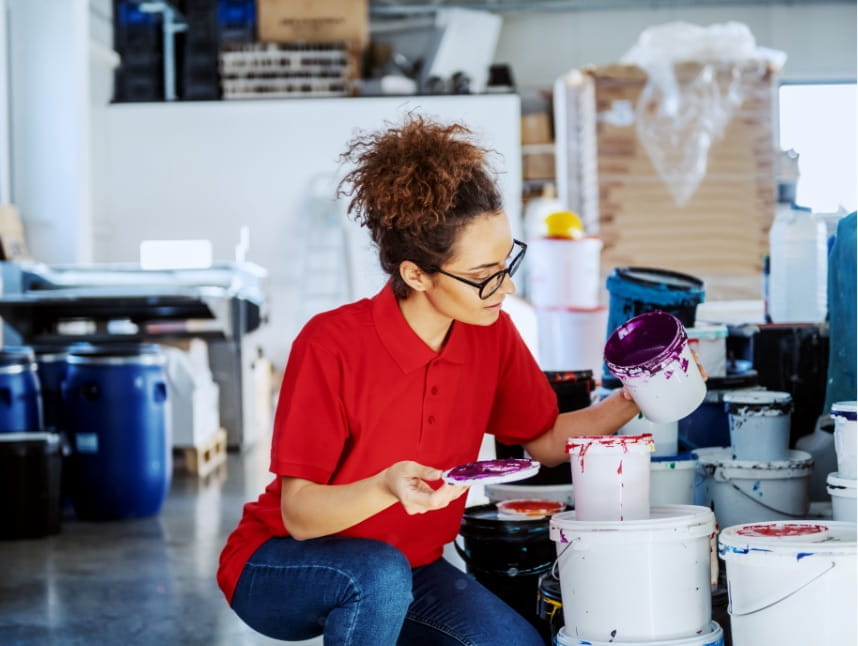 Advantages for Printing Companies
Shorter delivery time.
Flexibility to handle personalization from a single sheet or small lot orders.
Strengthened proposal capabilities by improving the ability to handle sample output and mock-up production.
Premium expression realized through specialized printing such as spot varnish, textures, white ink, simulated embossing of logos and artwork, and digital foil transfer is possible.
Reduced cost and space required to manage printing plates and inks.
Eliminates the need for skilled ink color mixing.
Ability to offer a more comfortable working environment for printing operators and technicians.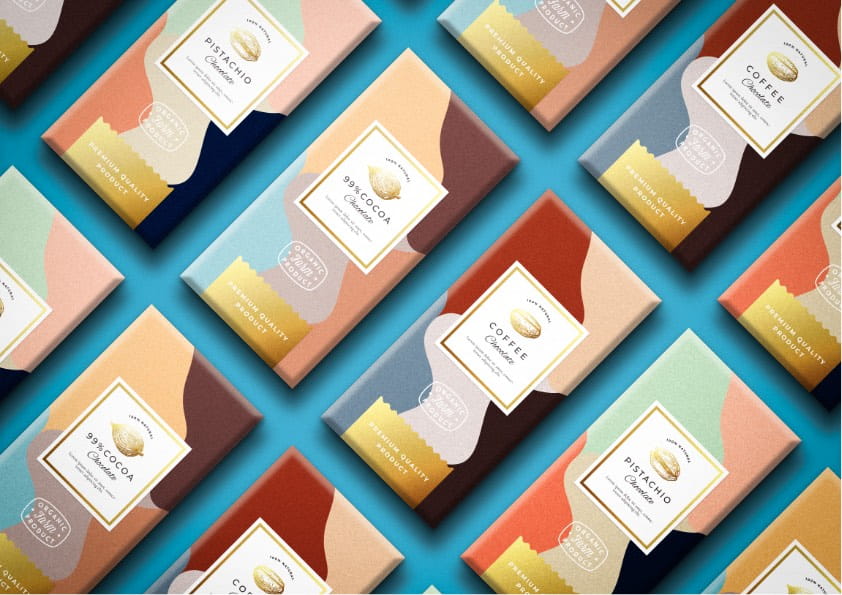 Advantages for Designers
Realistic mock-ups using the same media as used in production can be produced immediately from a single item, enabling highly appealing, cost-effective presentations to clients.
Design patterns using special embellishment effects can be examined under the same conditions as the final product. Repeated prototyping of designs with variations is also possible.
The final result and quality can be presented to a client from the design proposal stage, shortening the time required for approval and reducing the risk of design revisions later on.
Types of Digital Printing
There are various types of digital printers used in package production, depending on the purpose of use, that are offered by several manufacturers. The two most common printing methods are the electrophotographic method, which uses toner, and the inkjet method which prints by ejecting ink from the print heads. The electrophotographic system is represented by digital printing machines, such as HP Indigo and Xeikon, and has been available in the industry for a long time. On the other hand, the inkjet system was used for proofing or the production of large-format commercial applications such as outdoor advertisements. With the development of UV-curable inks in recent years, however, the number of inkjet printable materials has increased dramatically, and the system is now popular in a variety of industries and applications.
Digital Printers for Folding-carton Packaging (B2 format)
Inkjet systems can be divided into multi-pass and single-pass systems, and ink types can be selected from several types such as water-based or UV-curable. In general, the single-pass system is suitable when productivity is required to supplement or replace existing printing machines such as gravure and offset, but it requires expensive capital investment and a large installation area. The multi-pass system is not as productive, but offers a relatively small size with low initial investment cost, and yet is capable of high-quality printing. In package printing, the multi-pass UV inkjet is ideal for applications such as design proofing, mock-up production, sample production for photo-shoots, and personalization.
Multi-pass Inkjet Printing
The print heads move left and right to complete the print, applying multiple layers of ink to the paper being fed.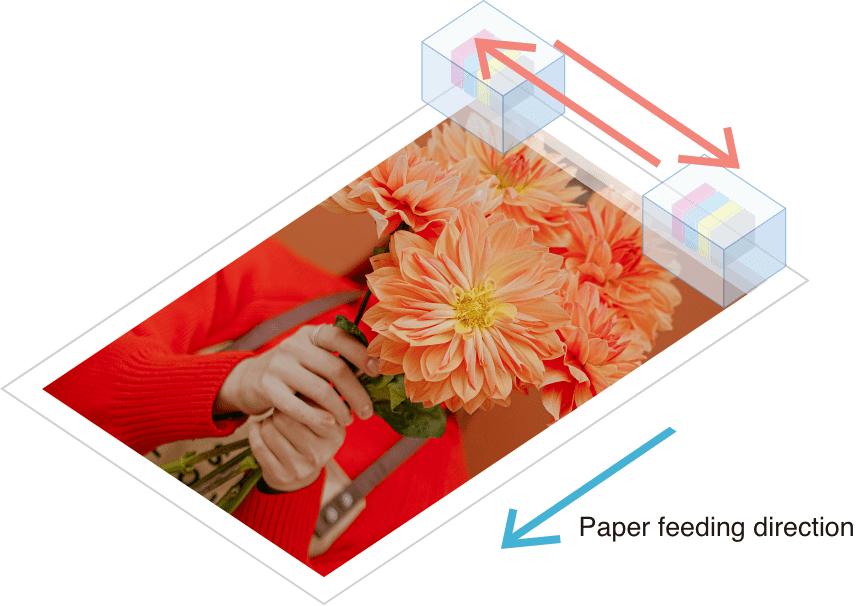 Single-pass Inkjet Printing
The print heads are fixed, and printing is completed with a single ejection of ink on the feeding paper.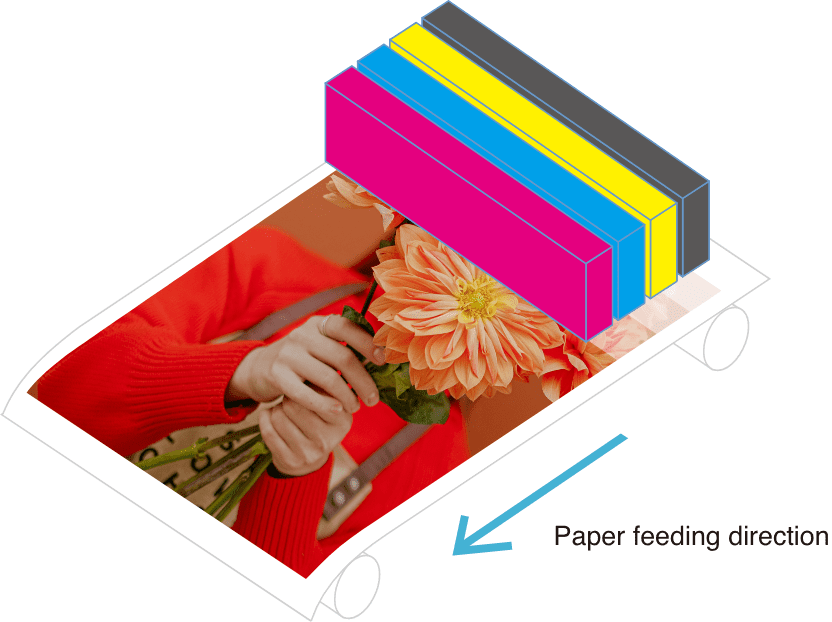 Capability of UV inkjet printers
Inkjet printers print by ejecting inks from the print heads mounted on the printer. The characteristics, color, and capacity of the inks used are important factors. Water-based inks are often used when safety is required, such as for food packaging. UV curable inks have also been attracting a lot of attention in recent years due to the wide variety of compatible papers and films, as well as their instant curing feature which eliminates the need for drying, and their high compatibility with decorative processes such as embossing, texturing, spot varnishing, and foil stamping.