A Diversifying Toy Market
The Internet has made it possible to obtain a wide range of information from around the world in real time and, in the toy industry, the worldwide trend toward a declining birthrate has led to the need for product planning that meets the diverse needs of people of all ages. In addition to toys for children, a variety of products that are not limited by conventional mindsets are appearing one after another for adults, including collaborative products with other genres such as art or movie characters, collectible products represented by trading cards, and premium-quality, high-priced plastic models. In Japan, for example, while the birthrate is declining, toy sales have remained steady, indicating that companies are shifting their strategies to target a wider range of demographics.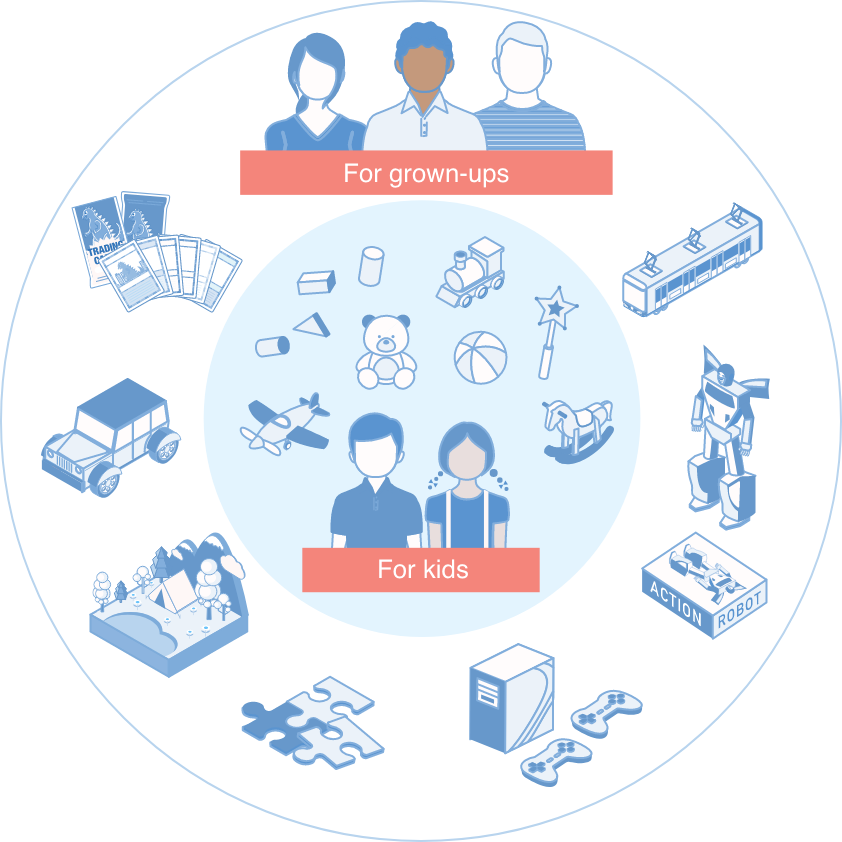 Size of the Toy Market and the Number of Population under 15 Years Old in Japan (2001 – 2018)
Source: The Japan Toy Association, Size of the Toy Market and the Number of Population under 15 Years Old in Japan (2001 – 2018)
As another trend in diversification, there is a great deal of attention being paid to the customization and personalization of toys. For a long time, there has been a need for custom parts in the hobby world, where people find value in their own originality. Now, with the advancement of information technology, this customization and personalization movement has spread not only to hobby genres such as models and block toys, but also to memorial gifts such as baby gifts.
Digital Printing for Toy Decoration
As the toy industry becomes more diverse, the need for high-mix, low-volume production is increasing, and various processes in product planning and design, production, and service are being digitalized. In this section, we will introduce digital printing and its advantages from the perspective of decoration.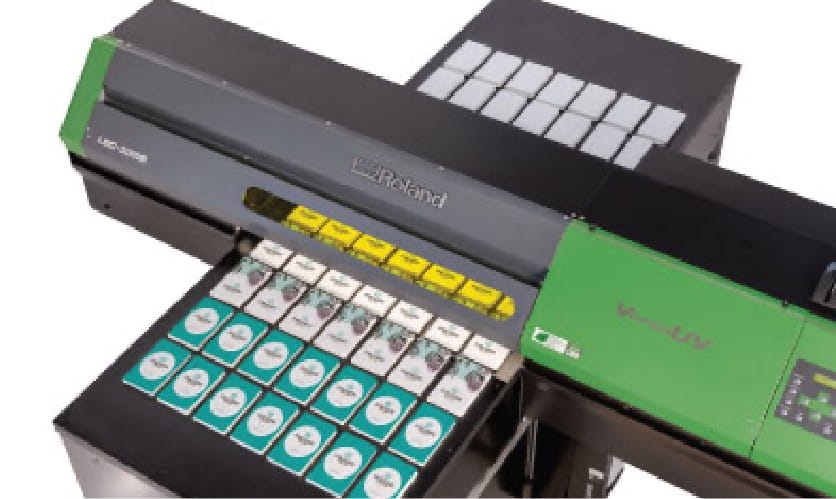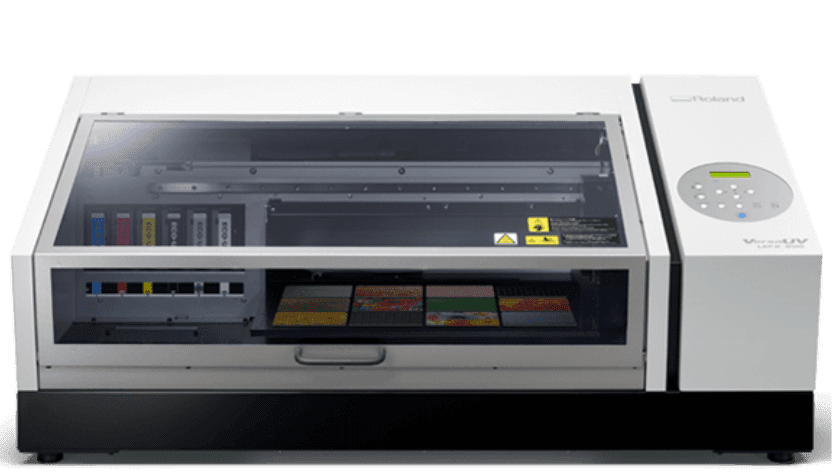 Digital Inkjet Printing
Among several types of digital printing, flatbed UV inkjet printers are becoming more and more popular for decorating three-dimensional objects such as toys, character goods, and gift items. The main feature of these printers is that they use UV-curable inks that can print directly on a variety of materials. Another advantage is that the ink printed on the surface of the material is instantly cured and fixed by a special UV light, eliminating the need for a drying process after printing. In addition, this type of printer can print directly on both large and tall objects by simply placing them on a table-like transport device called a flatbed. Other types of inkjet printers are also available with specialty inks such as safety-enhancing inks or inks with excellent elasticity.
Difference from Screen Printing and Pad Printing
The biggest difference between digital printing and screen printing or pad printing, which are widely used for decorating toys, is that no plate making process is required. In the case of traditional printing methods, it is necessary to expose a screen (mesh fabric) coated with a photosensitive agent with a film on which the image is printed. Digital printing, on the other hand, can be printed directly from design data such as PDFs. In addition, while screen printing and pad printing require the preparation of plates for the number of colors to be used, digital printing does not require plates, so full-color, high-definition printing, including photographs, can be performed easily. Also, since a wide range of colors can be freely expressed by combining four CMYK colors with white ink as a base coat, there is no need to prepare inks for the number of colors to be printed, nor is there a need to stock inks for each specific color.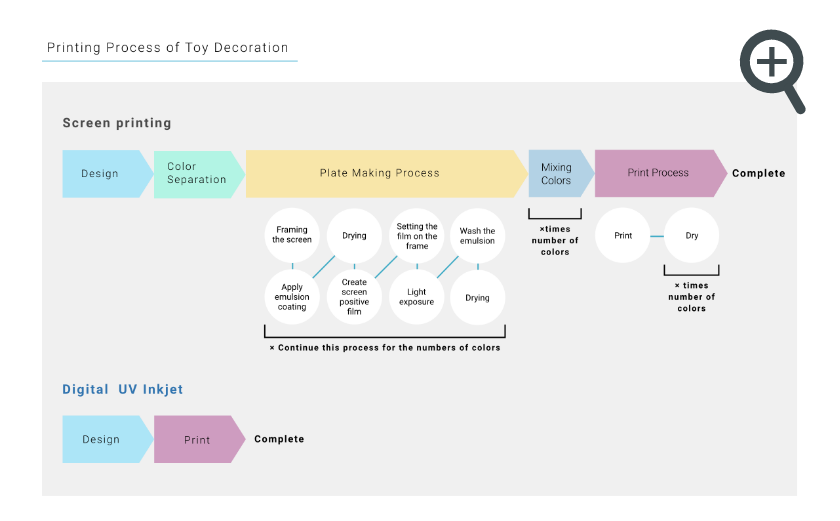 Advantages of Digital Printing
Digital printing, which eliminates the need for plate-making processes, offers a variety of advantages in the toy manufacturing scene.
Advantages for Toy Manufacturers
Because only the required number of items can be decorated at the time they are needed, waste loss due to overstock can be minimized, and the supply chain can be optimized.
Timely development of proposals for individual customers and support for limited-time products.
Sudden changes in specifications and designs can be reflected in a short lead time.
Advantages for Design Companies
Highly appealing presentation to clients by decorating the materials used in final production.
Short lead time and low cost for decorating a single item or many.
Repeated prototyping of designs to try other variations can be done in timely manner.
The final result can be presented to the client from the design proposal stage, shortening the time required for approval and reducing the risk of design revisions.
Advantages for Printing Companies Who Do Toy Decoration
Shorter delivery time.
Flexibility to handle small-lot orders for toys, goods, novelties, and gift items, expanding the scope of work.
Capable of providing value-added, one-of-a-kind services such as personalized gifts.
Strengthened proposal capabilities by improving the ability to handle sample output and mock-up production.
Reduced cost and space required to manage printing plates and inks.
High quality results can be stably maintained even without skilled technicians.
Ability to offer a comfortable working environment for printing operators and technicians.