[Exhibition Report]: Food Development Expo 2022
The Food Development Expo 2022, hosted by Informa Markets Japan, was held at Tokyo Big Sight West Hall from October 12 to 14, 2022. The specialized exhibition featured four categories, including Health Ingredients Japan (Hi Japan), which exhibited health and functional food ingredients; Food Taste Japan (FiT Japan), which covered food taste; Safety & Technology Japan (S-tec Japan), which showcased technologies aimed at improving food safety and quality; and Food Long Life Japan (LL Japan), which exhibited long-life technologies for reducing food loss. With more than 450 exhibiting companies, over 330 presentations by exhibitors, and 32 seminars planned by the organizer, the show was well attended by many visitors throughout the entire day, making the post-covid situation seem almost unnoticeable.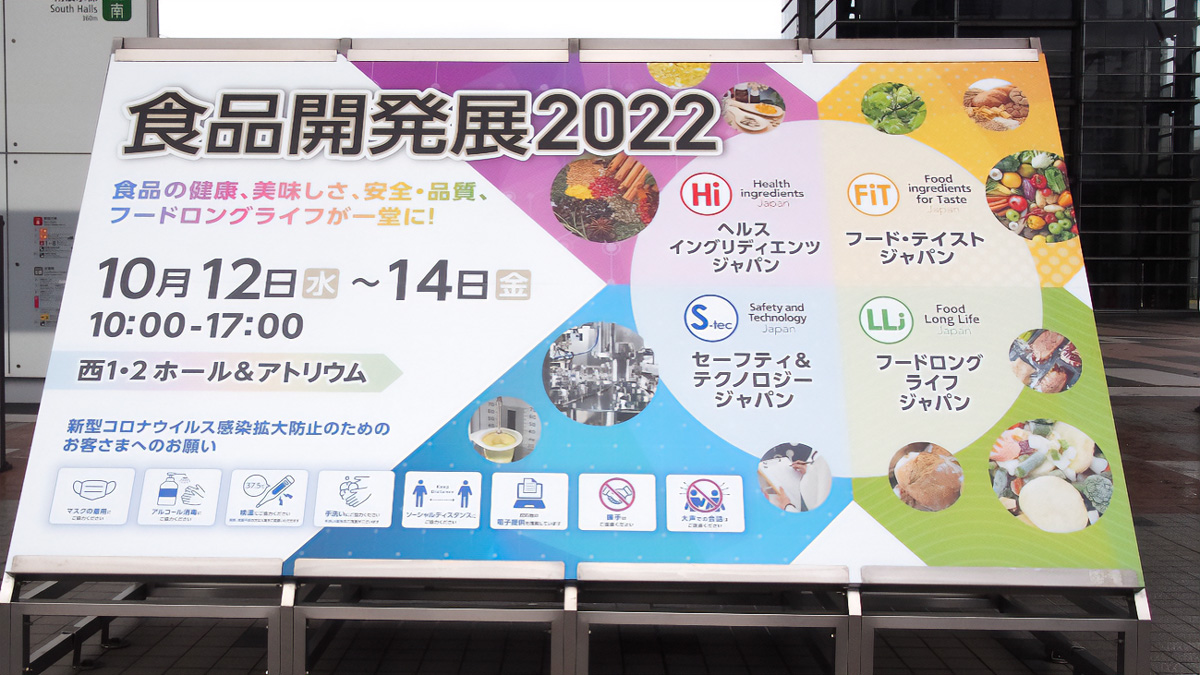 Of particular interest during my visit were the plant-based foods and a 3D food printer, which can add functionality to food by printing food ingredients.
Plant-based foods are attracting increased attention
Throughout the entire exhibition, plant-based foods were the focus of particular attention, with each company putting in a great deal of effort. Plant-based food refers to meat substitutes made from plant materials such as soybeans and wheat protein. The market is expanding every year and is expected to reach $12.32 billion by 2027*1.

In recent years plant-based foods are attracting more attention in the context of sustainable development goals (SDGs) for reducing greenhouse gases from livestock production and addressing the food crisis caused by population growth. Furthermore, plant-based meat alternatives are of interest to health-conscious people because they contain less cholesterol and fewer calories than regular meat. Plant-based foods also have great potential as a new food alternative in a society that is becoming increasingly diverse in terms of religion, ideology, allergies, and other factors that affect what people eat.

Although it has recently become readily available in supermarkets and fast food outlets, the Japanese market remains in a situation where there is still much room for development compared to Western countries. At this year's exhibition, new products recently developed by various manufacturers were introduced. Many of the booths at this year's exhibition offered tastings, allowing visitors to actually experience the taste and texture of these products.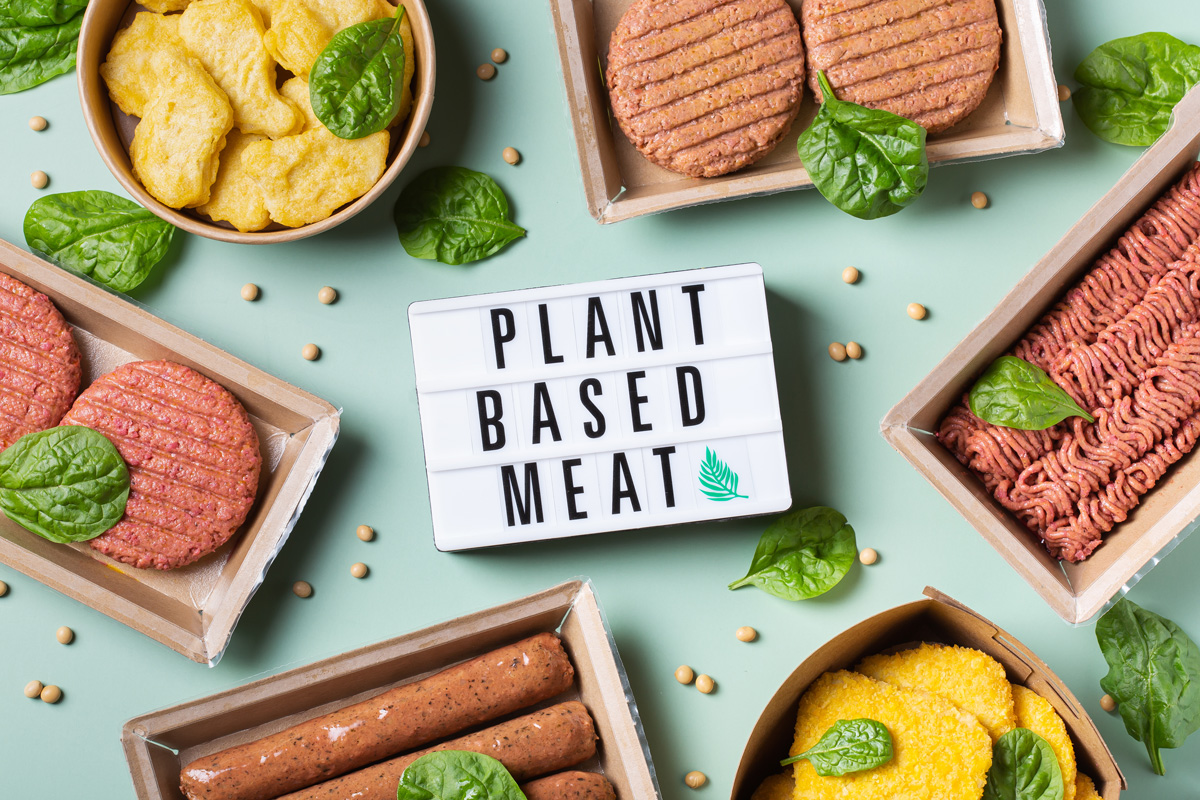 Morinaga - SAI MEAT
Morinaga&Co, a major food company, has been developing meat alternatives for a whopping 50 years. SAI MEAT, developed using texture and flavor technologies cultivated in the confectionery and health food industries, is a plant-based food made from soy protein. It is made with simple ingredients and contains no animal ingredients.

The thick, one-piece meat substitute is satisfying enough to eat. It is characterized by its juicy and fibrous texture that melts in the mouth. When I tasted it, even though it was seasoned with dressing, I could taste soybean flavor like yuba (bean curd). However, there was no foul smell and the meat was not dry, as is often the case with meat alternatives. One bite is enough to fill one's stomach with satisfaction. I felt it had the potential to be even more delicious depending on the seasoning.

Because it is packaged with water, the soybean odor, which is a concern, is suppressed, and by adding flavor to this water, the range of seasonings can be further expanded. It is also convenient in that it can be stored at room temperature without the need to thaw or rehydrate.
SEIYO - SoyΦ
Instead of the conventional defatted soybeans, SoyΦ (Soy-Fi), developed by SEIYO, is a plant-based food made from full-fat soybeans using proprietary technology (patent pending). Utilizing the company's powder processing technology for grains and other ingredients, the soybeans are used just as they are, which means less waste. Because the oil from the soybeans remains, the crunchiness characteristic of plant-based food is suppressed and a firm texture is obtained.

I tasted the soboro (flavored ground meat flakes) and the solid piece with the unseasoned ingredients. With each bite, the unique taste of the soybean could be felt and there was no unpleasant green smell at all. It remains to be seen how the flavor can be transformed by seasoning, but it is expected to be used not only as a substitute for meat, but also as a topping for various healthy snacks and other products.
UNITEC FOODS - Lory® Tex - textured wheat proteins
Soy-based meat substitutes inevitably taste like soybeans themselves, so the problem is how to eliminate the soy smell. Plant-based foods using wheat protein are more user-friendly because they can be seasoned with a lighter flavor. The advantage of wheat protein is that its gluten structure strengthens the binding between proteins, so it has a crunchy texture as a stand-alone product, and when added to soy protein, it can be expected to enhance the binding properties.

The meat sauce used in the tasting showed great potential in that it was firm and chewy but did not interfere with the flavor of the tomatoes, and could be adapted to any taste depending on the seasoning.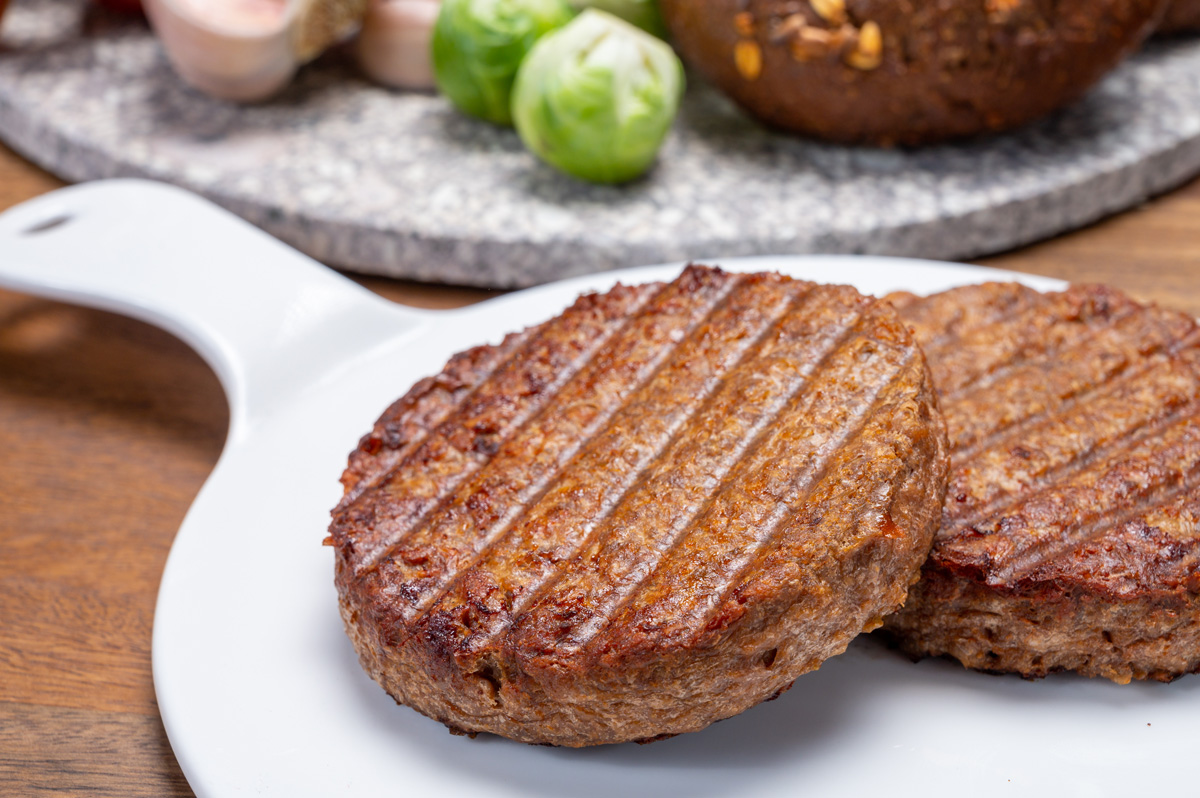 Tastable - NIKUVEGE
The NIKUVEGE series of plant-based foods developed by Tastable, Inc. are made from soy protein and wheat protein and do not contain animal ingredients. By using umami ingredients such as kelp and mushrooms, NIKUVEGE pursues a delicious taste familiar to Japanese people. NIKUVEGE patties are not only delicious, but also reduce environmental impact, as they use 92% less water and 98% less greenhouse gases than patties made with animal meat.

I tasted the hamburger patty, which had enough taste without any sauce or other seasoning, and the texture of the onions and the charcoal-cooked flavor did not leave me feeling unsatisfied. It had a complete taste as a stand-alone dish, and was delicious even if you knew it was fake meat.
3D food printer that "designs" textures and tastes
The challenge for plant-based food is to make the taste and texture of the food tasty and enjoyable without any sensory discomfort. Each company has developed a variety of products based on their own technologies and innovations, but the food 3D printer is a new technology with an innovative focus on designing texture by controlling the three-dimensional structure.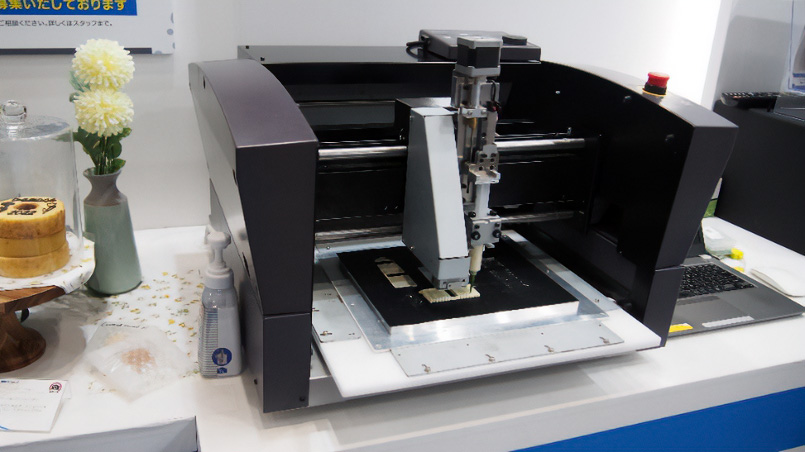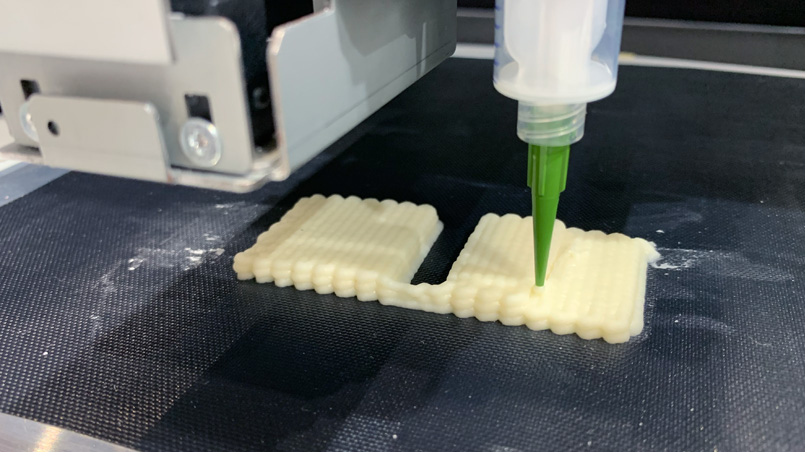 Roland DG Corporation and Iwate University are jointly researching the theme of "nursing care food that is satisfying to eat" using 3D printing technology. From the viewpoint of preventing aspiration, nursing care food is often in the form of jelly or mousse, but many users have voiced their concerns that it is not satisfying to eat. The 3D printer makes it possible to create a structure that is both satisfying and safe.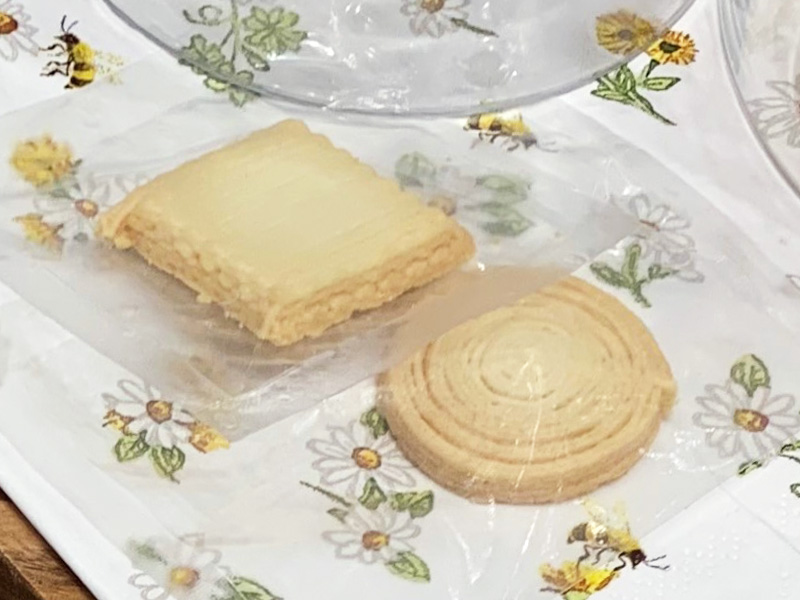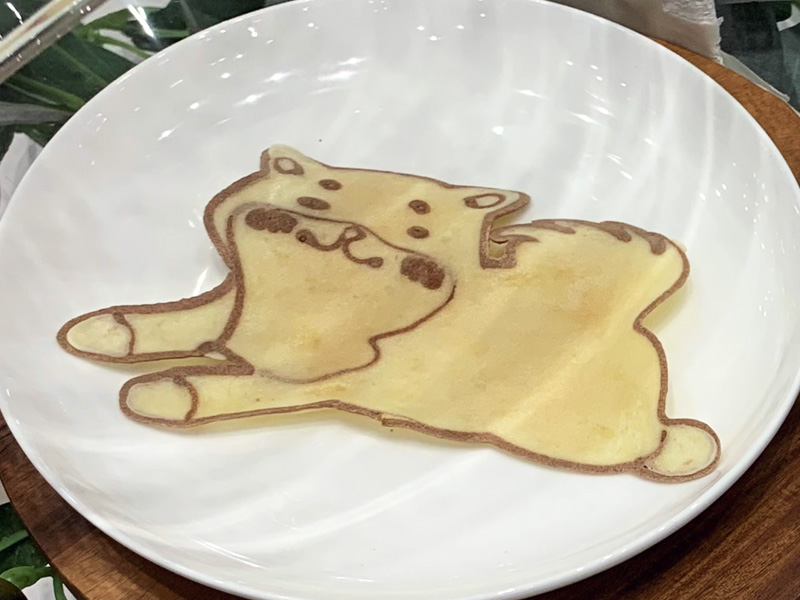 By reconfiguring the stacking pattern, we can expect new foods that could not be realized with conventional methods, for example, producing low-sugar and low-salt foods with a substantial sense of flavor.

A wide range of ingredients can be used, from creamy to the consistency of dough, making it possible to create personalized foods that are ideal for gift-giving. As an example, pancakes were on display that would be suitable for service in event cafes.
New value in foods through digitalization
Roland DG also exhibited a demonstration of fully-automatic creation of confectionery molds using the MDX-50 desktop milling machine. The MDX-50 can easily and quickly produce wooden molds for Japanese confectionery which are traditionally made with hand craftsmanship, vacuum-forming molds for blister packs, and sink molds made of MC nylon material used for chocolates and other products. If chocolate manufacturers and stores could easily produce molds in-house, they could easily increase the variety of their products, such as with character collaboration products, seasonal and event-specific products, etc., to generate more attraction.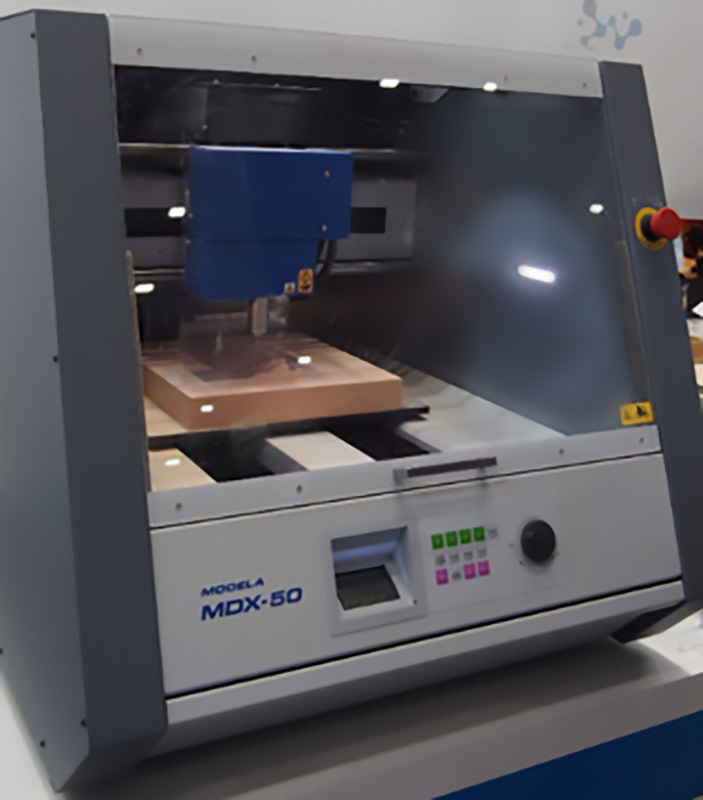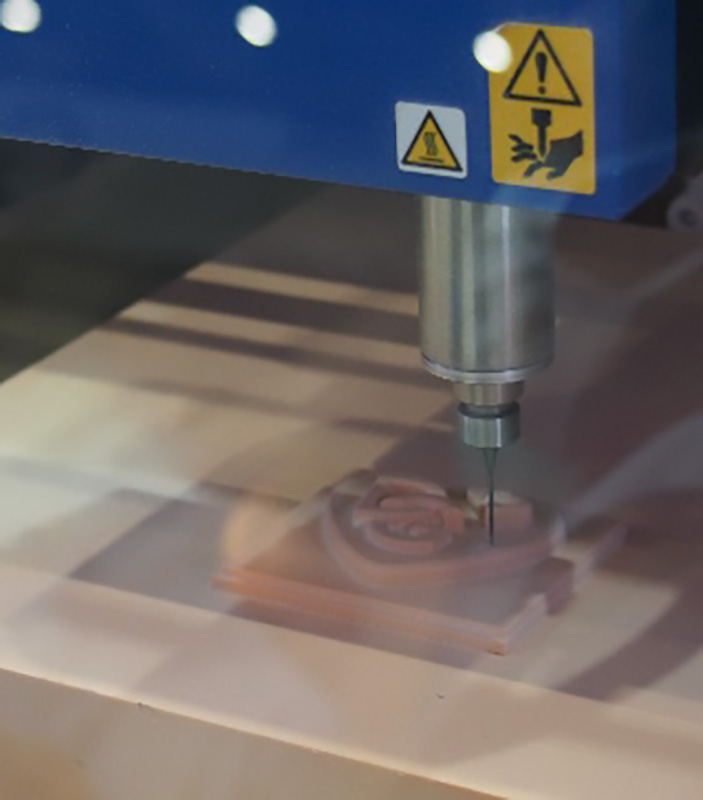 Digital technology is expected to add increased value through originality and specialization to food products.

Food is an indispensable and important part of life, but in today's affluent society, the role of food is not limited to the intake of nutrients and calories. I felt that the role of food is expanding rapidly to include taste, beauty, enjoyment, health, and consideration for the global environment. I believe that new technologies will further expand the role of food.
*1 ^ Source : Global Plant-based Meat Market By Source, By Type, By Product, By Regional Outlook, Industry Analysis Report and Forecast, 2021 – 2027. KBV Research
[Exhibition Report]: Food Development Expo 2022