Introduction
Leather products have been used since ancient times as a by-product of the meat industry, and due to their durability and unique texture, they have many uses, and are becoming even more diversified. There are many different types and grades of natural leather to choose from, and the more you use it, the more attractive it becomes. In recent years, sustainable and environmentally friendly plant-based vegan leather has become increasingly popular, and petroleum synthetic leathers, which are low-cost and easy to mass-produce, are also becoming more and more diverse, including products with anti-bacterial, anti-fungal and waterproof properties being developed for specific markets.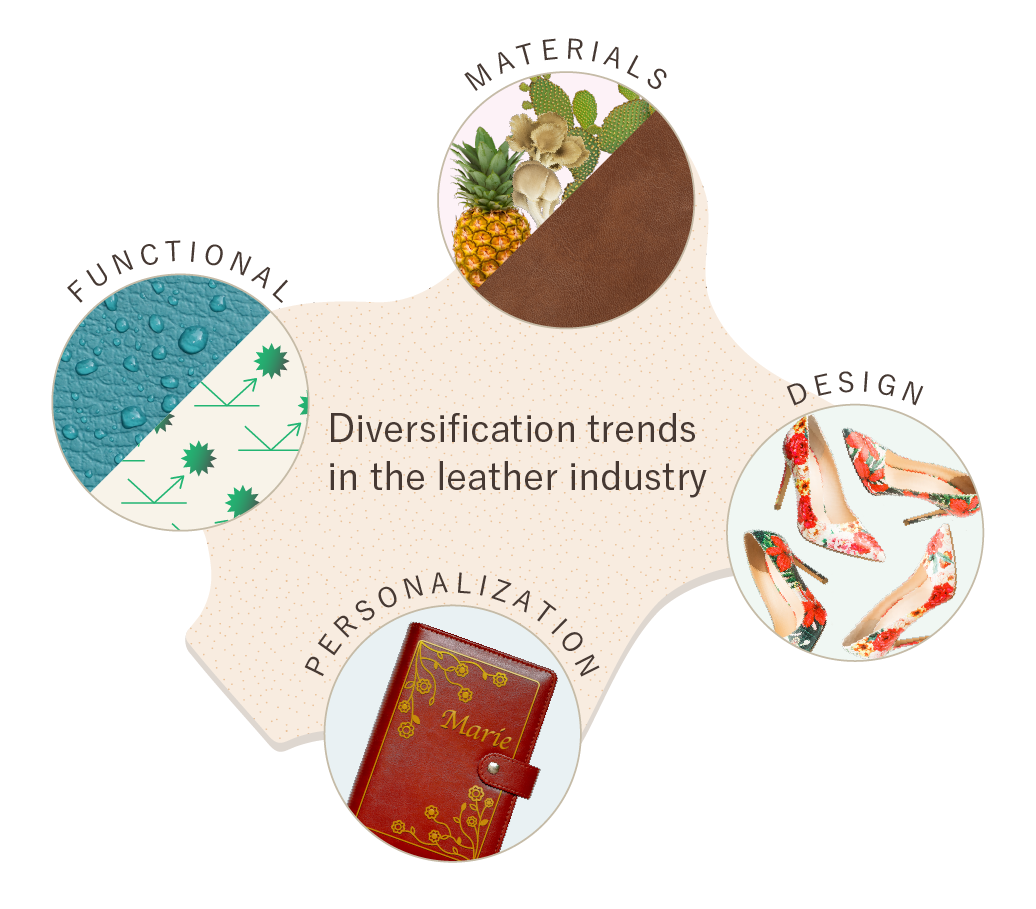 The trend towards diversification is also influencing the way design is carried out in the fields of fashion and apparel, interior design and car interiors, etc. Changes in people's lifestyles and tastes due to the rapid spread of information and social networks in society have led to a diversification of styles and designs, leading to a trend of high-mix, low-volume production. High-end brands of modern and stylish leather goods have tended to use homogenous motifs to create a variety of products. Today, however, we have seen an increase in the use of playful and unique designs, as well as special products created in collaboration with well-known designers and artists.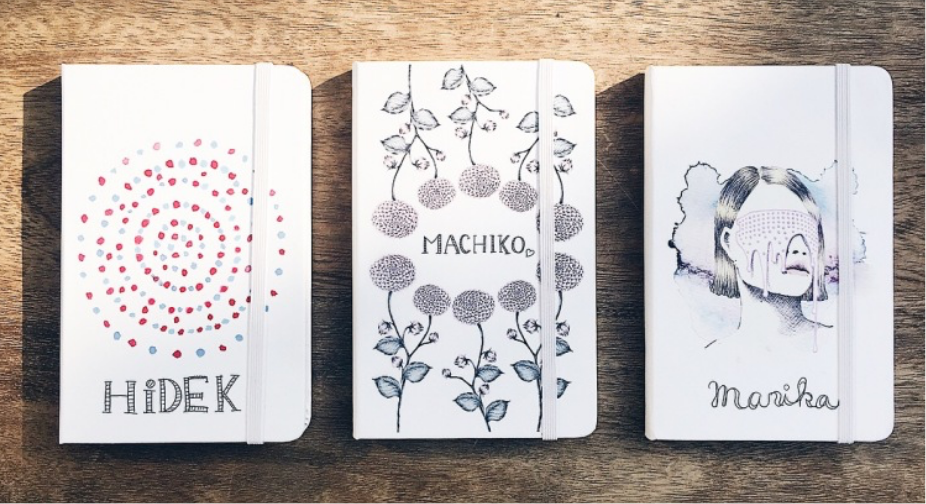 (Image courtesy of AIKO FUKUDA ILLUSTRATION)
One of the factors supporting this trend is the rapid technological development of digital printing decoration. Compared to traditional printing methods, such as screen printing, digital printing is more efficient, quicker and more cost effective, making it easier than ever to decorate products with variations. According to TRANSPARENCY MARKET RESEARCH, the leather decoration sector, with a market size of 25 billion yen in 2020, is expected to grow at a CAGR of 6% to reach 50 billion yen by 2031.
Another area that has been gaining momentum in recent years is personalization, focusing on leather accessories, smartphone cases, wallets, stationery, and other small items. Luxury leather goods are the perfect gift for a loved one or a treat for yourself. By adding an original design to a special product, you can create a gift that is worth sharing on social media and has a higher perceived value.
Examples of Digital Printing on Leather Products
Smart phone case
(image courtesy of Seagull co.,Ltd)

Shoes

Automotive interior

Bag

Trunk

Stationery
(Image courtesy of AIKO FUKUDA ILLUSTRATION)

Furniture

Small bag

Belt
Digital Printing for Leather Decoration
Digital inkjet printing is an increasingly popular method of decorating leather goods in a wide range of designs, applications, and materials. There are several different methods. One of the most popular on the market today are inkjet printers using UV-curable inks, which can print directly onto a wide range of materials, including leather, and are used in many industrial printing applications. One of the main advantages of UV inks is that they can be used to create special effects such as spot varnishing and raised effects. UV inks are available in a variety of compositions and, when used on leather goods, are chosen for their flexibility and resistance to cracking.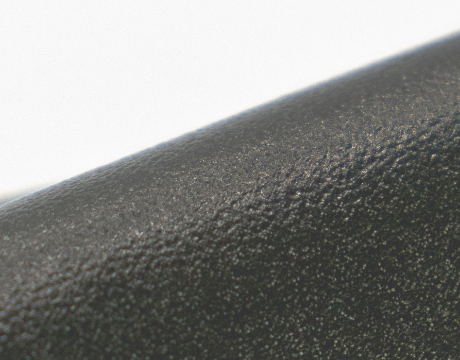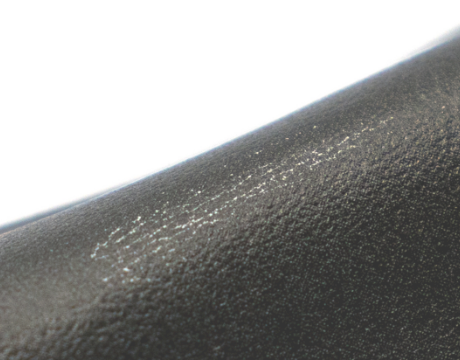 Flatbed inkjet printers, which can print directly onto the finished product, are also widely used for personalization applications as they are easy to handle for on-demand production with minimum lead time, which is advantageous for inventory control.
Personalization Decoration Process
On the other hand, there is also the use of roll-to-roll inkjet printers with low solvent inks. This is a decorative solution for tanners, where a graphic pattern is printed on a special transfer paper and then heat-transferred onto the tanned base (crust). The result is a high-quality finish without compromising the natural texture of the leather.
Type
Printer
Ink
Process
Characteristics
Direct printing
onto leather

Flatbed

UV curable
The leather is placed on a flatbed and direct inkjet printing is applied.
Available on natural and synthetic leather. Versatile as it can be printed on finished products.
Belt-feed(hybrid)
UV curable
Water-based
(latex)
The leather is placed on a belt feeder and direct inkjet printing is applied.
Suitable for natural and synthetic leather. Not suitable for printing on finished products.
Direct printing
onto finished goods

Flatbed

UV curable
Finished leather goods are fixed on a table using a jig and direct inkjet printing is applied.
Available in natural and synthetic leather. Ideal for personalized services as it can easily be produced in small quantities and a wide variety of products.
Heat transfer

Roll to roll

Low solvent
Inkjet printing on special leather-specific transfer paper is applied using a heat press machine to a tanned crust coated with a primer. After being transferred, a durability agent is applied.
For natural leather. High quality finish with a natural look and feel. Process for tanneries that require specialized pre- and post-treatment.
Advantages of Digital Printing
Suitable for high-mix low-volume production, digital printing offers a number of advantages in the decoration of leather goods.
Advantages for leather goods manufacturers
Able to decorate as and when required, minimizing waste from overstock, and optimizing the supply chain.
Easy to develop original product designs.
Able to offer personalized service for each customer.
Able to turn-around with short lead times for sudden changes in specifications or design.
Advantages for promotional/gift goods manufacturer
Able to produce a range of leather goods with an original design.
The ability to decorate as and when required, minimizing waste from overstock and optimizing the supply chain.
By producing goods in-house, you can produce goods at a lower cost and with a shorter delivery time compared to outsourcing.
Advantages for tanners
Superior on-demand capability compared to conventional printing, eliminating the need to stock large quantities of film for each pattern to be transferred.
A wide range of designs can be produced.
Digitalization of the Leather Decoration Industry